New Delhi, Oct 27, 2017 
First Hybrid & Electric Vehicles Expert Network held at New Delhi.
Environment Protection, Development of EV EcoSystem & Consumer Adoption Key Priorities
World Auto Forum to release Action Document on Hybrids & EV's in partnership with Globally Renowned research firm Markets and Markets
World Auto Forum connects Auto Industry in 125 Countries. Recently it organised HEVEN – Hybrid & EV Expert Network at Hotel Hyatt Regency, New Delhi
It was well attended by Policy Makers from Niti Aayog, State govt Representatives, Senior Auto Industry Leaders, Suppliers, Designers, Tech Innovators and Academia
World Auto Forum thanks its Annual Partners for making #HEVEN17 happen. Gallops Motors, India's Leading Auto Retailer provides class leading Customer experience. Auto ji is the leader in Auto Spare Parts Business. They have mastered cutting edge technology and processes in Supply Chain, E Commerce & Warehousing Innovations. Both working with leading Auto OEM's in the country. MotorUncle.com is the online destination for Confused Car Buyer and Hassled Car Service Consumer. In a short time, it has served several customers pan India and created happy moments with their cars.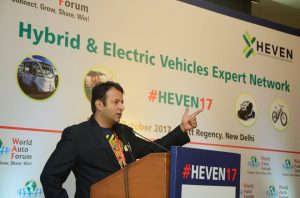 During the Welcome Address, Anuj Guglani, CEO World Auto Forum mentioned, "The Electric Continue reading "First Hybrid & Electric Vehicles Expert Network held at New Delhi."