by Anuj Guglani, CEO World Auto Forum
 The entire world going Ga-Ga over EVs. But we need these 3 crucial things in place before 100% EV, else we shall be creating a Bigger Monster!
 There is a huge Buzz around EVs. The Buzz is not just regional, its a global one!
2 Years back at the SIAM annual convention, our Honble Transport Minister had shaken the entire Industry by giving the target of 100% EV Post 2030. It sent most auto makers to their war rooms. A few weeks thereafter, the govt went soft on the deadline, for an industry already overburdened with BS6, New Safety Rules, CCI Norms, Dealer Inventories, NBFC Meltdown, GST, Phew!
Earlier this week, Post 2030 100% EV buzz resurrected, during the Niti Aayog sessions.
Nothing against EVs. World Auto Forum is all for Green Energy. We at WAF feel three crucial need to be sorted before we dream and achieve 100% EV
The Three Important Pre Requisites for 100% EV
Hey! See My Brand New EV powered by Thermal!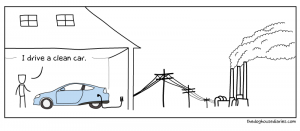 Well, its no hidden secret, how electricity gets generated. India gets around 68% of its power generated from fossil fuels. In that mostly thermal. Before you get into Country Bashing, hey! It's a global phenomenon.
Around 63% electricity generation in US is from Fossil fuels (Coal, Natural Gas, Petroleum, Other Gases). At Germany it is around 49%
So whom are we fooling? More and More EVs and less and less of IC Engine vehicles, we are just shifting the pollution from urban to rural hinterlands.
We might reduce tail pipe emissions but we are increasing carbon emissions elsewhere! We need to fix this before we go 100% EV.
At the same time, it is easier to control a few hundred thermal power plant chimneys than million tailpipes!
So! no straight answers to this one! However the undisputed fact remains that we need reduce dependance on fossil fuels, to truly make the EV Green.
Well! Here's a plan which is no rocket Science and can be transformational 
It can help us  get 100% Green Power for EVs and also help us get rid of Urban Landfills
Introducing Jan Oorja by World Auto Forum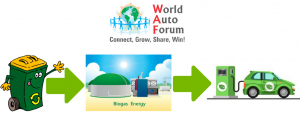 There are two kinds of Wastes : Organic and Inorganic
Organic Waste: We convert to Bio CNG through anaerobic Process and produce electricity from it to make the EV really Green.
Inorganic Waste : We recycle like Plastics, electronic waste, clothes, surfaces
So all residential and commercial areas send their organic waste to their Cluster Bio CNG Plants.
Nothing goes to Landfill! Its either composted or recycled, Period!
We transform into a Low Carbon Society. Companies, individuals get green credits for doing this. Customers who buy from green companies also get green credits which transform into tax savings and other incentives. This way the Whole country embraces a Low Carbon Future
Niti Aayog during its Move Summit last Sept, had declared 2047 as the year by when EVs shall be 100% powered by Green. So that should be the deadline for 100% EV as well !
2.  Skilling, Up-Skilling, Re-Skilling, Diverse Skilling of Manpower 
Back in 2012, when the Model S was launched, several worried Car Dealers called up their OEM Managers.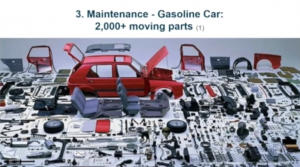 They said, "The Model S has 17 Moving Parts compared to the 200 Parts in the conventional Combustion engine Powertrain. This makes the vehicle virtually maintenance free. If this is what future holds, how do we secure our After Sales Service revenues which actually ensure operational viability and employs majority people ?"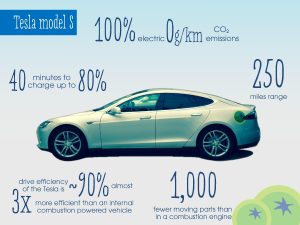 Well! the concerns aren't that far fetched! The EVs would need different & diverse skill sets compared to the IC Engine Vehicles. We might have faced a similar transformation when the world shifted from Horse carriages to Automobiles.
Even back then, the workers employed in horse carriage making and maintenance would have upskilled for working on the automobile.
Automobile Industry in India employs close to 18 Million People and contributes 8% GDP and almost half of manufacturing GDP. The key driver of "Make in India" Program is Automotive. This is an important contribution for the economy and the Nation.
The EV has to be an enabler for the Job Market. We need to get innovative in how to make this happen before its too late.
For Instance, EVs ride on a lot of Connected Vehicle tech and electronics. EVs see a lot of innovative business models around R&D, Testing, Production, Battery Swapping, Range Extenders, vehicle Leasing, Shared Mobility.
"We would need to ensure people don't lose jobs due to migration from IC Engine to EV, Period"
3. Battery Waste Management and Recycling 
Lithium -Ion Batteries seems to be the preferred choice for Powering the EVs. Well they surely have longer life, higher range, uniform discharging and many more benefits. One thing is the polluting of natural bodies while extracting Lithium from earth. That can be a topic for a different & dedicated article altogether.
The other point being Recycling and Waste Management. The Lead Acid Battery is the Poster Boy amongst batteries. Infact most Lead Acid batteries get recycled as the tech has been there for several decades and the eco System is well seated.
Do we realise our Mobile Phone batteries are also Lithium Ion. Many a times they end up at the landfill. It doesn't make much news as they don't get noticed due to small size. Just imagine if the EV Batteries begin to end up at the landfill. They can create 100X more Havoc and damage apart from the Breaking News!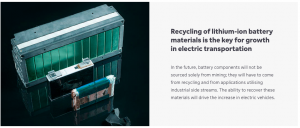 The heavy metals in the batteries get sucked in to the earth from the landfill by the process called Landfill Leaching and end up in the surrounding eco system like water, food, Air. The landfills are already a big environment challenge and this can further exacerbate the damage.
Do we have policy, a practice, a eco system for Li-Ion Battery recycling and waste Management? The answer is "NO".
We need this entire piece sorted before we can think of 100% EV Post 2030.