State-of-the-art BMW Facility NEXT offers enriched digital experience.
Customer service powered by new age technologies – BMW Contactless, BMW Smart Video and BMW Smart Repair services.
BMW Premium Selection for best deals on used cars with right history.
Latest BMW Lifestyle and Accessories for all auto enthusiasts.
BMW India today announced the launch of its ultramodern BMW Facility NEXT in Rajkot. Gallops Autohaus now represents BMW with a fully-fledged integrated retail and service facility. Based on the latest BMW Facility NEXT concept, the new facility showcases the exclusive range of both new and pre-owned BMW cars. It is located at Gondal Road, Survey No.390. Plot No. 611, Rajkot, Gujarat 360004.
The facility is headed by Mr. Tanuj Pugalia, Dealer Principal, Gallops Autohaus. Gallops Autohaus represents BMW India with sales and service touchpoints in Ahmedabad.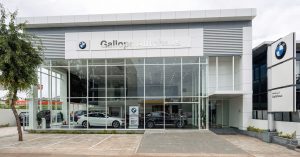 Continue reading "Gallops Autohaus, India's leading Dealer Group to Represent BMW in Rajkot"