MG, which has introduced electric SUV – the ZS EV and the first autonomous Level 1 premium SUV – Gloster, aims to use the research for developing its future autonomous vehicles.
MG Motor India on Monday said it has joined hands with IIT Delhi's Centre for Automotive Research and Tribology (CART) for research in the field of electric and autonomous vehicles.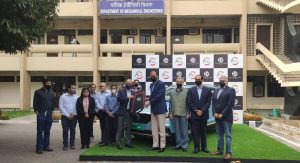 The partnership through Foundation for Innovation and Technology Transfer (FITT), IIT Delhi aims at furthering the automaker's focus on CASE mobility (Connected Autonomous Shared Electric); through enabling supporting research for deployment of electric and autonomous vehicles in the urban landscape in the country, MG Motor India said in a statement.
Continue reading "MG Motor partners IIT Delhi for research in electric, autonomous technologies"