by WAF Think Tank 
World Auto Forum organised the 8th IVASS- India Vehicle After Sales Summit 2022, to discuss Best Practices for Profitability and Growth on 17 December 2022, at Radisson Blu Plaza, Delhi Airport. The conference and exhibition was powered by Syncron, a Swedish Software solutions provider with a global presence.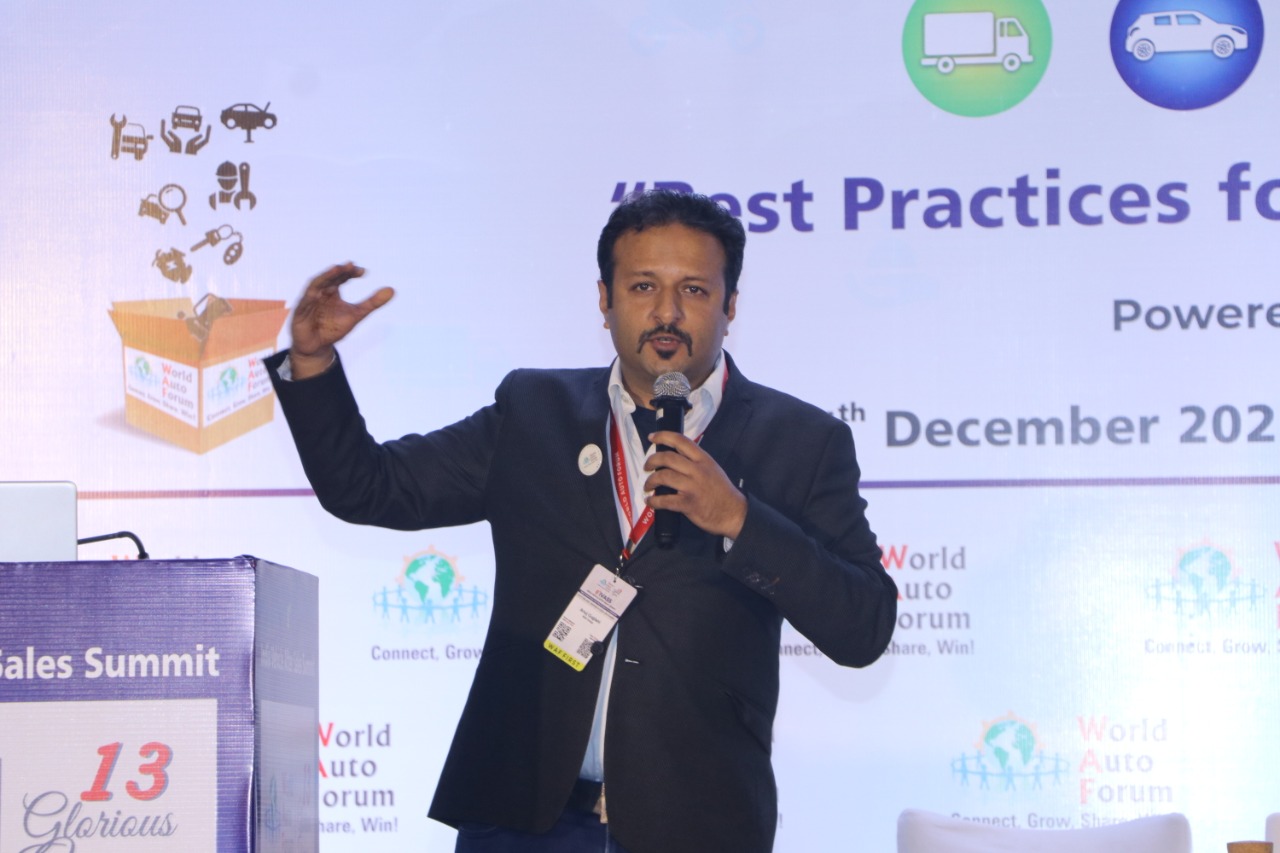 Mr. Anuj Guglani, Founder and CEO World Auto Forum welcomed the delegates and briefed them about the latest WAF activities as well as the day's agenda. Talking of the importance of After Sales, he pointed out that while Sales get the customer, it is the After sales that ensures customer loyalty and retention.
The first panel discussed the topic – Best Practices in Workshop Productivity and Profitability. 
Mr. S Muralidharan, Chairman Mobility Aftermarket and Chair & Moderator kick-started the discussion by commenting on the importance of the number Eight so as to highlight the 8th IVASS. Talking of how the industry is moving towards digitization, and what appears to be a threat to service centres, he sought the opinions of other panel members about why staying relevant and profitable was so necessary for them and how it would transpire on-ground.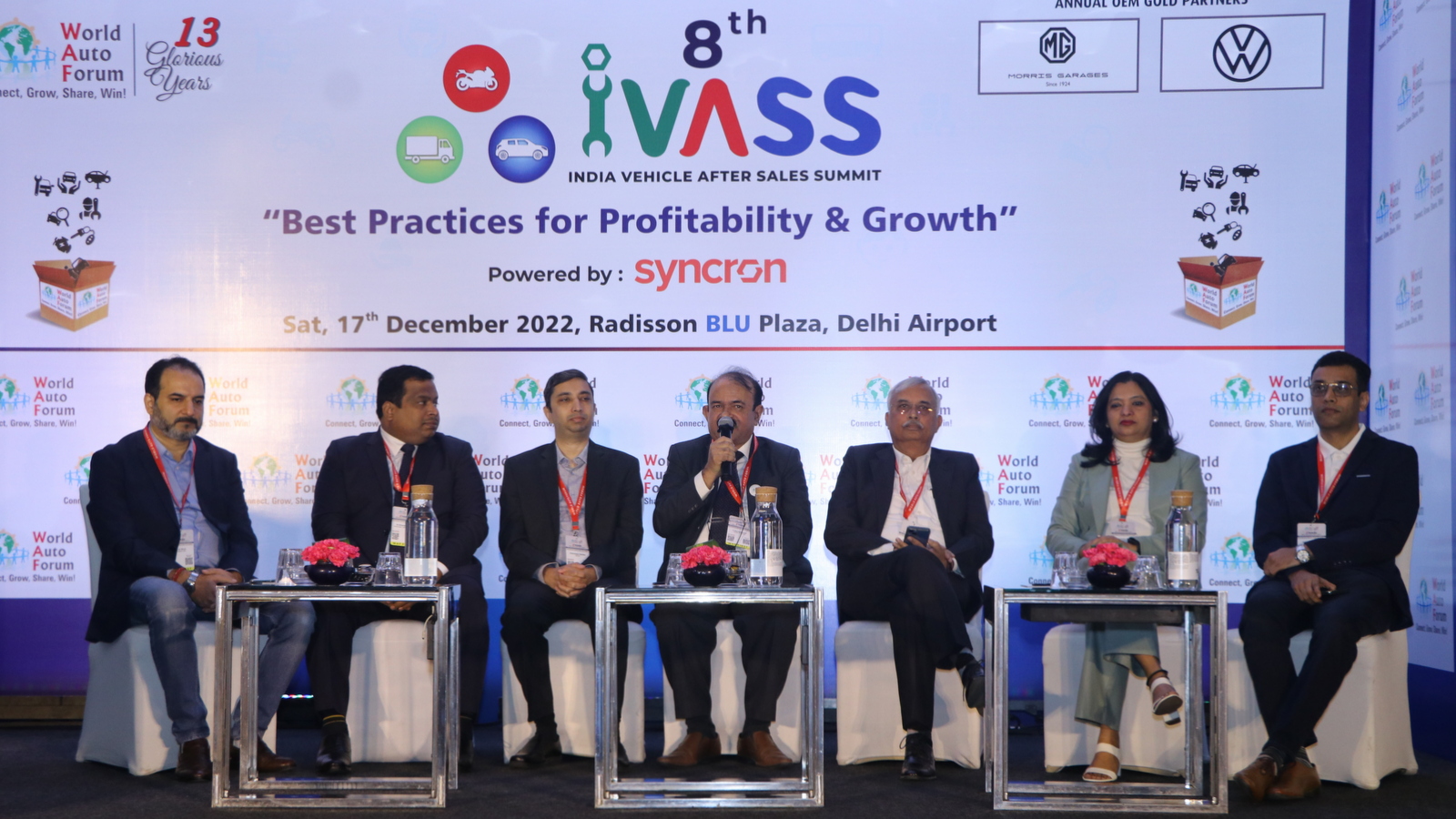 Mr. Pankaj Narula – Former ED, Maruti Suzuki opined that profit is crucial to all business and that business grows with profit being reinvested into it. He spoke about how a large number of workshops have grown by optimum use of infrastructure and maximum manpower to work towards productivity. Hence businesses sustain, grow and continue in the market only via profitability. He added that it was not just customer satisfaction but customer delight that should be the goal and the people in the workshop have the ability to provide that delightful experience.
Ms. Garima Misra – MD – Group Landmark mentioned that after sales is much more inelastic than sales and hence it accounts to better stability of revenue. After sales accounts for 20% of revenue out of which 60% is profit. Emphasising that people are the foremost pillars of any business, Ms Misra talked about how Group Landmark takes care of their employees. She went on to add that during Covid all the employees were provided with covid insurance policies, and the company ensured that family members of employees who lost their lives to the pandemic were given employment while education was ensured for their children.  During that period, representatives from the company visited 4000 families and distributed 5kg of rice to each family. That year, Group Landmark had the distinction of doubling their earnings. An inspiring initiative indeed!
Mr. Vishal Bhat – Head After Sales Business & Service – VW India, declared the need to treat After Sales as pre-sales, because After Sales is the backbone of sales. A sale happens once but after sales is recurring and keeps the client loyal towards the company. Following the philosophy of the 4Ps – People Process, Productivity, Profitability has indeed resulted in a 30% customer retention at VW. Mr Bhat added that investing in new technology with digitisation, getting more skilled and trained manpower and the process of production to delivery in turn results in profitability, and decides the next purchasing cycle of the customer. With time, Promotions in terms of digitisation have become the 5th P.
Mr. M Dhananjayan – MD Focus Group – India & Middle East said that in addition to the process, manpower needs to be focused upon with accurate training. From a customer point of view, an app agnostic mindset is prevalent which means people no longer want to use various apps. He spoke about the gap in OEM and dealership paths and opined that like 4Ps, the 4Rs also need to be addressed. Companies today are focussing on mindfulness and health as priorities along with collaborations between various teams. Emotions and thoughts of employees matter the most for a great customer experience.
Mr. Kalpit Shishodia – Director, Customer Service – Volvo Car India felt that even if the customers return for seasonal requirements and discuss their service needs, the opportunity must be considered profitable for future growth. It doesn't necessarily have to be typical services that a dealer provides, but can also be as simple as Value Added Services, he added. He highlighted the importance of tapping the utmost potential at the slightest opportunity. During lockdown, many OEMs and dealers focused on up-skilling themselves not just emotionally but also from a professional and training point of view, and that helped in improving knowledge and operations.
Mr. Chinmaya Hardas – Regional Director for India, Syncron commented that people expect a personalised experience. It is important to utilise technology and to harness the available data to prepare packages and services towards catering to this requirement to achieve best results possible. He also spoke about evolving the process for best customer experience. At the workshop, technology used must be simple so that people in workshops can utilise and can derive the benefit for not just profitability but for satisfaction as well.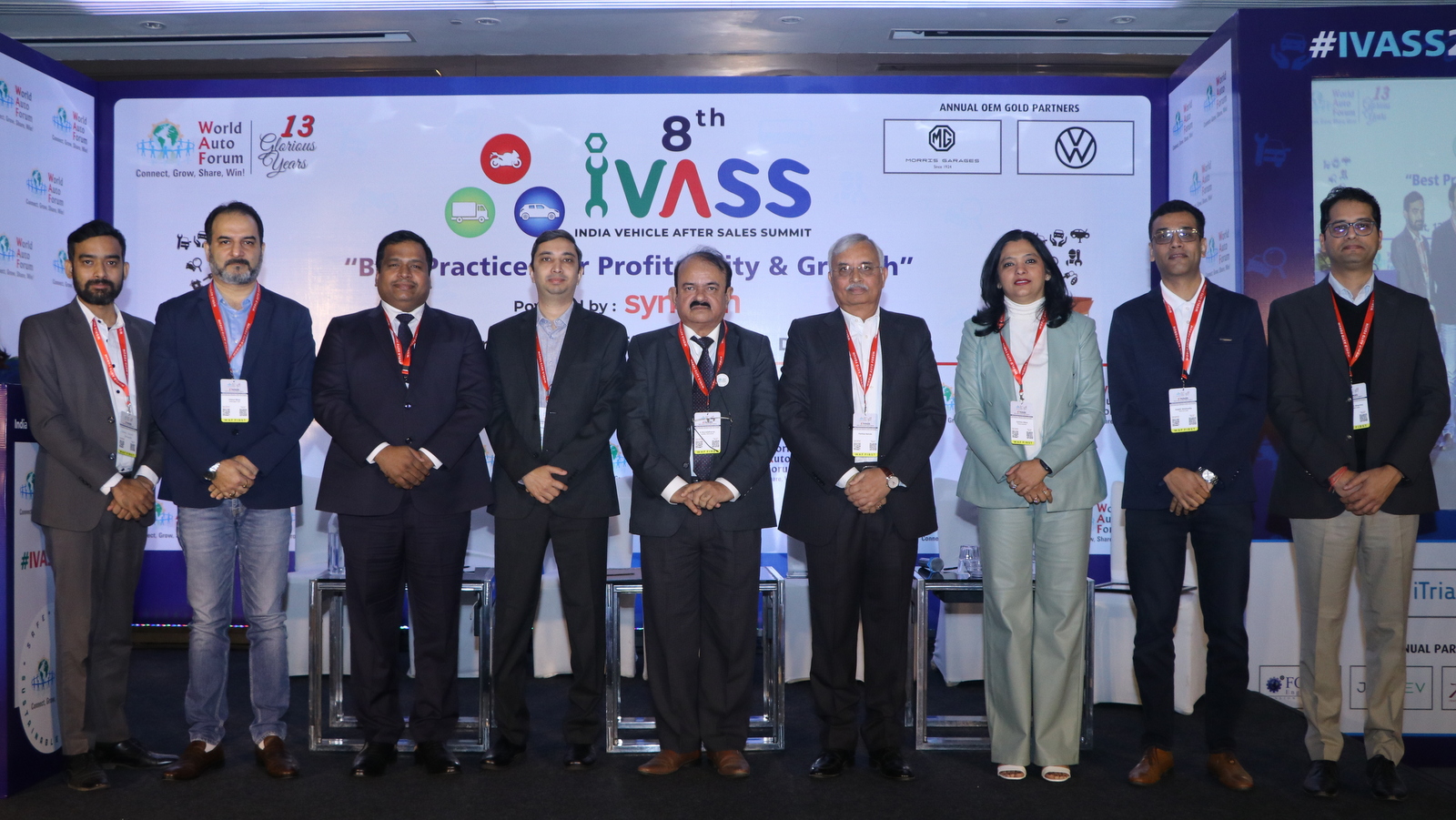 Summing up, Mr S. Muralidharan concluded that both human and physical resources must be taken care of. He added that there was always a shortage of skilled manpower and hence training was the most important step forward for profitability.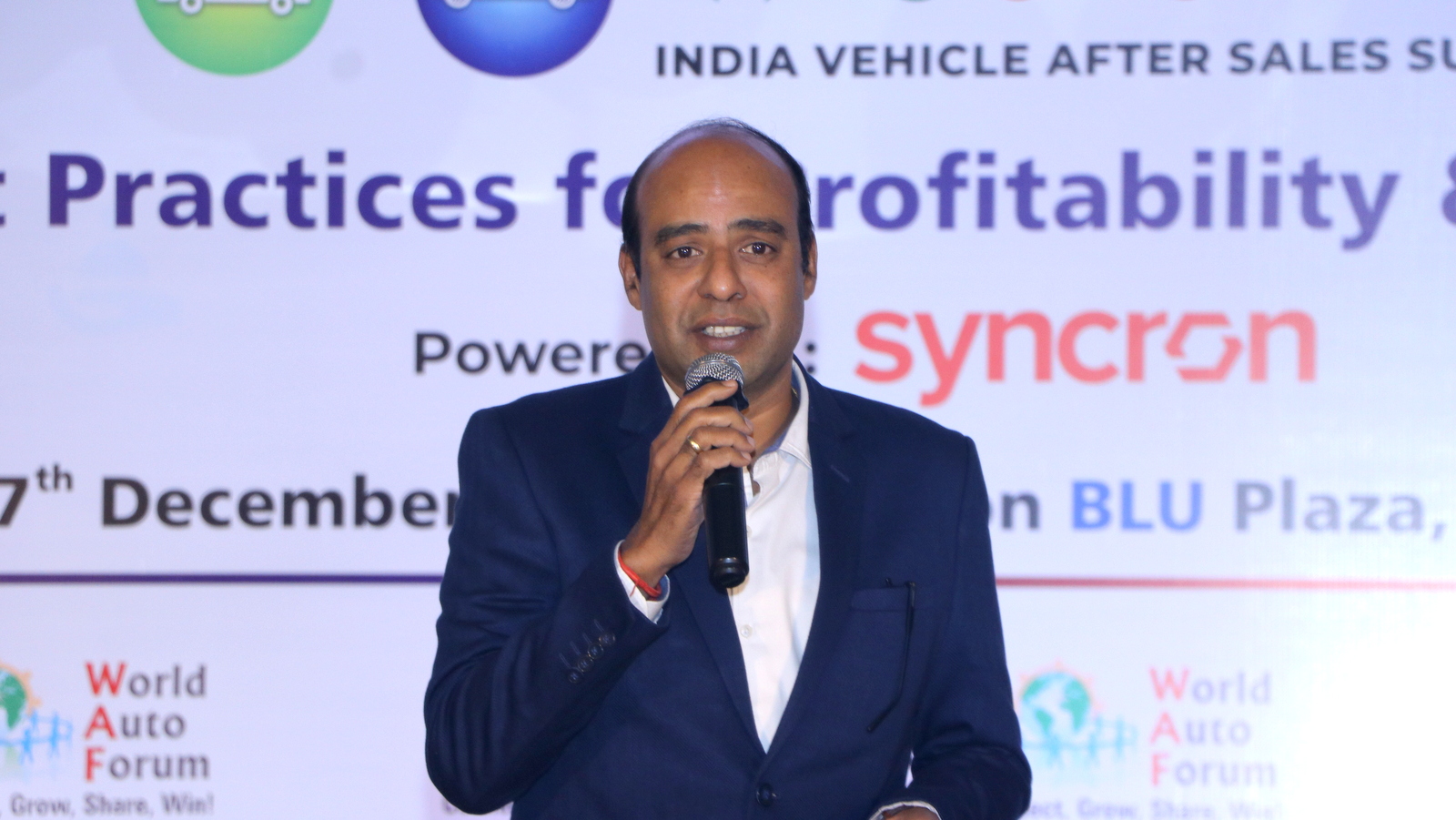 The first Keynote Speaker, Mr. Ketan Girap – Business Director -Key Accounts, Nippon Paint spoke about how Nippon Paint is the fastest growing paint brand in India, and the only brand operational in a 360-degree domain of paint. Introducing Velocity Repair – a quick repair innovation, Mr Girap said that the company's forte is that its products are water-based, ecological and easy to use. Mr Girap spoke about CyGLAZ, which is an in-house patented technology that gives a mirror-like finish to your car, working like a ceramic coating with self-rejuvenating and durable features. The customisable patented velocity repair system involving 20 steps increases productivity as it takes only 100 minutes to complete, while the traditional method takes a little more than 8 hours, he added.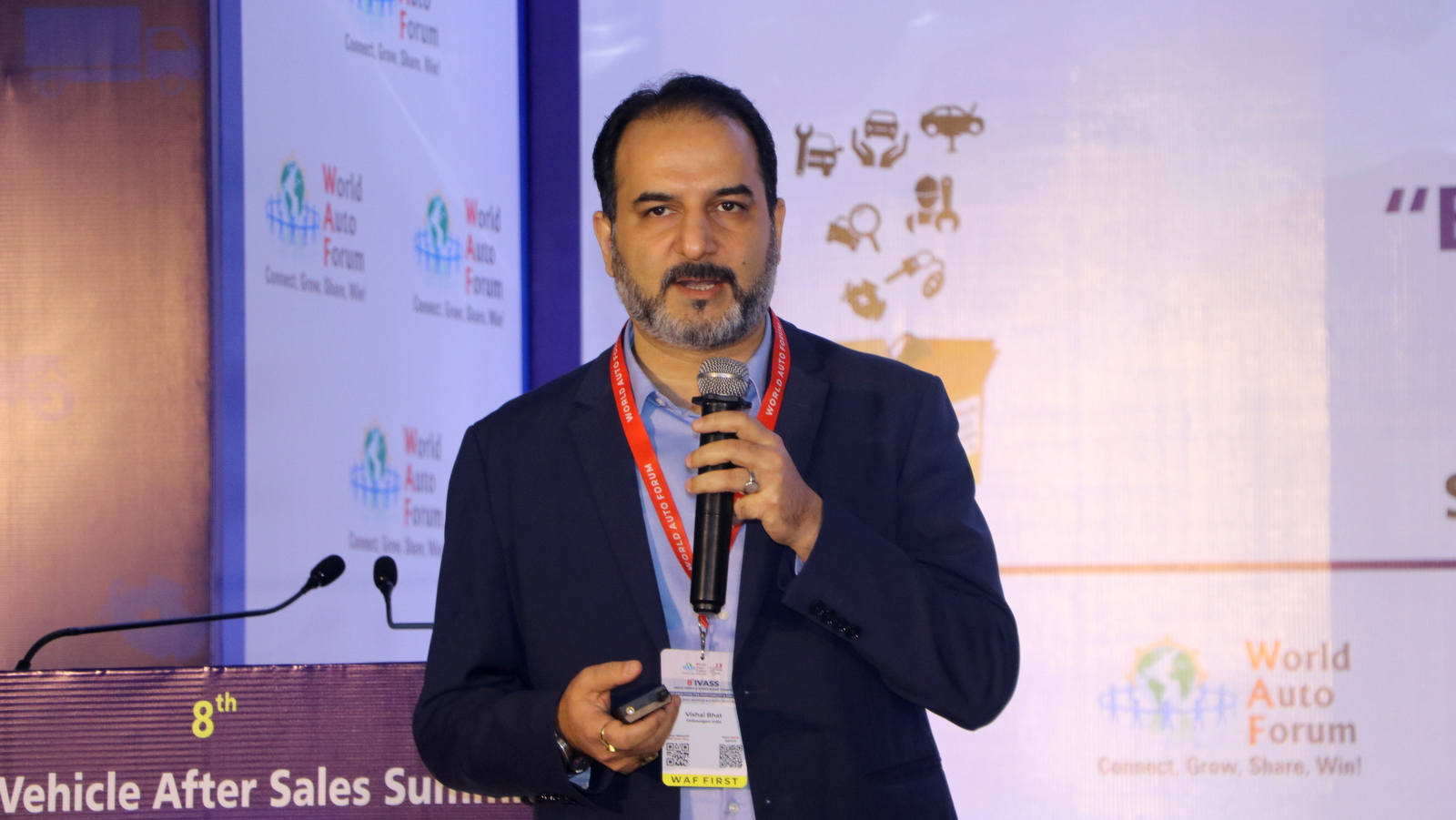 Delivering the second Keynote, Mr. Vishal Bhat – Head After Sales Business & Service – VW India, spoke about Volkswagen's Accessible Service, mentioning that with the India 2.0 strategy, new brand language and products have been launched including the Volkswagen Taigun that received 20 awards in the past 2 years. At the workshops, customer loyalty has been the key to profitability from 2018 onwards He pointed out that VW India has reduced ownership cost by 30% and provided a 4-year inbuilt warranty along with focus on localisation and training programmes.
The third keynote was addressed by Mr. Chinmaya Hardas – Regional Director for India – Syncron, leveraging technology to capitalise on the World's new service economy. Syncron is a Swedish company that provides customer-focused after-sales software and solutions. With connected cars and loads of data, enabling technology and various extended plans and subscriptions come into the picture. He spoke of the need to identify failures and prevent such failures through sensors and predictive measures. Syncron provides a connected service experience with servitization, sustainability, equipment complexity, evolving customer expectation, changing workforce, and distribution channel complexity.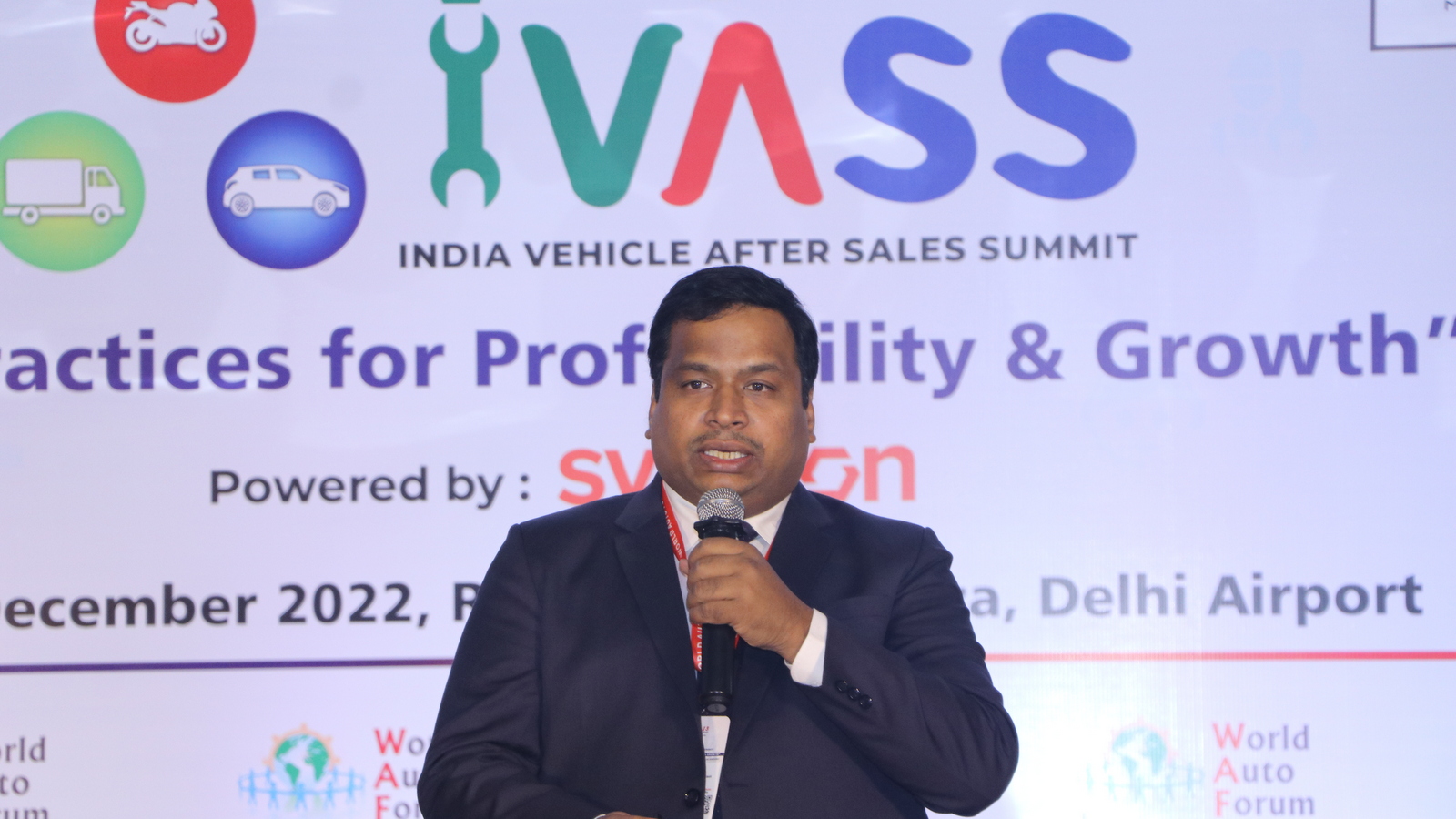 Mr. M Dhananjayan, MD – Focus Group, India & Middle East addressed the fourth keynote and talked about the 4Ds of Dealership. He spoke about FocusTrack, a platform that helps users to access complete car management systems with their phones. Highlighting its features, he said that FocusTrack avoids waiting times and uses a fully automated solution including optimal time utilisation, chat functionality (a quick and easy way to contact the service team), payment gateways, driver tracking solutions, and tracking shortened service schedules of employees on assigned tasks, asset management solutions, digital audits of business data, vehicle tracking, and more. This also enables dealer workshops and auto companies to increase their digital efficiency and handle all dealership operations in a smarter, more productive way.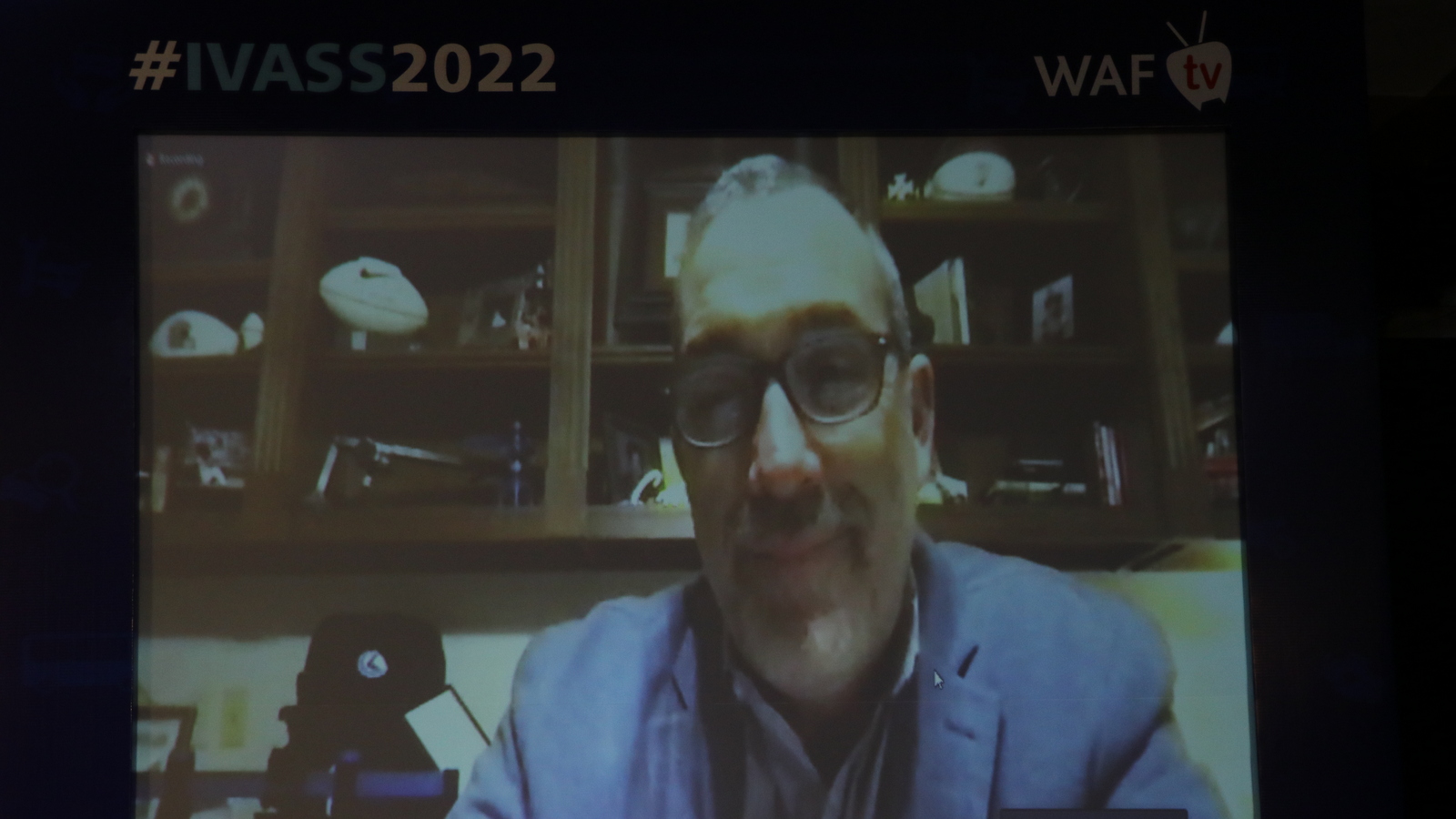 A special showcase was presented virtually over a video call, by Mr. Chris White, President, Keco Body Repair Products, Oklahoma, USA on the Glue Pull Repair (GPR) System. He spoke about the benefits of using the GPR system – no damage to the E-coat; efficient metal flow and reduction in repair area while keeping sustainability in mind using a 6C process – Check, Choose, Clean, Coat, Correct, and Continue with all the tools needed in an organised and accessible manner to cater to all repair needs. The special showcase was followed by a networking lunch.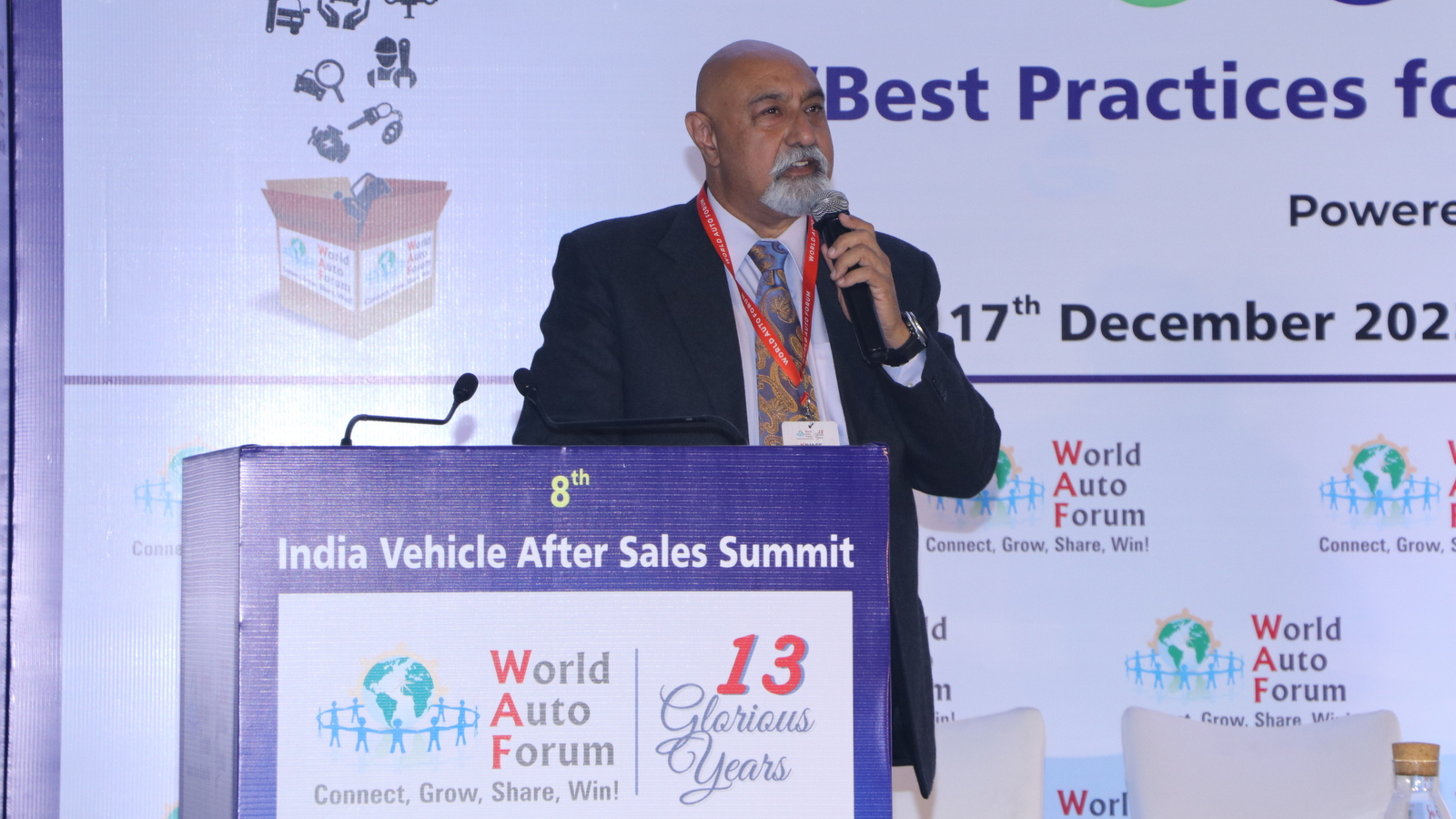 Keynote 5 was addressed by Mr. Manjit Singh Bala, Director & CEO, Hass India Ventures on car washing with the point of focus being the conservation of water. Stating that washing is a department which is usually neglected or outsourced while using the right technology can bring profitability to the workshops and service centres. Mr Bala further explained that the entire car cleaning process takes 10 min from foam washing to wax polish using German technology. Hass has other mobile units like High-Pressure Cleaners that are robust and are designed to survive in all situations which allows fine quality performances with the lowest per car wash price and low water usage.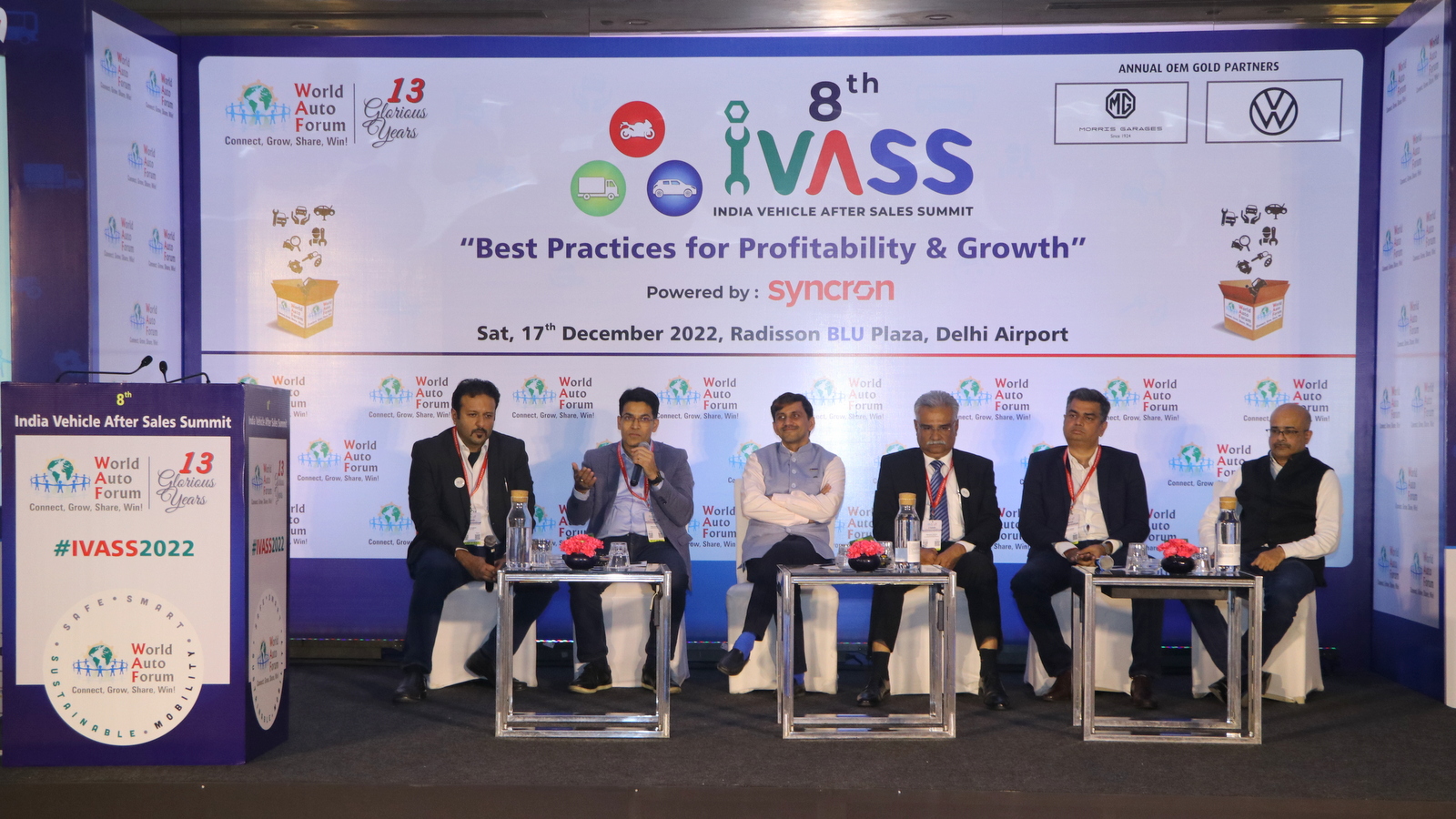 Mr. Anuj Guglani, Founder & CEO, WAF Group moderated the second panel discussion on Best Practices in After Sales Service Business Growth, CRM, and Profitability. He mentioned that practicality is of utmost importance for on-ground profitability. Towards this end, he pointed out that OEMs with automotive authority and hence collaboration and synergy are needed among independent dealers, partners, and OEMs.
Mr. Nilesh Shah, National Head – Service, Hyundai Motor India said that in the automobile business, after-sales is the most profitable and important tool to sustain and grow in the market. He suggested that for opportunities to be looked at in all aspects and to make profits, looking into the segmentation of customer demographic is one way forward. He also talked about Hyundai's platform- My Hyundai app to provide an end-to-end solution.
Mr. Rama Shankar Pandey, MD Hella India Lighting discussed innovative approaches for OEMs and after-market players to co-create a market for consumers depending on their choices. Supporting the right to repair he stated that the fight between standardisation and non-standardisation needs to be resolved as biggest USP of vehicle dealers and independent garages is the relationship with customers that involves more human touch and emotions. Profit matters to all stakeholders and adding to this, profit must be sustainable profit based on suitability.
Mr. Vikrantt Mohan, National President – All India Automobile Workshops Association (AIAWA) highlighted that independent garages are not competition, they are collaborators and that the majority of cars are repaired by independent garages, and that they seek training from the companies. Sales opens the door but service keeps the door open, he added.
Mr. Harsh Vashist, MD Satyam Group proposed that if vendors use technology, it will lead to the growth of dealers and leadership. He added that cost control is cost-effectiveness and to grow with worth is growth. To increase profitability, cost analysis needs to be done per day per person vs expense cost per day. Spare part circulation must be managed and a check must be kept in terms of inventory.
Mr. Vadiraj Katti – CEO & Co-Founder iTriangle Infotech explained that as we move forward, technology takes a major role. Inventory management and technology management is a crucial area where telecommunication supports and enhances the user experience. He added that various companies use telematics to improve their product and services and that the future is about telematics.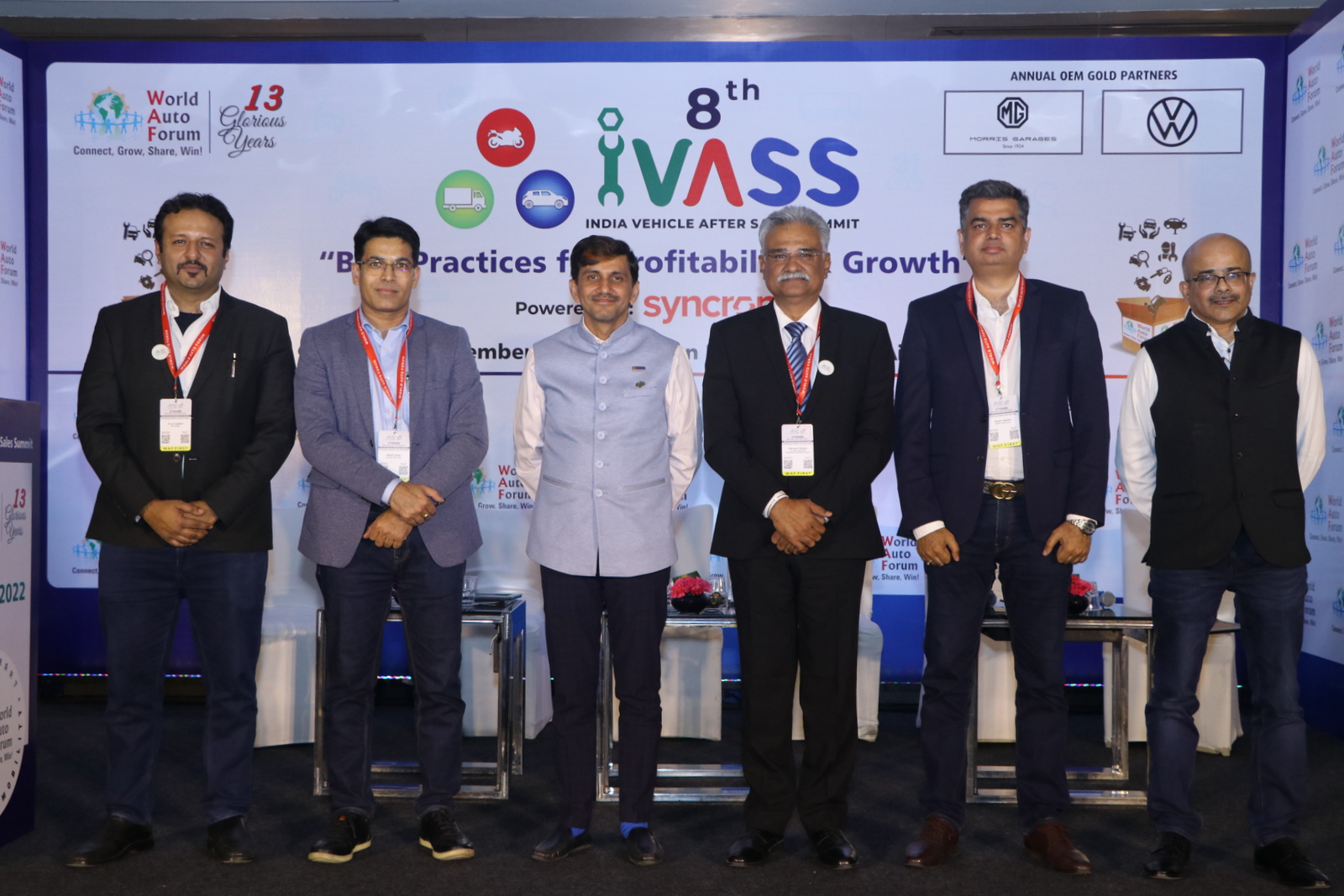 The panel discussion concluded on a futuristic note of adding standards to the service sector and the addition of human touch and training. The panel agreed on the need to work in collaboration with dealers, OEMs, partners, and the staff.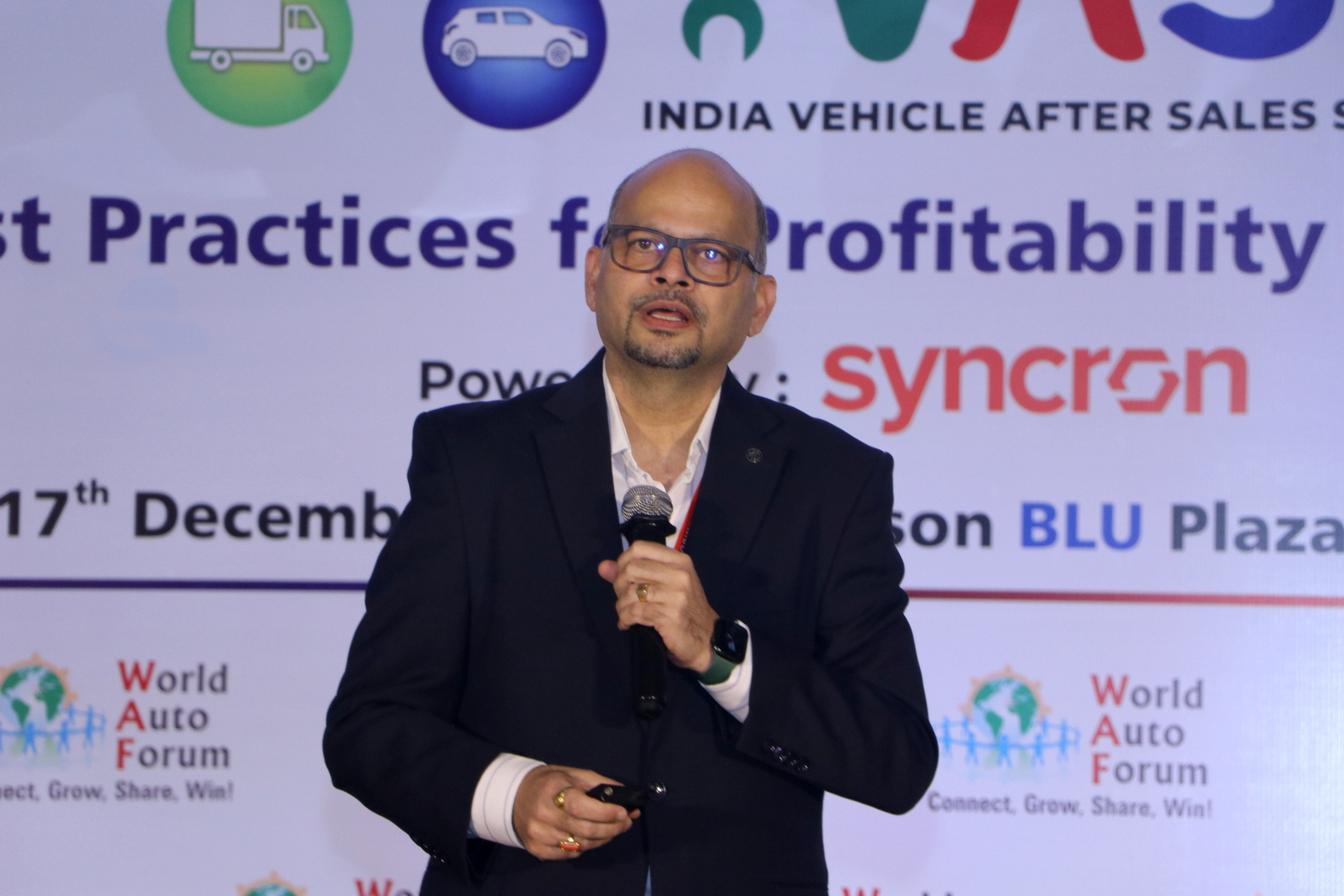 Mr. Rajesh Mehrotra – Director, After Sales, MG Motor India addressed the 6th Keynote and discussed MG's brand strategy in terms of growth and profitability. He mentioned that the mobility requirement of customers is changing tremendously and MG's philosophy is to do more than the customer expects through all the features and policies. A larger territory is established to maximise the profitability of dealers and partners. He spoke of the E-call and I call features of Internet-connected cars to ensure car safety. In addition, the company provides 5yr warranty, 5yr RSA, 5 labour free, reduced cost of ownership, assured buyback, and a protection plan for the Indian market.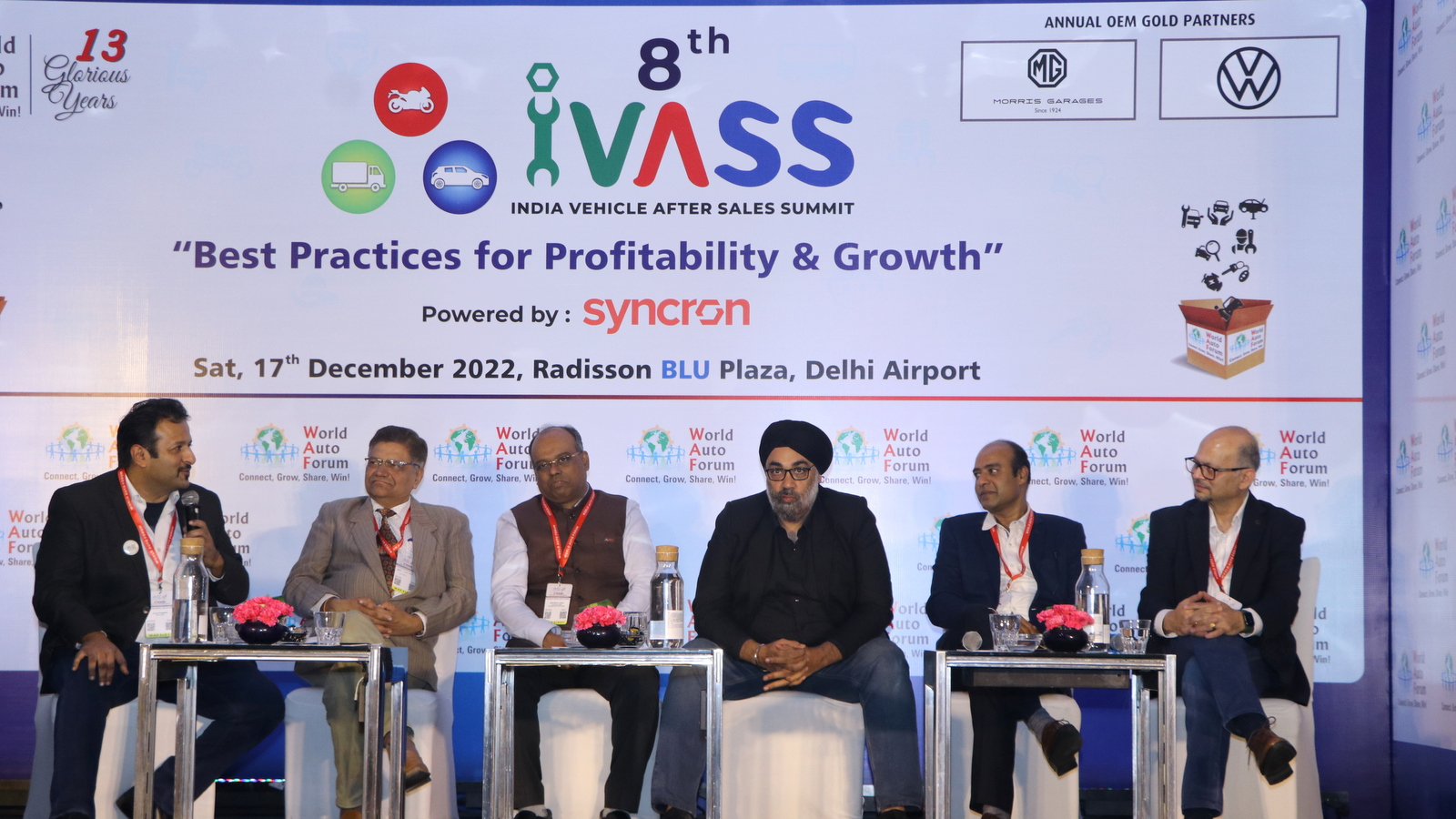 Mr. Anuj Guglani – Founder & CEO – WAF Group started the third panel discussion on EV After Sales Service & Customer Support – Challenges & Opportunities raised the issue of EVs not needing periodic service and wondered how EV after-sales service and customer service could provide profitability for workshops.
Mr. Gurinder Sukhija, SVP & Head Ownership Management, Ather Energy highlighted the EV customer mindset where around 60% of calls are panic calls and inquiry calls. The market has started considering EVs and hence Ather provides experience centres, not just a showroom because customer experience is extremely important. In view of the above, focus on sales must be greater than on after sales in the case of EVs.
Mr. Arindam Lahiri, CEO, ASDC talked about the need to deal with skilling challenges by up-skilling technical knowledge and by building electric vehicle aptitude in programs being conducted at academic institutions to make future generations ready for the same. With EV and other mobility upgradation, opportunities for employment are changing and even women representation is increasing in the service industry.
Mr. Anil Chhikara, Dy Commissioner – Transport Dept, Govt. of NCT of Delhi on Road Safety announced that Delhi is the only state where EV cells have been created and the transport department is working on SOPs for other states to follow. He requested industry manufacturers and professionals to create infrastructure along with the Delhi government. Trade certificates for Multi branding dealership activities are soon to be started. He added that approximately 20,000 SQM of land is available for lease to workshop dealers and associations in Delhi – a gateway to opportunity for many.
Mr. Rajesh Mehrotra, Director, After Sales, MG Motor India spoke about the importance of profit and revenue as a parameter of growth. He added that MG has a minimum of one bay dedicated to EV and that is operating with 75% of appointments booked currently. In case there are no EVs to be serviced, other cars can still be serviced there with special care. The trolley colour, wheels, and tools are much different for both cars, and SOPs have been laid for the same.
Mr. Ketan Girap, Business Director – Key Accounts, Nippon Paint commented that the body shop is a critical part for After Sales and 30-35% profitability comes from body shop operations.  EV has similar painting needs and hence the paint industry will continue to move forward in a greener way.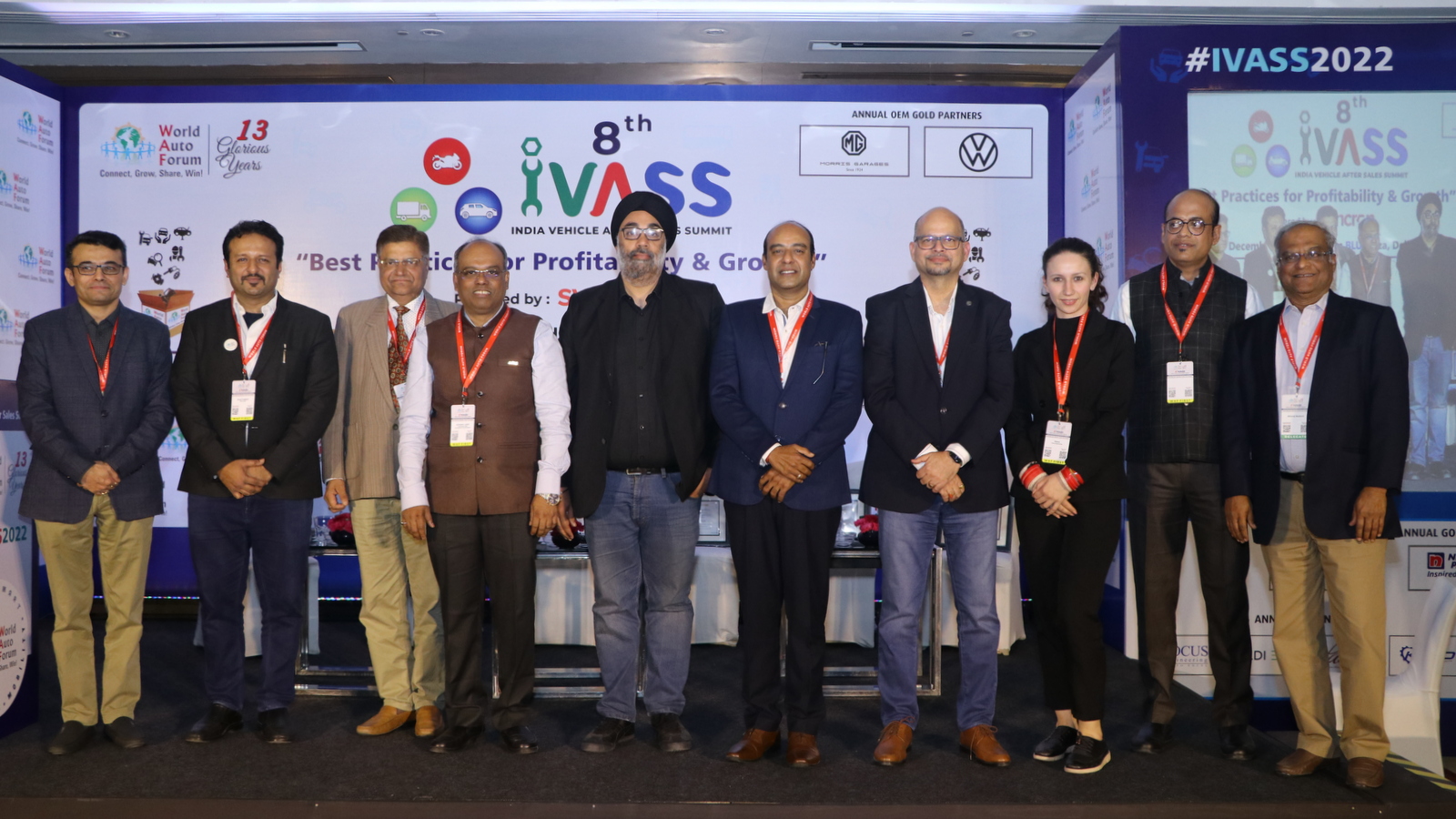 The Panel discussion concluded with comments on the need for safety and training in terms of EVs and the complete customer lifecycle. EV is creating a pool of opportunities that can be harnessed and tapped to its utmost potential for which infrastructure and manpower are the need of the hour.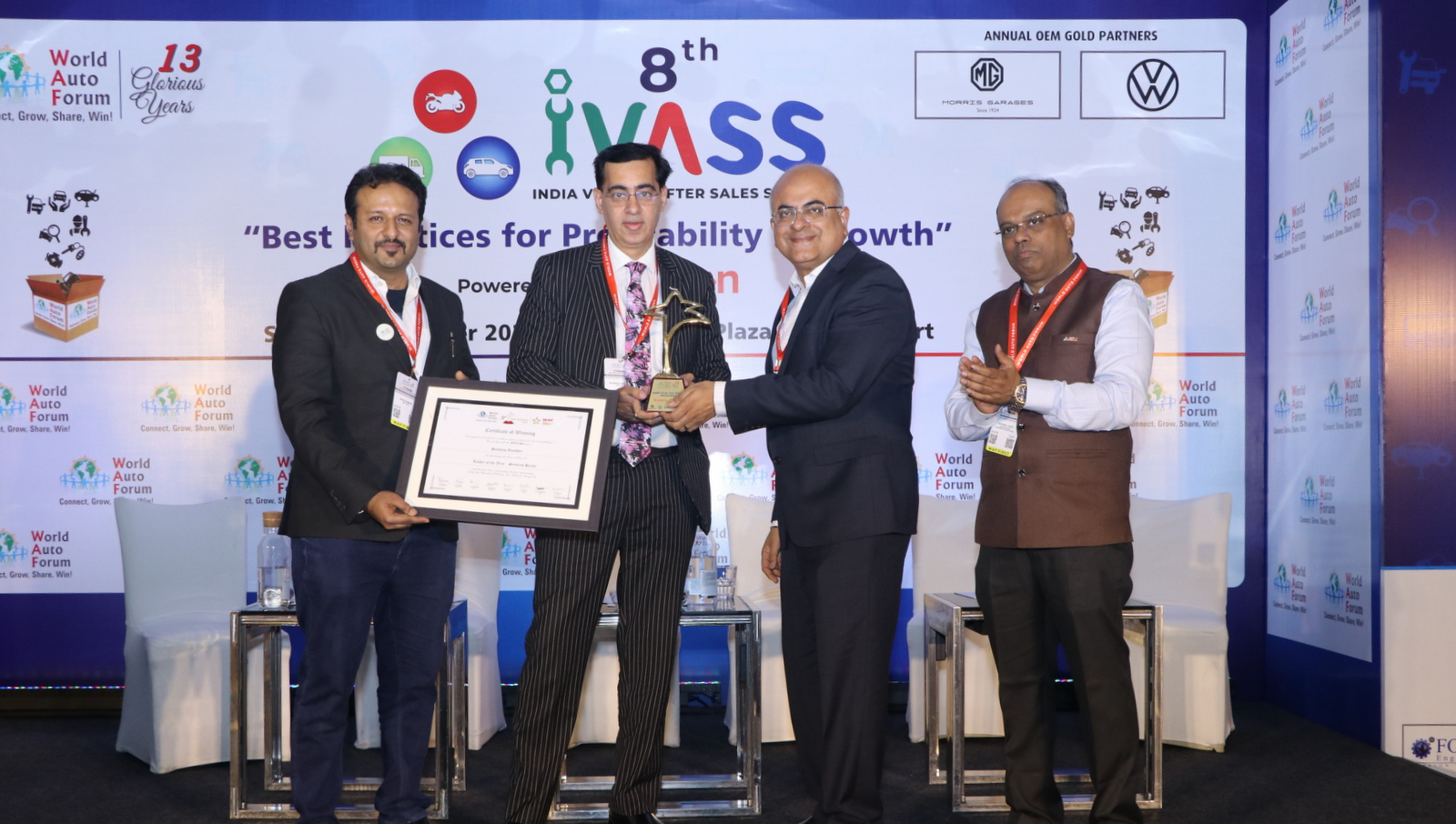 The Programme concluded with a short presentation ceremony. The Leader of the Year Services Sector 2022 was awarded to Mr. Sandeep Gambhir, MD & CEO, Orix India for the second time in a row for his tireless effort and constant growth as a leader.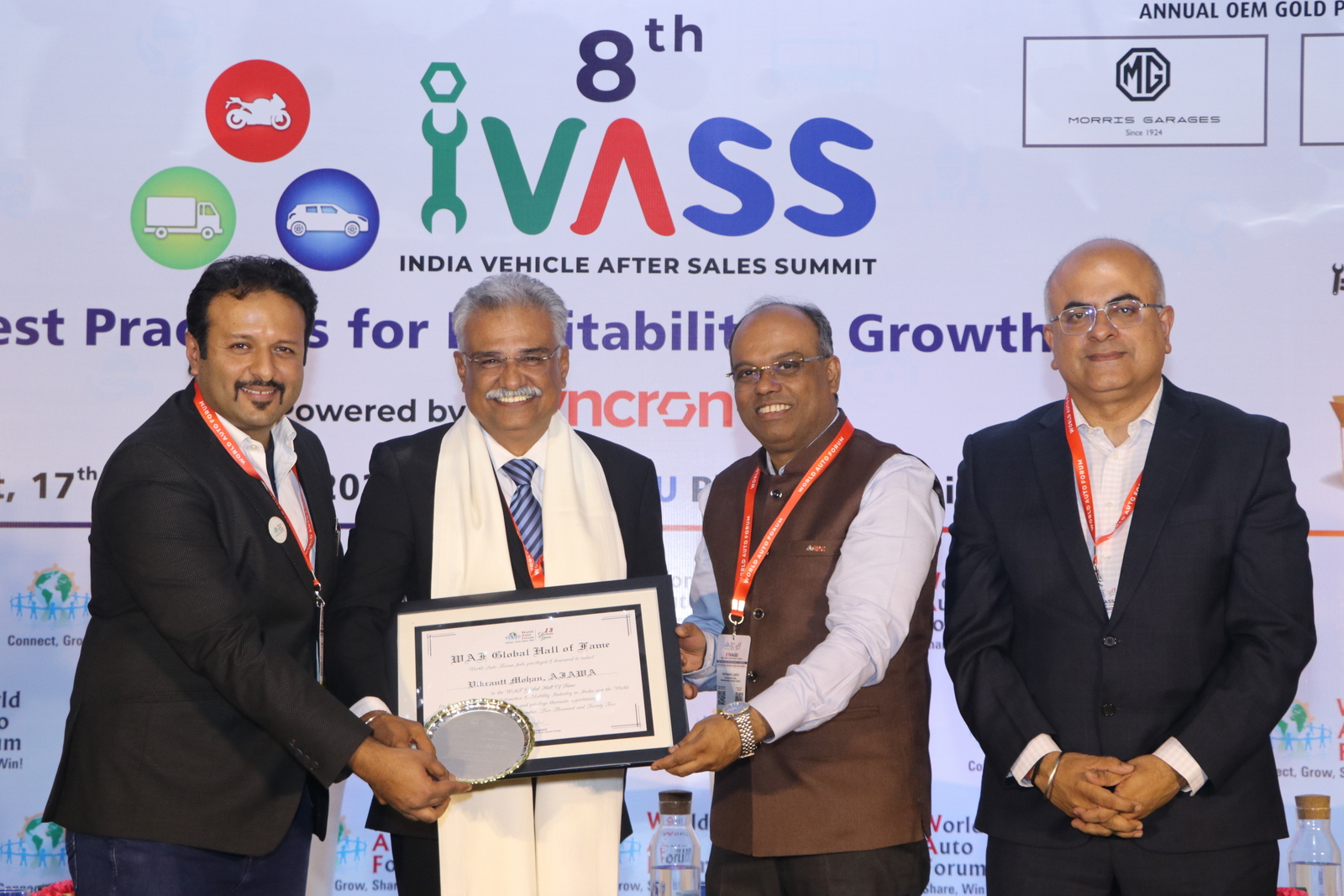 Mr. Vikrant Mohan, National President – All India Automobile Workshops Association (AIAWA) was inducted into the WAF Global Hall of Fame for his tireless endeavour to help the growth and profitability of the entire ecosystem of independent automobile workshops across India.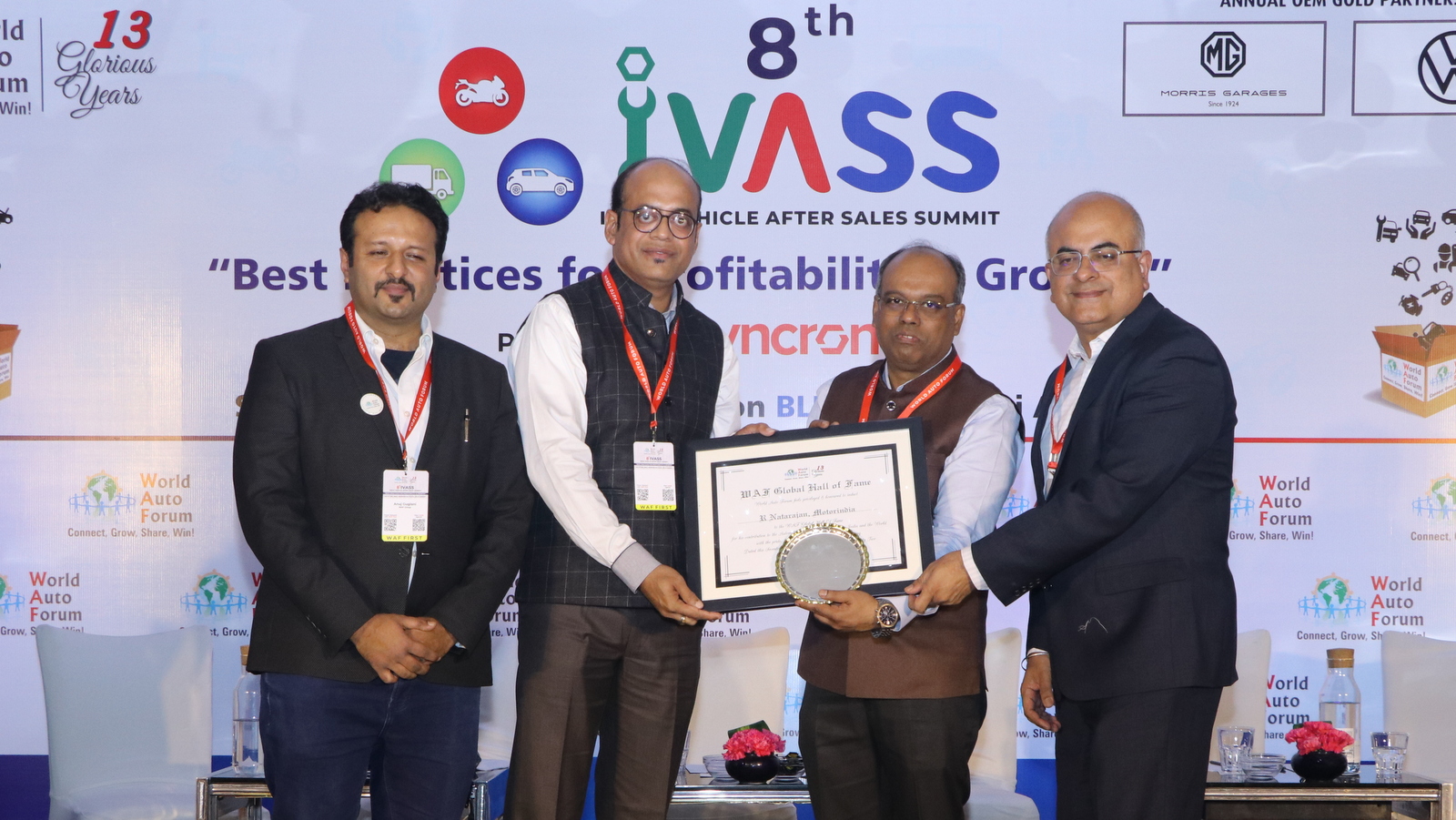 Mr. R Natarajan, Managing Editor & Publisher Motorindia was inducted into the WAF Global Hall of Fame. Mr Natarajan's family pioneered India's first automotive magazine. He has taken the magazine and his media house to a whole new different level. The digital and print editions are now read in 154 countries round the world and enjoy patronage of 400,000 readers! Motorindia is getting published for the past six decades and counting. The WAF global Hall of Fame Award was collected by Mr Avijit Lahiri, regional head, Motorindia group.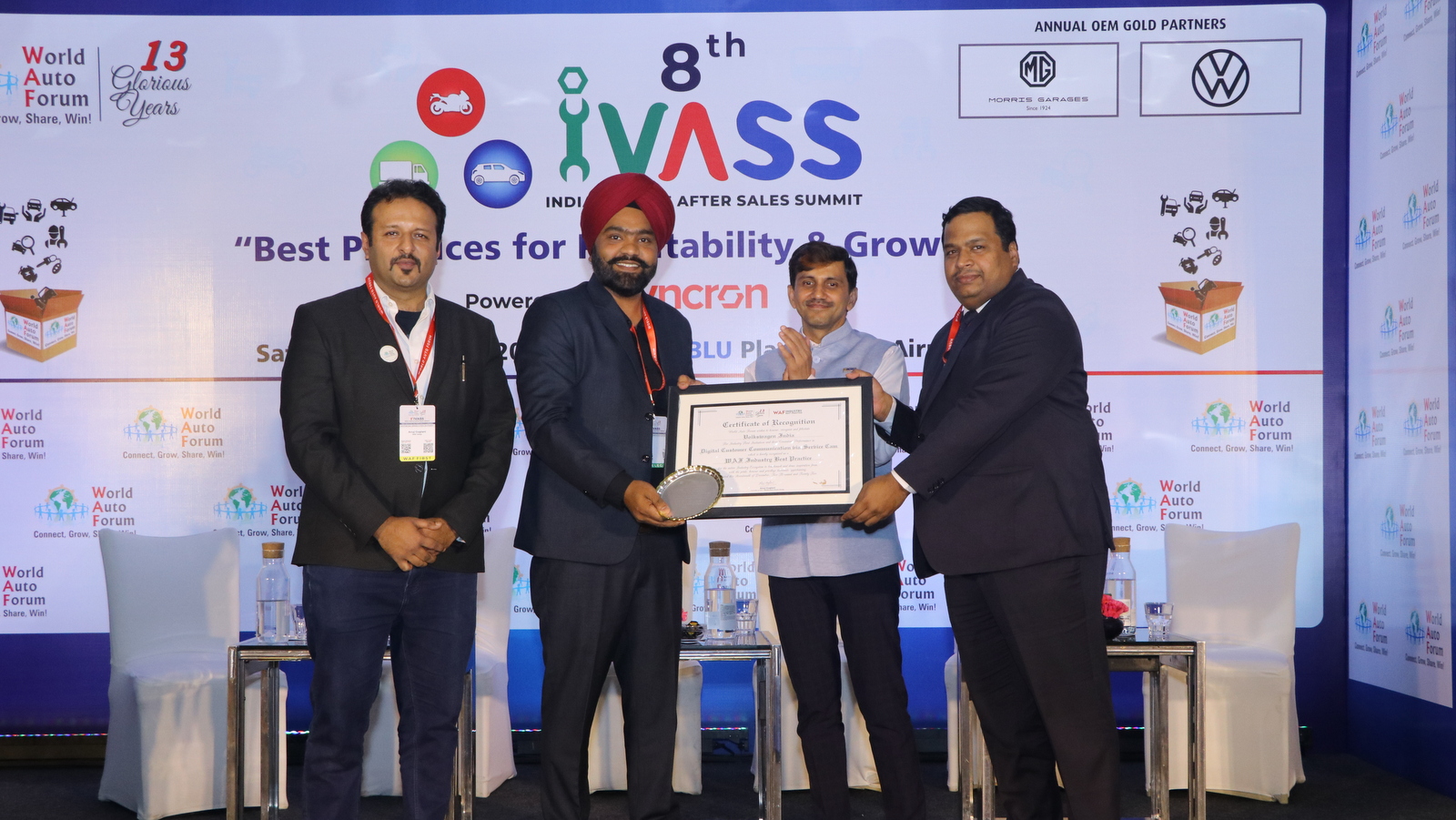 Volkswagen India were presented with the WAF Industry Best Practice for their innovative practice of Digital Customer Communication via Service CAM in India.
Volkswagen India Service Department implemented the Service Cam not just for the customers to watch their cars being serviced and take their approvals but for much more!
For starts, they integrated Warranty and other technical processes with it. They went ahead and also connected the marketing tools for ongoing service promotions to cross sell and up sell, thereby enhancing the customer convenience and satisfaction.
Guess what, by doing all this, they even managed to increase the the service revenue!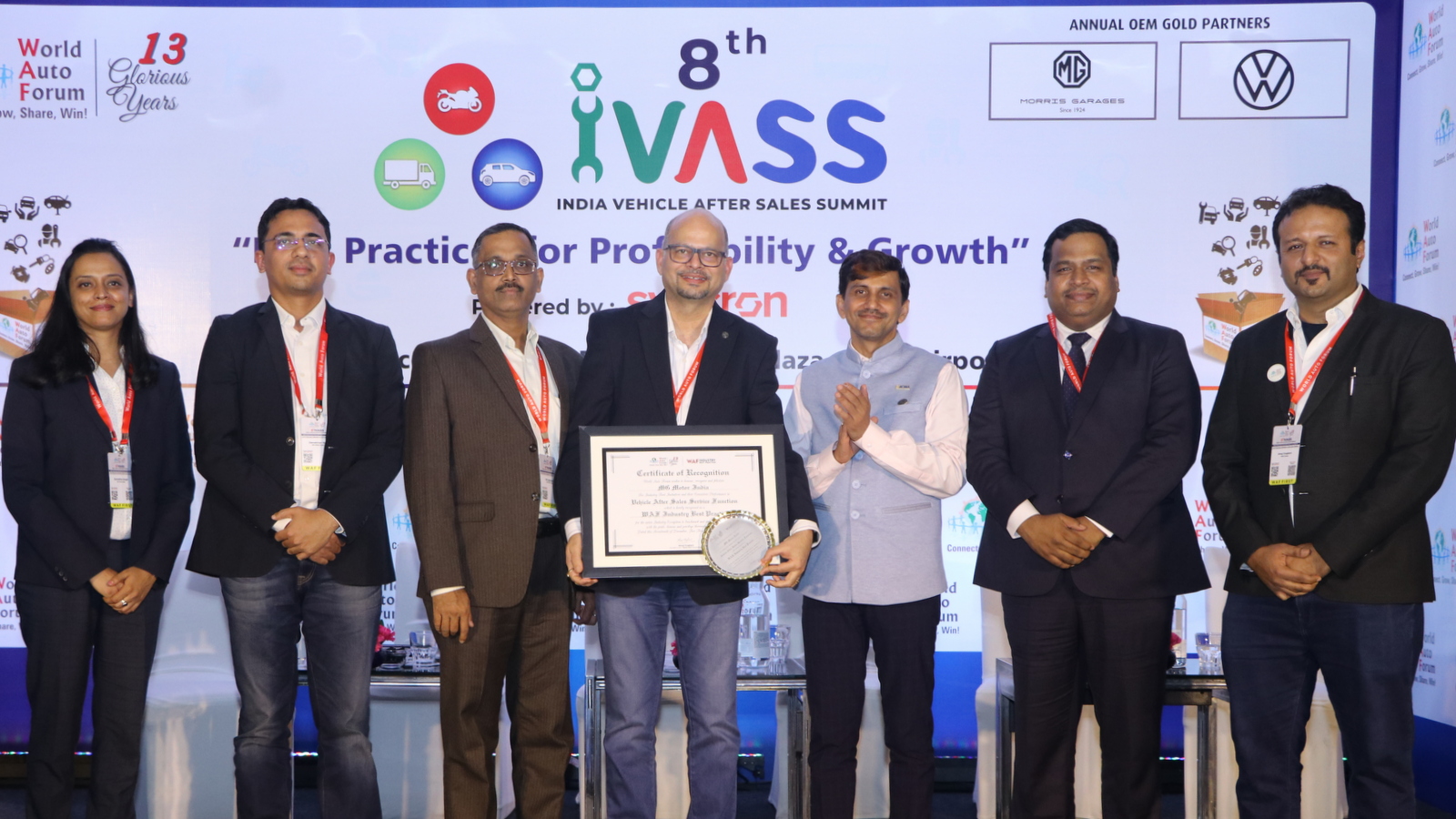 The WAF Industry Best Practice trophy was also presented to MG Motor India for their Customer Satisfaction Initiatives in India.
Morris Garages India Vehicle After Sales Service Department's several Customer Centric Initiatives like Dealer Workforce R&R, SOPs Programs, 5 yr RSA Program, MG Shield, My MG App, Empower to Delight, all together, were declared as a WAF Industry Best Practice!
This is the result of relentless hard work of each and every team member at MG Motor India and their dealer network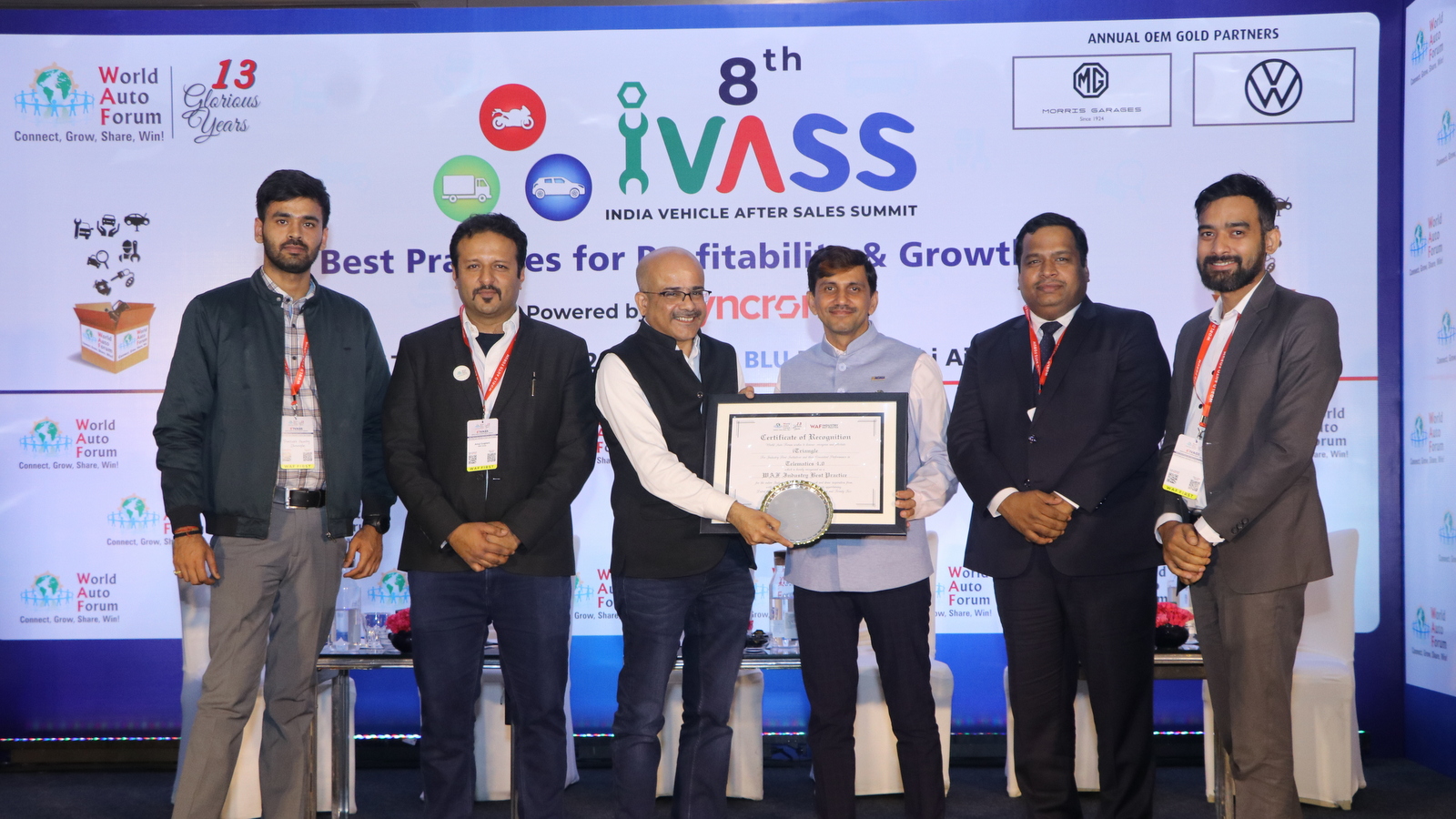 The final WAF Industry Best Practice trophy was presented to iTriangle Infotech for their Best Practice of Telematics 4G and innovative and futuristic practices.
They have been spearheading the transformation from 2G to 4G ! They are India's largest and also the fastest growing telematics company.
Now what's this big fuss of Telematics 4G ? Well they go beyond the tech buzzwords and offer real & tangible benefits like :
1. Extended wireless network coverage
2. Higher bandwidth and data speeds
3. Low latency
4. Wider coverage range
5. Improved network reliability
6. Greater compatibility with the latest cellular technologies
and much more!
The 8th India Vehicle After Sales Summit was wrapped up with a valedictory ceremony  with a promise to meet again in February 2023.
About WAF 
World Auto Forum ( WAF) is the Global Auto & Mobility Think Tank Platform. A place as relevant for the Chairpersons and the Top CXOs as it is for the interns and trainees. Established in 2009, it now has community members across 125 Countries. WAF Auto News is World's No 1 in World Auto News.
WAF TV is its online broadcasting arm where one can watch hundreds of video content on Auto & Mobility Industry. WAF also organises popular programs like WAFit! , IVASS , WAF Awards,  CXO Roundtables Discussions where top leaders of the industry take Dialogue to Action!
Session Videos can be viewed soon at WAF TV 
MEDIA CONTACT INFORMATION
World Auto Forum
Aviyukta Adlakha , adlakhaaviyukta27@gmail.com
Gerald Louis "Jerry" , jerry@waf.bz , +918368746841
Anuj Guglani  , anuj@waf.bz 
WAF Social Media Community 
Waf.bz  – World's most Powerful Auto & Mobility Leaders Community
WAF @ Linkedin 
WAF @ FB