by WAF Think Tank 
Volkswagen Passenger Cars India on Thursday said it has appointed Ashish Gupta as Brand Director for the Indian operations with effect from November 1.
Ashish Gupta has a rich experience of 20 years + in the Automotive industry across projects, training, network, sales and after sales. Prior to VW, he worked with Toyota for over a decade at India and Japan.
He is a qualified engineer, with a masters in marketing management and a leadership licence from ISB Hyderabad. He has also been certified by VW AG under the global leadership program.
He takes over the reigns of VW India from Steffen Knapp. In the last 3 years of his tenure, Mr Knapp laid down a strong foundation for VW at India through various innovative programs and initiatives.
Mr Gupta in his stint as the Sales head at VW India had launched several consumer focussed programs like Power Lease, VW Secure & Das Welt – Pre Owned Cars. During his After Sales stint, he had worked on the cost of ownership and dealer SOPs for higher customer satisfaction and retention.
Mr Gupta has been quite regular to Programs at WAF. His thoughts and ideas for the consumer and the Industry have been well appreciated by Top Industry Captains and thought leaders.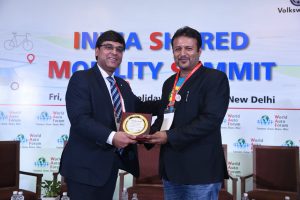 "Ashish is a promising and a result oriented professional. He has worked across diverse geographies and functions like sales, after sales & training which is rare and thus extremely valuable. This gives him an incredible edge to understand the consumer 360 degrees and deliver winning solutions and offerings," says Anuj Guglani, CEO, WAF 
World Auto Forum wishes Ashish Gupta all the very best for yet another dream run!
VW India is the Annual OEM Partner at WAF.