Dr Pawan Goenka, Chairperson of INSPACe – Department of Space, Government of India, was given a lifetime achievement award for his enormous contributions to the Indian Auto industry
Mr KVS Prakash Rao, a former president of FADA, received an award for his exceptional contributions to the automotive dealer community
New Delhi, January 14, 2023: The 12th edition of the Auto Summit 2023, the biennial flagship convention of the Federation of Automotive Dealers Association (FADA) concluded today in New Delhi. The summit was themed "FIT & FUTURE READY," and it provided an overview of the Indian Retail Automobile Industry. The was attended by senior government officials as well as stalwarts of the Indian automobile industry and industry think tanks. 
The summit provided a common forum for industry, leaders, manufacturers, government officials, dealers, Industry analysts, academia, and various think tanks to discuss the changing dynamics of the Indian auto retail and service industry, upcoming business opportunities, and envisioning the industry's future.
The event, themed "FIT & FUTURE READY," featured a lively discussion on the Indian automobile sector's current and prospective challenges, the future of the Automotive retail business in India, new business prospects, and the industry's readiness for the changing dynamics of the mobility ecosystem solutions. 
Shri Om Birla, Honourable Lok Sabha Speaker, Government of India, was the Chief Guest.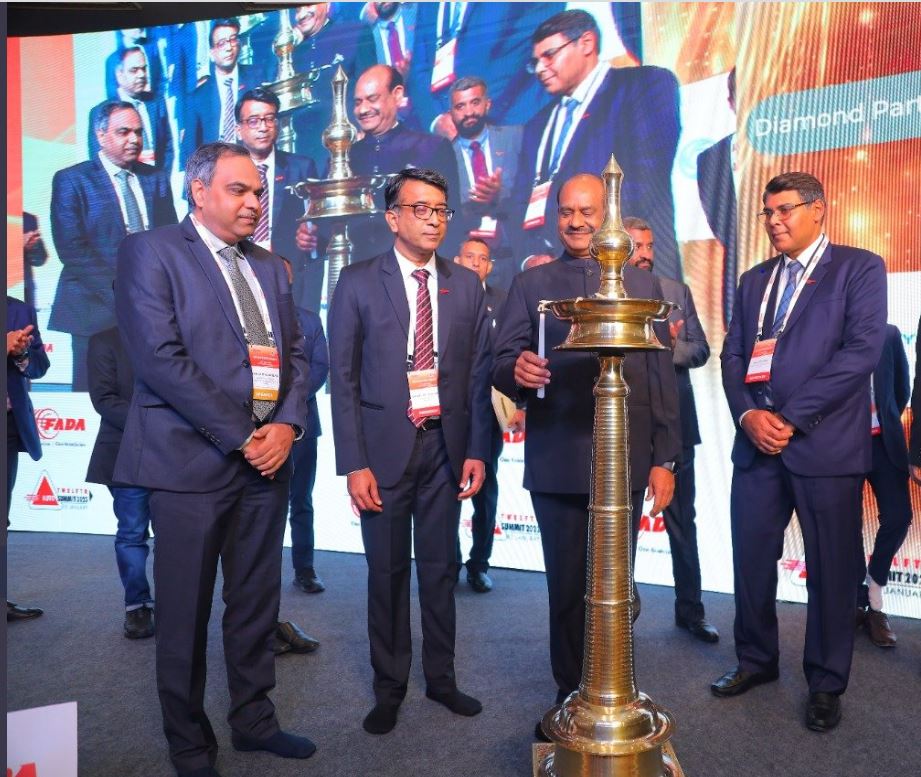 Recognizing the automotive industry's contribution to the Indian economy, Chief Guest Shri Om Birla, Honorable Lok Sabha Speaker, Government of India, stated that automobile dealers are an integral component of the automotive ecosystem and act as the industry's public face. The Indian government has been working tirelessly to cut carbon emissions and create a greener India. The automobile industry must play a key role in this inspiring endeavour. Dealers are key point of contact for customers, and they carry a big responsibility for raising awareness about this mission. We will soon be presenting the Auto Dealer Protection Act  and Model Dealer Agreement in the house for discussion, and I am optimistic that we will have a fruit discussion on the same.
He praised FADA for launching a road safety and green future campaign, noting that initiatives like "Buckle Up India" and "One sapling for every car sold" are noteworthy and will have a significant impact on the government's efforts to promote safety and environmentally friendly mobility for generations. India has the potential to be a major exporter of cutting-edge technology and future fuel. India has made tremendous progress in developing new automotive technologies, future fuels, and as a production base for quality products for the Indian and global markets.
He urged dealers to educate customers about welfare schemes offered by the Central and state governments, as well as insurance coverage. Automobile manufacturers, dealers and customers must contribute to making the country a greener and safer environment for the future.
Mr Manish Raj Singhania, President, FADA, welcomed the distinguished guests and association members at the 12th Auto Summit and said: "Our dealer network is a key component of the automotive ecosystem, providing over 4.5 million jobs and a large ongoing investment in addition to being a key contributor to revenue generation for states and the Central governments. The automotive sector has been on a roller-coaster ride in recent years, but it has weathered the storm. The past few months have clearly shown signs of revival, with increased commitment and trust among customers and the members of the automotive industry. We are optimistic that this momentum will continue.
The 12th Auto Summit has addressed the important concerns, challenges and opportunities not only for the dealer community but for the entire automobile industry. We must all work together to make this business more adaptive and future-ready, in terms of technology, high-quality customer service, and global-quality products.
The Automobile Dealers, as a responsible community, launch the "BuckleUp" road safety campaign and the "Green Initiative," which involves planting a sapling for each vehicle sold, as part of their continued efforts to strengthen their commitment to society.
 as a Under the industry's green mobility mission, we have come a long way in terms of technology and design advancement. It's time for the dealer community to collaborate with our manufacturing partners to provide customers with cutting-edge, user-friendly products and services. To ensure the success of this initiative, FADA and META (Facebook) have teamed up to provide digital training to over 3,000 dealers so that they can build a social media presence on various digital platforms.
Mr Singhania designated September 19, the FADA Foundation Day, as Auto Dealers Day, and urged all member dealers to observe this day with great pride in their contributions to the community and the industry.
He further added, "Model Dealer Agreement is an important part of the new age dealer association and management creating a level playing field for OEMs and Dealers working together to provide some of the most innovative, cutting-edge products and services to Indian customers. Nine OEMs have personally heard about the model dealer agreement, and we are happy to report that each of them has responded in a very positive way. I'm pleased to announce that after two years of hard work by FADA, the MDA was accepted and approved by MG Motors today, marking the beginning of the journey's successful conclusion.
The summit featured 60+ speakers, 7 sessions, 6 workshops and 1500+ participants. The convention included extensive discussion on the future Auto retail business in India, emerging opportunities and disruptions in the Indian Automobile Industry, India's journey towards future fuel, the future of the passenger vehicle and commercial vehicle, government policies, keynotes, panel discussions, one-on-one interactions, and many other interesting topics with industry leaders, key industry policymakers, and new market entrants.
#wafautoexpo23