By WAF Think Tank 
Honda cars have always been known for their quality, performance, stellar fit & finish and endurance. Honda's Core philosophy revolves around Respect for the Individual and the 3 Joys viz Joy of  Buying, Joy of Selling and Joy of Creating.
When it comes to creating at Honda, a name comes up prominently, like a shining star and that is Mr Navid Talib. 
Talib san as he's lovingly addressed by his colleagues, teams and friends, has been the key driving force behind Engineering, Quality, New Model Development and Manufacturing of Honda Cars, as he had been heading all these functions at Honda Cars at India.
He joined Honda Siel Cars India Ltd, as it was back then, 24 years and 24 days back! After spending nearly a quarter of century at Honda, he has now decided to move on and take the corner office at a new age mobility Co as its President & COO. 
As Head of Operations at Honda Cars India Ltd, he was always driven with a sense of purpose to focus on all-round performance of Honda Cars production plants in India. Managing a diverse cross-cultural Indo-Japan team he has always been naturally drawn towards big ideas, high impact transformative projects and has successfully delivered several firsts in the Indian automotive industry.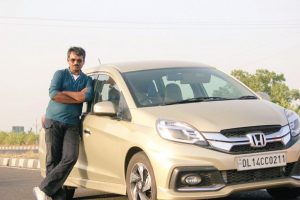 He has been an astute leader with almost 3 decades of diversified experience in the automotive industry including 5+ years of overseas work experience as an expatriate in Japan & Thailand, he had the opportunity to lead Product development teams in the APAC region & successful introduction of models like City, Civic, Accord and Jazz. In Short "All that Jazz!"
With his foresight and vision of the future, he had pioneered the introduction of Hybrid Electric Vehicles(HEV) into India in 2007 and also drafted the Indian automotive industry standards for HEV's. – Introduced Additive Manufacturing technology for making inspection jigs for the body shop which is another first in the automotive industry. No-one was even thinking on these lines 14 years back, what to say of launching these Innovations and the products! 
It was the "Talib San Magic" at Work!
He introduced sustainability measures to reduce CO2 emissions and freshwater consumption which are being used till date!
'Talib San has always been the "Go To Man" for not just Honda Cars India but also Honda Motors Japan and several other Industry leaders when faced with difficult situations and challenges. His cool Demeanour, respect for Individual, razor sharp focus, team first attitude makes problems melt away.  His Humility disarms the people in the room instantly. He is a Global Industry Asset, period, ' says Anuj Guglani, CEO, WAF 
During this long and illustrious career, he has held several key positions like :
Convener- Efficycle SAE NIS 2021, Chairman-Connected Vehicle Group, SIAM, Chairman- Aspire ITS Sub Board,
Member- Engineering Education Board,SAE India, Co-chair Student competitions SAE NIS,
Member- Academic Council ARAI- Chitakara University, Advisor to Education Board – GLA University.
He's a Mechanical Engineer with expertise in Automobile Development, Manufacturing, Quality systems & Sustainability. He stays with his family at Delhi – NCR
We wish Talib san all the very best for his New Dream Run as he leaves Honda Cars after a super successful tenure of 24 Years and 24 days!
The Best is yet to come, let the "Talib San Magic" go to the Next Level!