by WAF Think Tank
India's first EV Charging Station powered by Biogas got inaugurated earlier this week.It generates 220 units of energy from household waste. Along with powering street lights, this energy plant will now charge electric vehicles too
This is called Win-Win-Win!
1. Green Energy from Biogas for EVs
2. No Solid Waste sent to Landfills
3. Bio Fertiliser as side product for the farmers instead of the Expensive Fertilisers and Chemicals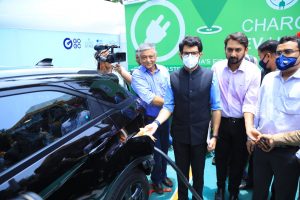 The new charging station was inaugurated by Aditya Thackeray, Minister for Environment and Tourism, Government of MaharashtraThe charging station has been set up as part of a joint venture by the Brihanmumbai Municipal Corporation (BMC) and Aerocare Clean Energy Limited and draws power from the latter's waste-to-electric power generation unit that commenced operation in September last year.
'We need more such innovations and initiatives in the country. This is the only way to ensure sustainable and green electric mobility. EVs can't be powered by Fossil fuels otherwise we are just creating a smokescreen similar to the "Clean Diesel, Green Diesel" Campaign of the early 2000 era', said Anuj Guglani, CEO, WAF Group