by WAF Think Tank 
At a special ceremony on 14 May 2022 at Pune in India there were several soldiers, veterans and families with disabilities who got empowered with the gift of mobility!
They were presented Neobolts – India's first indigenous motorised wheelchair vehicle.
The presentation ceremony was presided by Mrs. Anita Nain – Regional President, Army Wives Welfare Association (AWWA), Southern Command with Capt Pranav Prasoon (Retd) – Head HR, Renault India and Mr. Ramakrishnan Ramanathan – VP Engineering and CSR Leader – Renault Nissan Technology & Business Centre India (RNTBCI).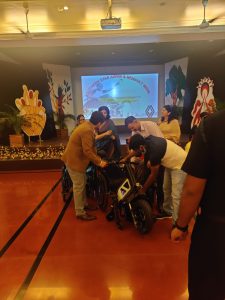 Renault Nissan Technology & Business Centre India (RNTBCI) is a captive automotive technology and business centre supporting Renault & Nissan globally. Developed in association with IIT Madras incubated start-up – NeoMotion the makers of NeoBolt
 NeoMotion claims that these motorised wheelchair vehicles can be used not only on roads but also on uneven terrains, enhancing the ease of mobility for people with special needs.
This CSR initiative will empower and bring smiles on many disabled soldiers/veterans and their families.
We at WAF wish them all the very best and hope that many more initiatives like these are carried out by the organisers on a regular basis.