26th October 2018 | New Delhi | Press release by World Auto Forum |
6th World Auto Forum (WAF) Awards 2018 for Auto Maker CXOs held on Friday, 26th October 2018 at New Delhi
Pictures from the Awards ceremony : http://bit.ly/wafawards18pics
Ceremony Videos at WAF TV : https://worldautoforum.com/waf-tv
Main WAF Awards Site : https://worldautoforum.com/awards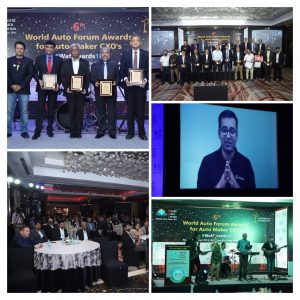 World Auto Forum Awards reward excellence and are based on the unique, tried, tested & proven Quadruple Elimination Process [QEP] which identifies and honours the winning people behind the winning cars, bikes & trucks! WAF Awards this year were held on 26th October 2018 at Radisson Blu Plaza, Delhi Airport.
WAF Awards are the platinum standard of rewards and recognition in the Global Auto Industry and are very scientific and relevant, powered by process & analytics. The methodology followed has been carefully devised to remove any bias towards a particular company or individual. It is called the Quadruple Elimination Process [QEP]:
These prestigious awards are powered by the unique Quadruple Elimination Process that involves four levels of screening:
Selection parameters finalized by CXOs from Auto makers

– Advisory Council comprising cross-functional CXO's from Auto Makers to endorse and finalise the selection parameters and their weightage.
Exhaustive research by young researchers from IIT Delhi

– The Research Team from IIT Delhi, develops in-depth reports on every Auto Manufacturer and their functional performance & achievements.
Multiple Jury rounds

 – An eminent Jury panel comprising senior members of the corporate world, Govt or Semi Govt institutions & successful entrepreneurs is set up which evaluates the top performers through multiple sessions. This Year IIT Delhi Research Team put in close to 3 months of research. The Jury invested 8 hours across 2 Jury Rounds. There was more than 155 Years of cumulative experience on the Jury Panel thanks to the senior and distinguished Jury Members.
Reference checks

– Finally the selected winners are made to go through a reference check process before the announcement of results & ceremony.
This year, the selection was made from a total of 40 Auto makers in India. The WAF award truly celebrates the authentic winning performances of CXOs / Functional heads from amongst the Auto makers.
WAF awards were presented across 9 categories including CV makers, 2 Wheeler makers, Passenger vehicle makers, Best innovation, Best innovation – EV,  Premium 2 Wheeler makers, Luxury 2 Wheeler makers, Luxury PV makers and Best CSR.
The distinguished Jury for WAF Awards 2018 included top executives and leading experts from the automobile industry:
Dr Akhil Prasad – Country Counsel India – Boeing

Nikunj Sanghi – MD – JS Fourwheel Motors, Director-Federation of Automobile Dealers Associations [F A D A], President – Automotive Skill Development Council [ASDC]

Avik Chattopadhyay – Co Founder- Expereal

Puneet Kapoor – Head – LeanExcell. Lean Engineering, Six Sigma Expert  

Arun K Birla – Former EVP Volvo Eicher CV

Anuj Guglani – CEO – World Auto Forum
Anuj Guglani, CEO – World Auto Forum explains, "World Auto Forum connects Auto Suppliers, Auto Makers, Auto CXO's & Auto Dealers worldwide. The best part of WAF awards is the clearly laid out stringent selection process. The discussions during the Jury rounds are engaging, insightful & simply a treat. In the last 6 years, WAF awards winners have come to be recognized as 'WAF Stars of the Industry'. The award they receive celebrates their Platinum Calibre and Performance".
World Auto Forum warmly thanks its Gold partners – Gallops Motors and MotorUncle.com. We would want to extend our heartfelt gratitude to our Annual Partners – Teradata, 21North Europ Assistance, Saikrishna & Associates, Topline & Autoninja.
Time to celebrate the winning Auto Maker CXO's at 6th World Auto Forum Awards 2018. They are the ones who make the Nation move!
| | | | |
| --- | --- | --- | --- |
| 1 | Rajendra Bhat | Best After Sales Head | TVS Motor Company |
| 2 | V Sridhar | Best Production Head | Honda Motorcycle & Scooter India |
| 3 | Hero MotoCorp | Best Marketing & Sales Department | Hero MotoCorp |
| 4 | Royal Enfield | Best After Sales Department | Royal Enfield |
| 5 | Royal Enfield | Best Marketing & Sales Department | Royal Enfield |
| 6 | Tata Nexon | Best Product Innovation | Tata Motors PVBU |
| 7 | iEGR Technology | Best Tech Innovation | Ashok Leyland |
| 8 | Bio Mass Briquette for Oven | Best Process Innovation – EV | Lohia Auto |
| 9 | Ather 450 | Best Product Innovation – EV | Ather Energy |
| 10 | Aditya K Shrivastava | Best Production Head | Volvo Eicher CV |
| 11 | R Ramesh | Best After Sales Head | Bharat Benz (DICV ) |
| 12 | Anuj Kathuria | Best Marketing & Sales Head | Ashok Leyland |
| 13 | Mahindra & Mahindra | Best CSR Department | Mahindra & Mahindra |
| 14 | R S Kalsi | Best Marketing & Sales Head [Overall performance] | Maruti Suzuki India |
| 15 | S N Barman | Best Marketing & Sales Head [Turnaround performance] | Tata Motors PVBU |
| 16 | Sunil Kakkar | Best Purchase Head | Maruti Suzuki India |
| 17 | S Punnaivanam | Best After Sales Head | Hyundai Motor India |
| 18 | Rajiv Gandhi | Best Production Head | Maruti Suzuki India |
| 19 | BMW India | Best Marketing & Sales Department [Overall performance] | BMW India |
| 20 | Jaguar Land Rover | Best Marketing & Sales Department [Emerging luxury] | Jaguar Land Rover |
| 21 | Milind Doiphode | Best Purchase Head | Mercedes Benz India |
| 22 | India Kawasaki Motors | Best Marketing & Sales Department | India Kawasaki Motors |
| 23 | India Kawasaki Motors | Best Production Department | India Kawasaki Motors |
Pictures from the Awards Ceremony : http://bit.ly/wafawards18pics
WAF TV – Automotive Think Tank Tube : https://worldautoforum.com/waf-tv

For more information, please reach Anuj Guglani | anuj@waf.bz  | +91-11-49057413 , 9810552425
——————————————————————-