We are getting India's Finest Auto CMOs together in a hall for an interesting roundtable discussion on DIGITAL! 
We shall also felicitate them through a Digital Coffee Table Book.  
 Yes! The Automotive Industry is struggling for Growth. Is it the Onset of Shared Mobility, where overall demand dips, the consumer in NO Tearing Hurry to have a new set of wheels and where just a handful of Auto Makers benefit!
This is despite the 10 Year and 15 Year Vehicle Ban at NCR Delhi, the territory which has also seen the Most Auto Dealer Shut downs! Ironic ?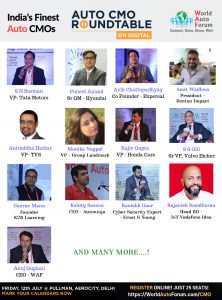 In the scenario, where Dealer Walk ins and Tele-Ins have come to a trickle, the Auto Makers, Dealers look more and more towards Digital, for not just Lead Gen but also Branding and Consumer Engagement!
Makes sense to put money where the consumer is present 24X7. In the era of being constantly connected at Home, office, Car, Mall, Loo, Parking lot.
We bring to you India's First Auto CMO Roundtable on Digital! 
Its time to share the success stories, use cases, innovations around Digital which have won mindshare, heart-share  and Marketshare! So What are the Top 10 Digital Trends of Past, Present & Future! 
We shall also felicitate India's Finest Auto CMOs through a Digital Coffee Table Book. 
 Come join us! It shall be well worth it! We are letting in 20 Delegates to connect and network with these Auto CMO rockstars! 
 Book your slot now, before its full!  :
Auto CMO Roundtable Draft Agenda
10 AM – 10:30 AM

  – Registration & Networking Tea & Coffee
10:30 AM to 11:00

 – Welcome by Anuj Guglani, CEO World Auto Forum
11:00- 12:00

 –  

Roundtable 1 
India is the fastest growing smartphone market in the world. Almost every Vehicle buyer and user has a smartphone

AR/VR, Online, Social are the order of the day!
How are Auto Cos leveraging Digital ? How to go beyond Lead Gen? Mantras for Sales & Consumer Engagements

S N Barman – VP – Marketing, Sales, Customer Service, Tata Motors PVBU 
Puneet Anand – Sr GM & Group Marketing Head , Hyundai Motor India 
 Monika Nagpal – VP & Group Marketing Head – Group Landmark 
Gaurav Mann – Founder, K2B Learning 
Kshitij Saxena – CEO , Autoninja
Rajanish Sasidharan – Head of Business Development – IoT, Vodafone Idea
 Anuj Guglani , CEO World Auto Forum – Moderator 
12:15 – 12:35

 –  The New Age CMO by Avik Chattopadhyay, Co Founder Expereal 
12:35 – 12:45 – 
 Interactive Session 
12:45 to 2:00

 – Networking Lunch – Food Exchange Restaurant
2:00 – 2:15

 – AR/VR  @ Automotive by Mohit Ramani, CEO Digital Agents
2:15 – 3:15 –
Roundtable 2
Device Specific or Agnostic ? 
Top Digital Strategies to fight the Slowdown. How do we see the Industry's Digital Adoption next 5 Years ?
Participants 
S S Gill – Sr VP  & Head International Business, Brand & Communication – Volvo Eicher CV
Avik Chattopadhyay – Co Founder – Expereal 
Aniruddha Haldar – VP & CMO – TVS Motor Co
Shakeel Anjum – Head Digital, Honda Cars India
Amit Wadhwa – President- Dentsu Impact 
Kanishk Gaur – Cyber Security Expert, Ernst & Young
Anuj Guglani , CEO World Auto Forum – Moderator 
1. Unveiling of Digital Coffee Table Book 
2. Felicitation of India's Finest Auto CMOs
3. Vote 0f Thanks 
4:15 PM  – 4:45 PM 

 – Networking Tea & Coffee
Speakers & Participants can change their schedule due to their personal exigency which is beyond control of World Auto Forum. The Venue can change to suit convenience of Organisers, Participants and Speakers.
Detailed Terms & Conditions : http://bit.ly/wafcmoME