by WAF Think Tank 
Society of Indian Automobile Manufacturers (SIAM), the apex automobile industry body, organized its 62nd Annual Convention today at New Delhi. On the Occasion of 62nd SIAM Annual Convention Hon'ble Prime Minister of India, Shri Narendra Modi in his message highlighted the significance of the mobility sector and its role in the progress of humanity. He emphasized accomplishing self-sufficiency in the automobile sector during 'Amrit Kaal' by availing the benefits of his government's initiatives like the PLI scheme to boost manufacturing.
Hon'ble Minister for Road Transport & Highways in the Government of India, Shri Nitin Gadkari emphasised on being Atmanirbhar by reducing dependance on imports and focussing on Make in India for India and the World. He even spoke about harnessing municipal solid waste and sewage for producing green hydrogen. He invited industry leaders to participate in co creating the e -way corridor from Delhi to Mumbai on the land his ministry already has. He spoke about dual fuel especially when there is overproduction of sugarcane in the country.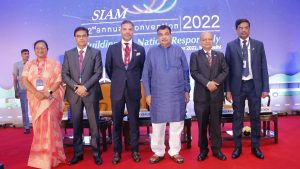 In the first plenary session, themed "Indian Auto Sector's Journey in the "Amrit Kaal": Vision @2047", Guest of Honour, Anurag Jain, Secretary, and Department for Promotion of Industry & Internal Trade, Government of India (DPIIT) mentioned that India is expected to grow from 3 to 32 trillion-dollar economy by 2047. The Auto industry is extremely crucial for India's economy and manufacturing sector. The vision is to create a strong ecosystem where the industry can thrive, which necessitates adequate investment in R&D, skilled manpower, technological advancements, and focus on knowledge and emphasis on sustainability.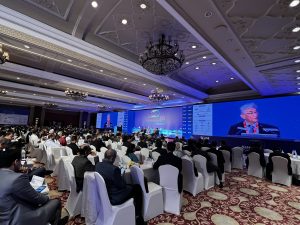 Kenichi Ayukawa, Outgoing President, SIAM, and Executive Vice Chairman, Maruti Suzuki said that the Automotive Industry is facing deep structural slowdown even before Covid and now in the aftermath of covid pandemic and conflict in Ukraine Industry has been facing severe strain on supply chain. He also mentioned that Auto Industry will align with Government of India's vision in 'Amrit Kaal.'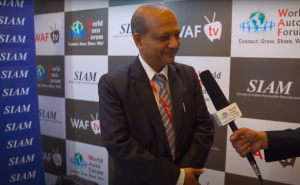 Vinod Aggarwal, President SIAM and MD & CEO Volvo Eicher CV said, "The Indian automotive industry is currently at a very exciting juncture. The industry is witnessing rapid adoption and focus on connectivity, e-mobility and alternate fuels, and other technological advancements, to provide the consumers with not just modern, but also safe and environment friendly vehicles. '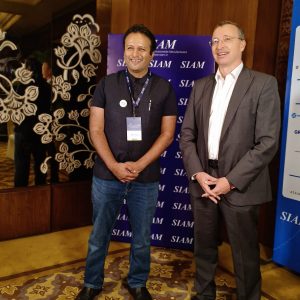 Anuj Guglani, Founder & CEO WAF Group emphasised on the importance of SIAM Members on building the nation responsibly. He mentioned how Auto components players, Auto Dealers look towards SIAm Members for vision and direction for future products and tech. He said we are at an important junction of  sustainable mobility where EV needs to be truly green. Battery standards, recycling and end to end carbon emissions need to be accounted for before we rush into an EV Revolution.
Mr. Andre Aranha Correa Do Lago, Brazilian Ambassador to India, said, "Brazil and India are the two largest sugarcane producers and have the potential to produce enormous amounts of ethanol. Brazil will work with India on Flex-fuel technology, sustainable aviation fuels, 2nd generation ethanol, hybrid flex fuel vehicles, fuel cells, etc."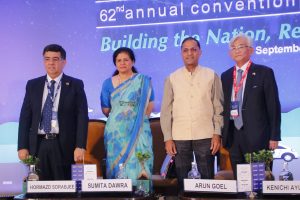 Arun Goel, Secretary, Ministry of Heavy Industries, Government of India, commented, "We need to encash the disruption of modern technologies and innovative approaches such as EVs, biofuels, and others. The FAME-II scheme of the government helped in catapulting EV adoption. The Government and the industry need to make dedicated efforts to help India achieve the target of net-zero by 2070, while making the country auto manufacturing hub for the world."
You can catch the Top Leaders Speak from SIAM Annual Convention 2022 at WAF TV