World Auto Forum now connects the Auto Industry in 125 Countries!
 Why a Masterclass on M&A for Automotive ?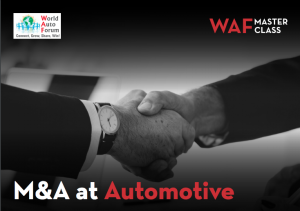 Last Year, India overtook Germany to become the Fourth Largest Auto market in the World.
In 2020 India shall be the third Largest , just behind US & China after overtaking Japan.
Automotive Industry

in

India

contributes

 8% of GDP

 & 4

9% of Manufacturing GDP.
20 Million Jobs

 are in the Indian Economy due to

Automotive

: Direct and Indirect.
Automotive

is the 

Number One thrust Area

for Make In India Initiative by 

Niti Aayog, Govt of India



The Entire World is looking at India for the Global Automotive Industry Growth
 There are Innovators working on Cutting Edge Tech and there are Established Big Companies looking at acquiring the right tech, the right teams. There are similar size Co's looking at mergers for Win-Win.
So we are all set to do a WAF MasterClass on M&A for Automotive!

Learn from the 

Top M&A Professionals, 

Top

 Lawyers, 

Top

 Deal Makers, 
Former & Present 

Auto CXOs–

The Very Best in M&A for Automotive. 
This shall be PRICELESS

 
The Art of an M&A Deal Negotiation -Live Examples not just theory
A Thought Through Strategy is Half Battle Won – How's & Why's 
Sensing, Absorbing and Processing the Latent Needs, Key Motives of Negotiation Parties
Different Styles & Techniques of Negotiation
How to Regain lost ground
How to engage all Stakeholders
Things unique to Automotive Industry
How to Structure a Win-Win M&A Deal in Automotive
Popular Deal Structuring Frameworks – Effective Ones in Automotive

The Right Due Diligence – Saves a Lot of Headache Later
How to raise Funds – Is Cheap the Only criterion?
The Crazy game of Valuations- Can Auto Co's be valued like any other Co?

Lets zero on the Acquisition Vehicle which moves!
What can go wrong with Deferred consideration and related issues – The Poor Tycoon
Post-closing Organization – Critical Elements
How to Make Tax Consideration in M&A Deals Less Taxing
How to prevent Tax from spoiling the Party – Special focus on Automotive
Cross Border M&A Deals – Whose Jurisdiction is it Anyways?  – Automotive Case Studies
Regulatory Landscape  – India and Global – How it can affect your Deal – Caveats & Learnings
Capital Gain Tax – Timing & Valuation
Having an eye for Vexatious Tax Issues & Endless Tax Disputes
How to Steer Past Legal Issues and have a Stellar M&A Deal Documentation Process
The Regular Stuff and the Irregular one – How this can be a Headache if not done right
Kabhi Haan, Kabhi Naa – Merger & Demergers – Recursions, Opportunities – Ref to Automotive
Key consideration in M&A Deal Documentation – Special focus for Auto Suppliers & OEM's
Issues faced by listed companies (SEBI Takeover Code)
World Auto forum has been creating Win Win Avenues for the Global Auto Industry last 10 Years.

Don't Miss! Book Now!  
 Past WAF Programs can be watched at WAF TV 
https://worldautoforum.com/waf-tv/
We shall take just

25 People

in the Hall for this Unique Journey to learn how to create limitless wealth for all Stakeholders!
Don't Miss! Book Now! 
Ticket Cancellation Charge to be levied  :
Between 30 to 45 Days of Summit : 10% ticket Amount
Between 30 days to 20 days : 50% Ticket Amount
Less than 20 days to Summit : 100% Ticket Amount
Speakers can change their schedule due to their personal exigency which is beyond control of World Auto Forum. The Venue can change to suit convenience of Organisers, Participants and Speakers. World Auto Forum's liability not beyond refund of ticket amount if program cancelled or postponed due to any reason beyond control of World Auto Forum.