by WAF Think Tank 
•Top Auto Leaders share their vision & experiments with AI, IoT & Telematics
•Opportunities and Caveats both discussed for Action!
•WAF Industry Best Practice Ceremony also held 
The 6th WAF-it 2022 Program, on Artificial Intelligence, Internet of Things, and Telematics, was organised recently at the hotel Pride Plaza, Aerocity, New Delhi, by the World Auto Forum in yet another effort of theirs for top bellwethers to converge and also to offer us the opportunity to connect with top automotive heads and experts of the Auto industry. This program was powered by iTriangle, India's No.1 and fastest growing telematics and IoT company.
The Internet of Things (IoT) has revolutionised the world in unexpected ways, and the automotive industry is no exception. IoT's impact on the automotive industry is nothing but exceptional; it is leveraging the power of IoT technology, and the results are beneficial for both the consumers and manufacturers in terms of Predictive Maintenance, Connected Vehicles, Increased Safety, In-Vehicle Infotainment, Car and Smartphone Integration, Improved Engineering, and Smart Infrastructure.  
Keeping all these factors in perspective the 6th WAFit!  had panel discussions and keynote addresses by an impressive array of speakers.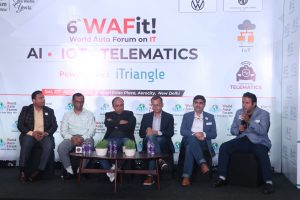 First Panel discussed- AI in Action at Auto and the Present and Future Use Cases moderated by Mr. Anuj Guglani, Founder and CEO – WAF Group. He opened the session by explaining how AI is the most abused and commoditised term in the Industry. Even Digital Marketing Agencies claim to be AI Cos these days. He encouraged the leaders on the panel to share actual use cases of AI in Action in areas across ADAS, CRM, Retail Operations, Recruitment, Supply Chains and manufacturing. He also raised the caveats of cyber security and data theft as so many data points get collected, transmitted and stored on the cloud. Protections around user privacy and avoiding over-dependence on past data for application of AI for recruitments and other HR functions. 
Mr. Shashank Srivastava, Sr. Executive Officer – Maruti Suzuki India, spoke of how AI is now used to accumulate different data and analyse it ranging from designing, and management to after-sales accommodations. At Maruti, he added, almost 5,000-6,000 trucks work daily and AI helps with logistics as well. He highlighted that retina scans, heat maps, mood maps, and visages are utilised in companies to understand consumer psychology and behaviour. He also shared how AI notifications helped them sell the next gen Wagon R model to an existing Wagon R Customer for his daughter who was now ready for college. 
Mr. Jyoti Malhotra, MD & CEO – Volvo Car India, emanating from a luxury car segment stated that their prime solicitousness is safety and security. He explained how Volvo amasses data from accidents and analyses that data to obviate future accidents. He discussed how V2X and connected car technology could become game changers, citing the example of Belgium where 50 people were recruited by the car itself and the results have been good, calling this a case of a car recruiting its technician, not the technician selecting a car. He added that in the case of Belgium, they made sure it was fair. The fairness and opportunity depend on the algorithm that you use in AI.  
 Mr. Gaurav Gupta, Chief Commercial Officer, MG Motor India, spoke about different applications of AI in hiring, customer engagement, how AI powers ADAS – Advanced Driver Assistance Systems and stated that a combination of effective AI systems combined with human intellect will pave the path to success for businesses in the future like Pepsico where, through analysing trends and data with AI, Pepsico launched Nori Seaweed Flavour Lays, which became a hit among teenagers in the market. He then spoke of MG Motors where an AI assistant sits atop the dashboard and it is like a robotic personal assistant embedded in the car. He said that India is yet to witness the impact of 5G technology which will also aid the boom of the internet of things (IoT) in a big way by creating an ecosystem of connected devices and machines.  
 Mr. Ajay Mittal, Head – Analytics & Digital, Volvo Eicher CV, verbalised that any product that Volvo CV sells is 100% connected and has genuine-time data that avails operationalising the analytics and gives prior accommodation admonitions at the predictive breakdown. He also mentioned that before lockdown, the drive time of vehicles was 6-7 hrs in a day, but after lockdown, this time has been incremented to 16-17 hrs a day due to the relay concept. MyEicher app, he shared, is a handy app where people can understand their driving styles and can suggest changes to be made. The notifications are given in the form of SMS beforehand to the fleet managers and owners. The app shall soon have vernacular capabilities for even more personalised and better connect. MyEicher provides view to customers about analytics insight on fuel refill and possible pilferage. A service co-created with customers..
 Mr. Harshit Mathur, Sales Head, iTriangle Infotech, opined that they need joint solutions right from OEM levels and that a customary understanding of data plays a crucial role. He stressed that timely and predictive maintenance helps and reduces break-down maintenance which is genuinely consequential as it avails in boosting confidence at the customer level. With AI and IoT, it is easier to get real-time data about the vehicle, and analysis of this data brings a lot more value than the data itself.  
 The discussion concluded on a positive note with key takeaways that technology is transmuting dramatically and there is a desideratum of collaboration between manufacturers and data analyzer users. Additionally, a better system and infrastructure are needed with 5G rolling in.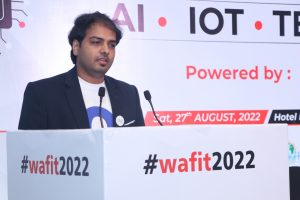 After the panel discussion came the first KeyNote speaker Mr. Ravi Rajendra, Founder & CEO of Qik Meeting who spoke about his 4th start-up – Qik Meeting- a meeting platform that can handle AR, VR, offline, online, and even hybrid business meetings. It transforms meeting data in a more organised and structured manner. Qik Meeting aims to provide a qualitative online & in-person meeting experience that can increment team productivity manifold. It is the only platform that can mimic the in-person physical meeting room experience. This app solves the issues of link sharing, utilising sundry different apps, ameliorates productivity by 300%, and is real-time enabled where one can shift between meetings instantly.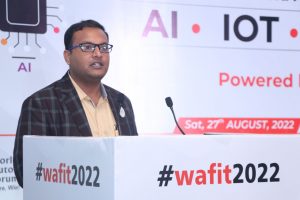 Next came on the second keynote speaker Mr. Harshit Mathur, Sales Head, who spoke about his company iTriangle Infotech and its product and services offerings in Vehicle Tracking and Monitoring, Fleet Management & Personal Tracking and Safety, Diagnostics, and Prognostics for both the IC and EV segment and serves various verticals in the Automotive Telematics domain, offers End to End adoption of Telematics for the automobile manufacturers that includes customised Hardware, and a Tailor Made Software Platform that goes a long way in helping their customers in this domain to achieve Real-Time Connected Ecosystem which is the need of the hour today.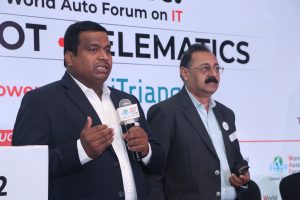 Next was the launch of the software – FOCUS TRACK by – Mr. M. Dhananjayan, a global entrepreneur and the Managing Director of Focus Engineering India. It was inaugurated by Dr. K.C. Vora, Ph.D. Emeritus Professor COEP & Former Senior Deputy Director & Head Automotive Research Association of India (ARAI), Pune. 
Elucidating the salient features of this software, he showed how Focus Track can make your service schedule quick faster by avoiding queuing time and working with the best time utilizations, chat function- an easy way to reach the service team in a quick minute, full automation solution including a payment gateway, a solution to track the driver, tracking the staff concerning the tasks assigned to them, asset management solution, digital audits of business data, vehicle tracking and much more. It involves a lot of time, effort, and cost for the dealership teams to take care of the automotive customers and this can be reduced with Focus Track software. It can help dealership workshops and auto companies to be digitally efficient and handle all the dealer operations in a much smarter, more productive way. It's a great way to manage dealership operations and CRM in automotive retail. The inauguration of this software was enthusiastically received by all present.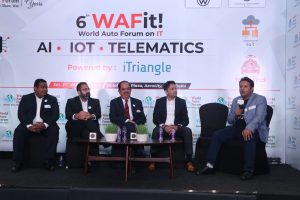 Post lunch, the second power panel discussion was on- IoT and Telematics- Horizon over the Next Five Years, moderated by Mr. Anuj Guglani, Founder & CEO – WAF Group, who shared how Smart and Connected get prefixed before any entity or process to enhance the perceived value. For instance Smart cars, factories, maintenance , cards and so on. He invited the panellists to share real world case studies and use cases of IoT & Telematics. How these tech are making lives safer and better. How they are enhancing the productivity of traditional processes, creating new business opportunities and making vehicles and mobility safer and hassle free.
Mr. Vijay Sethi, Advisory Board Member of multiple enterprises, reaffirmed that the behaviour of cars and driving can all be tracked and internet technology and cloud ascertain that AI, machine learning, IoT, and telematics take up more of the market. Machines and sensors are getting more keenly intellective and data transfers have become instant. He reminded us that we are already on level 2 and that 3.0 in telematics is the next-gen telematics. Buttressing that, Mr. Anuj Guglani cited another example of on-ground implementation of this technology which he has seen in PCR vans with 360-degree cameras, ensuring them to be more vigilant and do their task better and more forcefully.  
 Mr. Kunal Behl, VP – Sales & Marketing, Honda Cars India, mentioned that while IoT has simplified a lot virtually everything we do, everyone is additionally concerned about safety and security, and with the expeditious transformation of technology and the cognizance to manage that technology has gained paramount equipollence. He compared how IoT-controlled cars and mundane traditional cars, and how technology makes life expeditious and facile. By 2050, he shared, Honda is working towards carbon neutrality and zero traffic fatality which itself expounds the solution to the safety needs of customers.  
Mr. Suraj Vasudev, Head, Motor Insurance & Digital, Edelweiss General Insurance Company Limited, ​​expressed that two major issues of the Indian market are price and data privacy issues. To solve that issue of onboard telematics contrivance, a mobile app has been installed on the phone of customers in the switch 2.0 program where complete control lies with the end user. He mentioned the peregrination of IoT and Telematics is still incipient in India and all the stakeholders including the customers are travelling to an ecosystem where the data accumulated by AI and IoT will have to have be safe and also democratised at the same time in terms of access and consumption. 
Mr. M Dhananjayan MD, Focus Group, India & Middle East, gave an example of a slip system in Dubai wherein the traffic police instantly give you a pink or white slip and decide whose fault it was utilising AI. He felt it was all about customer experience and communication of IoT and other technology. Alluding to the issue of brain drain, he opined that while India gives technology to the world, why don't we utilise it ourselves? Every technology is met with initial resistance but with time, people adapt to it well. 
He was in fact of the view that there is a need for hybrid models in India which give the mileage of an EV and for the implementation of technology to save time, we require infrastructure. 
People adopt technology only when they get some incentive or they are penalised. Mr. M Dhananjayan added that cross-learning and connecting the ecosystem is essential.  
The discussion concluded with a consensus that we require more infrastructure development and businesses need collaborations which the laws cannot enforce.  
 Next has lined up the WAF Industry Best Practice Felicitations. The winners were selected based on feedback from all its members, auto dealers, and all the concerned stakeholders. 
Mr. M Dhananjayan, MD Focus Group, Mr.Dilip Chenoy- Former Secy General FICCI, and Mr. Suraj Vasudev, Head Digital & Motor Insurance Edelweiss GI came on stage to present the WAF Industry Best Practice Award firstly to Volkswagen for the Mega Distribution Event of VW Virtus in India.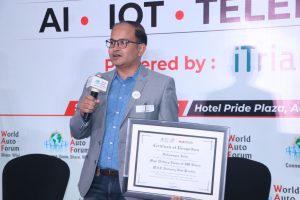 In this program, VW has distributed over 2,000 units of Virtus across India in a period of over a fortnight from its launch date in the Indian market. In one single day, 150 units were distributed to customers by a single dealership in Kerala. Group Beating this record was Landmark, which distributed 165 units of the Virtus in a single day from their dealerships across Delhi NCR and Gujrat, and the record continues to beat itself each day.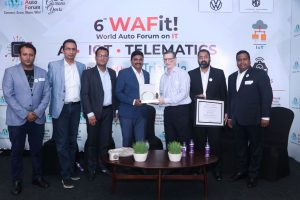 The next in line for its Industry Best Practice award was for the Rural Marketing Initiatives of Renault. The Rural Float by Renault was an innovative nationwide customer-focused initiative during which around 2,700 test drives were facilitated to customers in remote areas, who got a chance to witness and experience Renault India's breakthrough product range and take home a unique experience.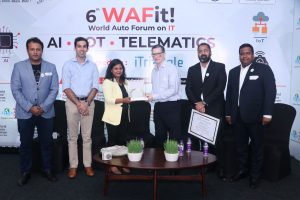 WAF Industry Best Practice was even accorded to MG Motor India for their MG Charge Program of resolving to install 1k EV charging stations in 1k days across all public places and residential areas to bring confidence to all EV owners and facilitate their trepidation of charging.  
To end the 6th WAF-IT Program, Certificates of Appreciation were given away to all the people on the forefront and behind the scene who worked day and night to make this event a huge success and promise to congregate again in December 2022 with the 8th IVASS India Vehicle After Sales Summit by WA
About WAF 

World Auto Forum ( WAF) is the Global Auto & Mobility Think Tank Platform. A place as relevant for the Chairpersons and the Top CXOs as it is for the interns and trainees. Established in 2007, it now has community members across 125 Countries. WAF Auto News is World's No 1 in World Auto News. WAF TV is its online broadcasting arm where one can watch hundreds of video content on Auto & Mobility Industry. WAF also organises popular programs like WAFit! , IVASS , WAF Awards,  CXO Roundtables Discussions where top leaders of the industry take Dialogue to Action!
Session Videos can be viewed soon at WAF TV 
6th WAFit Site : https://WorldAutoForum.com/wafit
MEDIA CONTACT INFORMATION
World Auto Forum
Aviyukta Adlakha
9711270215
Anuj Guglani 
Some more Amazing Moments from WAFit!