April 26, 2019
URGENT PRESS RELEASE
NASSCOM, FICCI & A.T. Kearney join hands with World Auto Forum to present the world's first ever automotive program on AI, IoT and Blockchain technology
New Delhi: We all have been hearing about AI-Artificial Intelligence that it is the next big thing that will revolutionize the world just like the internet. The day is not too far when our cars will be powered by AI and it's going to happen within the next 5 years! To discuss and to co-create a win-win and responsible automotive ecosystem powered by these emerging technologies, NASSCOM – Centre of Excellence -IoT, FICCI & A.T. Kearney have joined hands with 'World Auto Forum' to present the worlds first ever automotive program on AI, IoT & Blockchain – 3rd edition of WAFit -World Auto Forum on IT that will take place at Holiday Inn Aerocity, New Delhi on Sat 27th April 2019.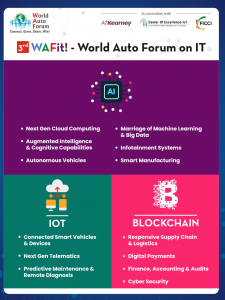 During this pioneering event, CIOs, CXOs, Plant Heads and other Senior Industry professionals from top automobile companies like Hero Motocorp, Honda cars, Uno Minda Group, Motoruncle.com, Gallops Motors, 21North, Europ Assistance, Mercedes-Benz along with heads of top firms like Saikrishna & Associates, K2B Learning, Deloitte, Topline India, Autoninja, BCG shall mark their presence. There shall be Panel Discussions and Key Note Sessions on event day followed by a Round Table Session a few months later, where the Industry heads shall action their dialogue on AI, IoT & Blockchain at Automotive. There shall also be emerging technology companies like Simulanis & Cassini Tech showcasing their capabilities and products at WAFit 2019.
Anuj Guglani, CEO World Auto Forum says, "WAFit 2019 is a must-attend program for auto and IT professionals, start-ups and tech innovators to responsibly co-create the future. If we don't embrace these emerging technologies now, we risk being blown away into oblivion."
……………………………………………………………………………………..
For further info please contact :
Mohini Jaisinghani 9818168778  Mohini@waf.bz   |  Anuj Guglani 9810552425 Anuj@waf.bz
For details on program, please visit: https://worldautoforum.com/wafit