5 pm to 6 pm ist , Sat 20 March, 2021
Join us for an Interesting Session of WAF Gurus Live Episode 20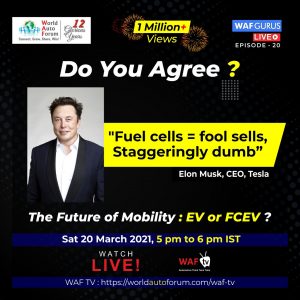 1.  Do you agree with Mr Musk ?
2.  Electrification @ Mobility is a clear global phenomena
3.  Battery : Right from Mining to Acquisition, to Usage, to Disposal is still a perplexing piece.
4.  Power Generation worldwide is still predominantly fossil fuel dependent.
5.  Can the Fuel Cell solve the future problems of the EV ?
6.  Should the world directly move to FCEV ? What are the Other Options ?
7. Use cases of FCEV Vs EV
8. What are the Inherent complexities & challenges of Hydrogen based Mobility?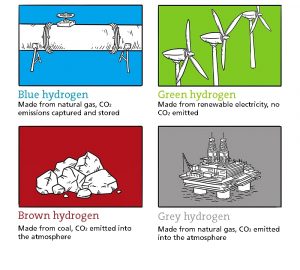 9. A worldwide Battery Race is "On". Would Fuel Cell find a seat at the table ?
1. Dr Ajit Jindal, Former Head- CV, ERC, Tata Motors 
2. Vinay Piparsania, CEO – IIT Delhi Endowment Management Foundation
3. Avik Chattopadhyay, Co Founder- Expereal 
4. Shivalik Prasad, VP- Sibros
5. Anuj Guglani, CEO World Auto Forum
Watch Live! at WAF TV
        5 pm to 6 pm ist , Sat 20 March, 2021