World Auto Forum creates history. Organizes World's first Day Long Connected Vehicles Certification Online Program & VIRTUAL EXHIBITION
…
Virtual exhibition at 4th WAFit! 2020 amazes one and all and Yes, It's Still "ON"!
Life like 5D Exhibition Hall, Booth Spaces, interactivity and Life like experience with visitors chatter add great depth and dimension to the virtual event
WAFit 2020, the day long online program creates new benchmarks in way online programs are perceived and executed
…
New Delhi | 28th April 2020 | https://worldautoforum.com | Virtual Exhibition :  https://bit.ly/WAFVirtualExhibiton
World Auto Forum creates history by organizing the world's first Virtual exhibition at WAFit! 2020, Connected Vehicles Online Program. Organized by World Auto Forum in collaboration with Digital Agents Interactive, the Virtual exhibition took the audience into life like simulation with multiple partner booths. WAF partner's employees represented their companies and virtually interacted with the audience at the exhibition.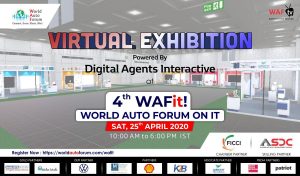 Please access from Desktop / Laptop 
Great concept, with beautifully designed stalls, superbly executed, took the virtual world by storm and appreciation has been pouring in from far and wide.
Anuj Guglani, CEO, World Auto Forum, commenting on the great response to WAF Virtual Exhibition and WAFit! 2020, explained, "We at World Auto Forum have always believed that the show must go on! So, when WAFit! 2020, planned months in advance, came under the cloud due to COVID 19 and ensuing lockdown, we decided to rise to the challenge. Instead of cancelling or postponing, we decided to go ahead with the entire program digitally! And having pioneered many initiatives in the Auto & Mobility sector, we are truly proud that our decision proved to be momentous. The entire Virtual exhibition with WAFit!2020 online program was wonderfully received by the audience and applauded by the Industry worldwide."
WAFit! 2020, Connected Vehicles Online program, conducted by World Auto Forum in partnership with FICCI and ASDC, brought together Top CIOs, IT professionals, Legal, Security and AR/VR experts to discuss and debate the various facets of Connected Vehicles. The theme of the event was 'Mission 2030: 100% Connected Vehicles'. Our speakers for the day shed light on many important aspects related to connected vehicles. The opportunities that lay ahead of us and the challenges we need to overcome to make connected vehicles a reality in India.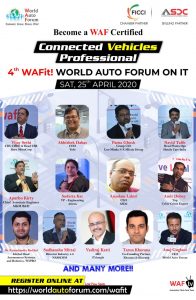 Our speakers & thought leaders at WAFit! 2020 :
Panel 1 | Mission 2030 : 100 % Connected Vehicles
Navid Talib | Head Plants Ops | Honda Cars India  
Parna Ghosh | Group CIO | Uno Minda – NK Minda Group
Arindam Lahiri | CEO | Automotive Skills Development Council – ASDC 
Abhishek Dabas | COO | Yelo
Vadiraj Katti | MD | iTriangle
Anuj Guglani | CEO | World Auto Forum
Keynote 1 | Connected Vehicles Landscape @ India 
Vijay Sethi | CIO, CHRO & Head CSR | Hero MotoCorp 
Keynote 2 | Hacking of Connected Vehicles
Amit Dubey | Top Cyber Crime Expert 
Panel Discussion 2 | Challenges of Tech & Security of Connected Vehicles
Sudhanshu Mittal | Director Industry 4.0 | NASSCOM
Apurbo Kirty | Associate Chief Engineer | Mahindra & Mahindra R&D 
Sudatta Kar | VP Engineering | Altran
Dr. Ramachandra Budihal | Global Head – Autonomous Systems & Robotics | Wipro
Anuj Guglani | CEO | WAF
Keynote 3 | Legal Stds of Connected Vehicles – A Perspective
Tarun Khurana | Co- Founder and Partner | Khurana & Khurana IP Attorneys
We would like to thank all our speakers, collaborators and partners for making WAF Virtual Exhibition and WAFit! 2020, truly special.
Program Partners: FICCI | ASDC
Our Annual Partners:
Gold Partners: Gallops Motors | Motor Uncle
OEM Partner: Volkswagen
Partners: K2B Learning | Shell | Amplus Solar
Associate Partner: Jubilant MotorWorks
Media Partners: Auto Tech Review | Patriot
Virtual Exhibition Partner: Digital Agents Interactive
Session Videos : WAF TV : https://worldautoforum.com/waf-tv/
For more information, please reach WAF | 7042124674 | anuj@waf.bz