by WAF Think Tank 
Citizens for Better India (CFBI), the CSR arm of WAF in partnership with Givers for a Cause Trust are working for the children who have been brought by their parents for treatment and surgeries for serious diseases to AIIMS, New Delhi
These Children are staying at Pagoda Camps or at the Footpath outside AIIMS, New Delhi. If your passing by, please feel free to drop in and lend a helping hand.
In their words of Ms Rachna of Givers for a Cause Trust :
 "Presently, insane number of patients are seeking help around A.I.I.M.S.
We are unable to cope up with the demand
Needless to say, it's a huge number
We had called for HELP for AIIMS patients and the HELP arrived in less than 24 Hours from the CFBI Community !
Some details & pics of the beneficiaries!
1. Yasmeen- 5 yrs- Burn Case -has gone through 16 surgeries.
Retinal Cancer (Eyes Cancer)
2.Ananya-2 yrs
3.Adarsh-10 months.
4.Prince Raj-1 yr.
5.Samuel-2.5 yrs
6.Yogender Chauhan-3.5 yrs.
7.Pari-7 yrs.
8.Pari-5 yrs
9.Vihan-10 months- Liver Cancer.
Blood Cancer
10.Manijar-16 yrs.
11.Arjun-6 months
12.Kundan Kumar-2 yrs.
13.Mukesh-6 yrs- Urinary Tract Blockage since birth.
14.Vansh-2.5 yrs- Anus Blockage since birth.
15. Srishti-3 yrs- Throat related issue since birth.
16.Areek-3 months- Brain Surgery.
17.Sunny-13 yrs- Bones & Soft Tissues Cancer .
Requirement of these children were as follows-:
1. Diapers Mega Pack 20 packs.
2. Electric Kettles
Quantity 10.
3. Cerelac 6 packs.
4. Thermos Quantity 5
5. Woolens for Srishti 3 yrs & Pari 7 yrs.
6. Medicines Approximate Cost Rs.20,000.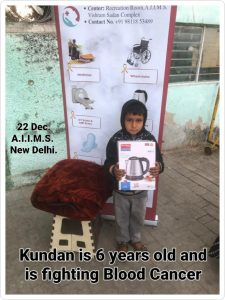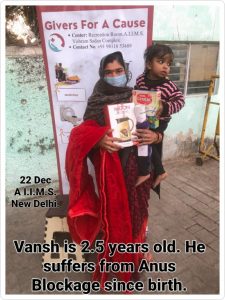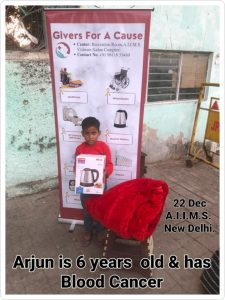 If you wish to help and contribute, please feel free to write to Dr Neelu Guglani, Co founder , CFBI at  dr_neelu2001@yahoo.com