Indian Automobile Industry Poised to take the World stage
Front page of ET,  Saturday September 1, 2018 carries the Headline " With 8.2% Growth, Economy begins FY19 on a High Note". Positive news indeed which should bring cheer to all. A more detailed probing of the news reveals that the Indian Economy grew at its fastest in 2 years and was propelled by double digit growth in manufacturing at 13.5%. From a 7.7% GDP in FY-16 Q1 to 8.2%in FY-19 Q1 this is a sign that all longed for namely " Acche Din round the Corner". It is heartening that India's growth for the quarter is well above that of China and seems we are maintaining our status as the World's Fastest Growing Economy.
Given the above I am compelled to go on a nostalgic trip down memory lane and bring out some statistics of how modestly we started and are now as front runners:
1897- The first car that plied on Indian roads.
1901-The first Indian to own a car in 1901 was Jamshedji Tata.
1930's- India was an Importer
1940's India started manufacturing
1942, Hindustan Motors manufactured the first automobile in India before independence.
1952-The automobile sector formally came into being when the Government appointed its first tariff commission with the aim of indigenizing this industry. Introduction of passenger cars in the country
1950's to 1960's saw trade restrictions which hampered the growth of the Automobile Industry.
1960's to 1980 – the era of the Ambassador and Premier Padmini what with legendary waiting period.
1959 – Bajaj Limited obtained a license from the Government of India to manufacture two-wheelers and three-wheelers
1961 to 1971 –Bajaj sold the  Vespa 150 under the licence of Piaggio of Italy.
1962- launch of Rajdoot Motorcycle  by Escorts
1972- Bajaj Introduces Chetak the longest selling 2 wheeler in the world
1976- Launch of Bajaj Super & Priya  by Bajaj
1983- Watershed moment for Indian Automobile with introduction of Maruti.
1984-92- Govt sustained push to the Auto Industry. Delhi Auto created.
1988- Motor Vehicles Act, 1988. Mandatory insurance for vehicles driven on Indian roads.
1991-92- liberalization initiated with opening up of FDI
1993- De-licensing of the Automobile Sector.
2000- All major car manufacturers expand and set up manufacturing Units in India .
2002- Introduction of the Auto Policy by the Ministry of Heavy Industry. Automatic approval of foreign equity investment upto 100 per cent for the manufacture of automobiles and auto-components
2006- The Automotive Mission Plan (AMP) drafted to map the aspirations of the auto and auto component industry. Mission AMP to promote India as a preferred global manufacturing destination and introduce intervention and prescription mechanisms for promoting the industry.
2006-16- The first phase plan called Automotive Mission Plan 2006-16. It focused broadly on five aspects: Economic growth, passenger comfort, sustainability, quality, and cost competitiveness.
2016-26 AMP 2016-26 envisions at developing India as one of the top three automotive manufacturing hubs in the world.
Some interesting statistics of the Indian auto industry
4th largest in the world with sales increasing 9.5 per cent year-on-year to 4.02 million units (excluding two wheelers) in 2017.
7th largest manufacturer of commercial vehicles in 2017.
From producing mere 4,000 units of vehicles in 1950 to producing 29 million vehicles in 2017-18.
More than four million passenger cars and 23 million two-wheelers were produced last year.
More than 8,50,000 commercial vehicles and one million three-wheelers were made.
The industry today contributes to more than seven per cent of the country's GDP.
Employment opportunity for 32 million people
World's biggest two wheeler market  overtaking China and is also expected to take a lead in four wheelers by 2020
By 2026, expected to be third largest automotive market by volume
Aims to produce 13 million passenger vehicles, 3.9 million commercial vehicles and 55 million two wheelers by 2026 under the Indian Government's Automotive Mission Plan 2016-26
Planned Investments by Major Auto Companies in India. Take a look at these Numbers:
German automotive company Volkswagen around 1 billion euros in the country over the next few years to develop six new models.

Kia Motors, South Korea's second-largest automobile manufacturer, by 2021 investment increase in the region to 2 billion dollars from the present 1.1 billion dollars.

Suzuki Motor Corp , Japan of about 3 billion dollars over the next three years to maintain its position in the Indian passenger vehicle market.

Tata Motors in 2017, 610 million dollars (Rs 4,000 crore) which will include an investment of 230 million dollars (Rs 1,500 crore) in the commercial vehicle business while another 380 million dollars (Rs 2,500 crore) will be used for development of passenger vehicle business. This will aid the company to become the third largest commercial vehicle manufacturer in the world and third largest in passenger vehicle space in the local market by 2019.

Two wheeler market, Honda inaugurated its fourth assembly line in its Karnataka plant last year which increased its production capacity to 2.4 million units, this made it the company's biggest plant in the world for two wheelers.

Hero MotoCorp investments worth 380 million dollars (Rs 2,500 crore) in the next two years.

major auto behemoths have set up shop in the country such as Renault which exports its 'Kwid' cars to Mauritius, Suzuki's Baleno to Japan, Honda's Jazz to South Africa and Volkswagen's Vento to Mexico
Bottom-line
The phased manner in which the licence raj was abolished, restrictive rules were curtailed and the economy was liberalised, played a distinct role in making Indian automotive industry a success story.
State of the Global Automotive Industry   
Stagnant Sales except in Asia – World over Stagnant Sales . Asia a bright Spot
Over Capacity in most Regions – Most Regions experiencing over Capacity
Intense Product & Price Competition – Competition is very intense in terms of both Price and Product
Industry Margins under Pressure- increased pressure upon Industry Margins
Most of Industry EVA negative-
Global Focus to Asia for growth- Asia is the Preferred Choice of Global Majors
Here I am compelled to draw the attention of readers to the KPMG's 19th consecutive Global Automotive Executive Survey 2018 which makes interesting reading.
A few gems from the said Report are summarized below:
2 011-"Within the next decade the internet will revolutionize private transport. Web providers and car manufacturers will be vying for supremacy.
2012 "New non-asset based players will increase in significance in the automotive value chain until 2025."
2013 "Get ready for the post power train ecosystem. Acceleration is not all that matters in self-driving cars."
2014 "The automotive industry will have to adapt to and shape the converging world of personalized mobility and the internet of everything."
2015 "OEMs need to think about how to reshape their business model from a genuinely product-driven approach to a more service- and customer-oriented model."
2016 "Mobile connectivity, the value of customer data and self-driving cars are the next big thing.
2017 "Say goodbye to a complete auto- digital fusion – say hello to the 'next' dimension of co-integration.
2018 the author would like to provoke your thoughts with the following:
" The auto business is part of an open, dynamic and self-organizing ecosystem consisting of physical assets, services and content. Finding the right balance between where to compete, cooperate or consolidate with industry peers and to wisely co-integrate content from non-asset based digital challengers is key."
The auto business is part of an open, dynamic & self-organizing ecosystem
– AUTOMOTIVE (Focus on product value)- You need roots to grow: product focus is a good basis, but it's not enough
– SERVICE (Focus on customer value)- Putting customer value first means steering services away from the product
– CONTENT (Focus on ecosystem value)- The downstream is already claimed – recognize the value of the upstream
PLATFORM BUSINESS -(Focus on co-integration)- Don't touch the whole ecosystem, make your choice  with whom, where and how to play very wisely
Key Takeaways from the Report
MEGATRENDS

 

BEYOND THE OBVIOUS
Automotive key trends -"Fuel cell electric vehicles have replaced battery electric vehicles as this year's #1 key trend until 2025." 52 % of respondents rank fuel cell electric vehicles as the most important automotive key trend up to 2025
Regional shifts "The flip side of regional shifts: 74 % of executives believe that production in Western Europe will be less than 5 % by 2030 [2017: 65 %].
Better use of resources- "Learning from the aviation industry – almost 90 % of the executives fully agree that remanufacturing is a feasible concept for the automotive industry to ensure the best use of resources."3 out of 4 execs (77 %) believe that making the most efficient use of resources will be one of the biggest drivers in the industry.
Mobi-listic- "57 % of all executives say that in the future we will no longer differentiate between the business models for transporting humans and goods." 73 % of executives are convinced that traditional public transport solutions could be replaced by on-demand autonomous capsules in 10 years' time.
In Summary- Better use of resources & Mobilistics are megatrends beyond  the  Obvious 
CUSTOMER VALUE
Customer centricity- "This year's results reveal that fi nding one single player who owns all customer relationships and manages the entire ecosystem alone is rather unlikely."-44 % of executives and 37 % of consumers believe OEMs to be the big winners in the battle for the direct customer relationship [Executives: 2017: 41 %; Consumers: 2017: 26 %].

Retail of the future- Over half of all execs (56 %) are highly confident that the number of physical retail outlets as we know them today will be reduced by 30 – 50 % already by 2025." Almost 80 % of execs strongly agree that the only viable option for physical retail outlets will be business transformation into service factories or used car hubs.

Mobility on demand- "Almost half (43 %) of the surveyed respondents show confidence that half of the car owners they know today will no longer want to own a personal vehicle by 2025." Brand above all – this year 41 % of execs believe a trustful brand to be the key success factor for a sharing economy, followed by communities sharing the same values (24 %)
In Summary- There is not any player who can get around without defining its role within the ecosystem.
PRODUCT VALUE
Future of combustion- There will not be a single solitary drive train technology: Executives project an even distribution by 2040 for BEVs (26 %), FCEVs (25 %), ICEs (25 %) and hybrids (24 %).". "It is still undecided whether diesel is dead or not: 50 % of executives still believe that diesel is a technologically viable option [2017: 47 %].".

Electric readiness- "Infrastructure fi rst, e-mobility second: Of the executives surveyed, 55 % still believe that pure battery electric vehicles will fail due to the challenge of setting up the required infrastructure.""Executives see BMW as the #1 e-mobility leader."

Autonomy readiness- "Of the executives, 74 % believe that mixing autonomous and non-autonomous traffic will lead to severe safety issues.".94 % of executives believe that a fully working and effective driving policy and regulations for autonomous vehicles will be set up no later than 2040.
In Summary- Going from managing a set of different products to managing the ecosystem
ECOSYSTEM VALUE
Co-ompetition- "Stuck in a 'co-ompetition' mind-set: Asked whether they expect ICT companies and automotive companies to compete rather than cooperate, 49 % voted for competition and 51 % for cooperation.". In a different league: Together, the top 50 auto companies had just over 20 % of the market capitalization of the top 15 digital companies in December 2017 (dropping from above 40 % in 2010).

Data supremacy- "Auto OEMs are considered to be more trustworthy as data guardian than digital players – but only as long as no data breach happens?". 2 of 3 executives are convinced that product-centric usage of data to improve bottom-line results, performance and safety of the product should be the focus for asset-based auto companies. Standard equipment of connected cars will need to be redefined: 85 % of all executives and 3 out of 4 consumers are convinced that data & cyber security is the number 1 prerequisite for future purchasing decision.

Transformation readiness- Number 1 strategy for success is cooperation with non- asset based players from converging industries to fully tap the potential of the future ecosystem that extends beyond the product 'car'.
In Summary -Unlocking ecosystem value is a key success factor for asset-based auto companies
Lets now compare this to our  Indian Automobile Industry and find out if any  synergy or pattern exists .
India produces several types of vehicles needed for personal, commercial, defence, sports, and recreation purposes.  Government pro-industry initiatives like rationalizing the regulatory policies and tax regime, making robust testing, homologation, Research & Development (R&D) infrastructure etc. has helped the industry consistently and steadily made strides for higher growth.
Automobile sector also supports a host of other manufacturing industries like auto-components, machine tools, steel, aluminium, plastics, chemicals, electronics, services sector which include IT and software, banking, insurance, repair and maintenance, transport and logistics including public transport etc.
The Government of India launched Automotive Mission Plans for 2006-2016 in 2006 and AMP 2016-2026 in 2016.
Present AMP 2016-2026 is focused on strategies for enhanced automotive growth, contribution to GDP, minimizing carbon footprints, attaining high level of technological competence & maturity. In addition, the AMP-2026 envisaged end of life policy of vehicles, universalization of BS-IV norms and up-gradation to BS-V/VI emission norms.
The other major programmes/plans initiated by the Government include Faster Adoption and Manufacturing of (hybrid &) Electric Vehicles (FAME) and National Electric Mobility Mission Plan (NEMMP) 2020. These programmes/plans envisioned a robust and faster growth of vehicles to attain the coveted place among the world leaders in automobile sector like USA, Japan, Europe and China.
The overall objective is to bring India at par with the global giants of the automotive sector of the world with contribution over 12% to GDP.
Thus indeed a symmetry does emerge between the Global  Industry Standards & the Indian Automobile Industry.
Key Challenges facing the industry
Increasingly Stringent Emission & Safety Regulations
-Technological capability
-Cost
Increase in input prices
-Ferrous & Non-Ferrous Metals
-Crude oil & derivatives
-Natural rubber
Rising Customer Expectations
-Product features
-Quality & reliability
Integration with Global Markets
-Lowering product life cycles
-Reducing time-to-market for new products
-Threat of new competition
According to Foley's Automotive Industry Team  the Global Landscape on  major issues regarding Legal, Regulatory and Enforcement landscape for Auto Industry year 2018 is likely to be as under:
Managing warranty, regulatory and commercial litigation risks

The uncertain outlook for antitrust enforcement in the United States under a new administration and a new merger enforcement agenda by the DOJ

labor and employment issues facing the automotive industry, from sexual harassment and nondiscrimination policies to employee rights and pay equity

Risks of international and domestic compliance issues in an increasingly complicated regulatory environment

Navigating the new world of connected cars while developing, implementing and maintaining an effective auto cyber security program

Potential pitfalls in the automotive industry in an era of increasing warranty and recall costs and continued consolidation in the supply base
SIAM has forecast an investment of Rs 1 lakh crore for upgrading the products to meet various upcoming regulations related to emissions, safety and fuel efficiency. Of this, the auto component industry is slated to spend about 30-40 per cent.

Overall the Indian automotive industry is gearing up for the challenge. It has kicked off investments in resources. Simultaneously, it is upping its local engineering and manufacturing capability to be in time for the new emission regime.
"Regulatory uncertainties in the face of demonetization,  BS- III to  BS- IV transition and  GST have caused disruptions in the market."
With electrification catching up fast, the world's economy may change from being an oil-driven to  Lithium, cobalt etc.
Tax Rationalization both in Direct & Indirect Tax is the need of the hour as also bringing petroleum products under the new tax net. The government can consider reducing the taxes on hybrid vehicles from 43% to 28%. Incentives for vehicle scrappage policy are some of the recommendations one can think of.
India has some great advantages in the changing automotive landscape but it has to overcome some serious challenges too. The country falls extremely behind in the lithium and cobalt reserves. It needs to speed up in securing lithium. What is rather detrimental is that it levies highest 28 per cent Goods and Service Tax (GST) on import of this crucial item.
We cannot also  ignore the perils that the Indian auto makers may face to the changing environment. The Indian auto manufacturers, especially the component makers are going to suffer for their lack of focus on in-house R&D. So far they have been working under technical alliances or joint ventures.

In the end while it is a given that the Indian Auto Industry standards and norms are at par with international standards there is a need for Uniformity and Consolidation of Laws under a Single Window by way of a Master Legislation to resonate with the " Make in India" approach of the Government of India
Article by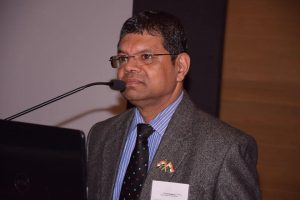 S.Ramaswamy
sramaswamy015@gmail.com
Founder Medha Advisors
Former Group General Counsel Escorts Ltd
Former GC of Honda Cars India, JCB India Ltd & Agrotech Foods
Acknowledgments :
https://assets.kpmg.com/content/dam/kpmg/tr/pdf/2018/03/global-automotive-executive-survey-2018.pdf
https://economictimes.indiatimes.com/industry/auto/time-to-kick-start-sustainable-growth-in-auto-industry/articleshow/64642194.cms
https://www.symboinsurance.com/blogs/car-insurance/evolution-automobile-industry-india/
https://archishmanb.wordpress.com/2015/07/05/a-chronological-timeline-of-the-indian-automobile-market/
http://www.forbesindia.com/blog/business-strategy/indian-automotive-industry-the-road-ahead/
World Wealth Report (2011) of Merrill Lynch Wealth Management and Capgemini, Aranca Research, media sources
https://www.maschinenmarkt.international/india-is-the-next-manufacturing-hub-for-automobiles-a-692505/
http://www.siamindia.com/cpage.aspx?mpgid=42&pgidtrail=87
These words and thoughts solely belong to the Author and he is completely & solely responsible for their factual accuracy and any liability which might arise from writing, publishing & sharing of this article.