by WAF Editorial Team 
•Morris Garages is a 97 years young Car Company. In India their entry or rather re-entry marks 2 years! 
•MG vintage and classic cars have been around with the Royal Families and Car aficionados at India
•In just 2 years they have established a great brand, launched internet cars, electric & hybrid cars and even semi autonomous ones
•They have won the hearts of several Indian consumers and earned lot of blessings through their philanthropic work under the MG Sewa Umbrella 
•Whew! All this and more in just 2 years and they are just getting started!
The year was 2019. Team WAF got an invite to a tech launch from a yet to be launched Car brand and company. We were bewildered as many others. A special and a separate tech launch with the actual brand and car launch to follow!
We thought what the heck, lets go and attend and find out what its all about!
Onstage came the Top Brass of MG Motor India and spoke about the tech MG Cars would come loaded with. Though It was a growing trend for cars becoming computers on wheels but in MG's case we had a living testimony of what future beholds!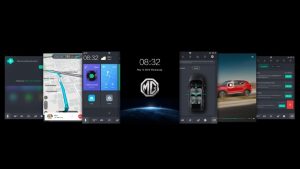 On that Tech launch, MG Motor India got together a dozen tech companies who had painstakingly powered the Tech of their first India Product – The MG Hector. This was in April, 2019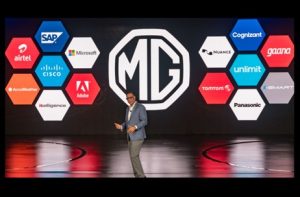 Then came the first Product launch with a great fan fare – The MG Hector. India's First Internet Car with the Intel inspired badging "Internet Inside"
In a fiercely competitive car market at India where two car makers control around 70% Market share. A market where several global car majors have not tasted success despite enjoying immense success and high voluminous sales across the globe.
The Indian market is where even Mc Donalds has to launch a Mc Aloo Tiki Burger and a burger combo under Rs 50 to survive and thrive!
MG as a brand saw a high decibel launch. The brand got etched in consumers minds. The heritage of Morris Garages was leveraged. The social media engagements, Tech first, customer first, all led to a great recall.
Even the MG dealer fraternity experienced the refreshing change when they saw a car maker talk only retail.
MG Motor India launched the brand and their debut product MG Hector in a way, most car makers can only dream of and the MG Motor India team surely deserve a pat on the back for this! 
"Staying ahead of the innovation curve in the automobile industry, MG Motor has focused on auto-tech innovation since the beginning of its operations in India. The carmaker introduced many firsts to the Indian automobile industry including the launch of the country's first internet-connected car – MG Hector, followed by the pure electric internet SUV – MG ZS EV. It has also launched the Gloster with Level 1 Autonomous features," says Gaurav Gupta, Chief Commercial Officer, MG Motor India.
He further added,"MG Motor India has built a strong foundation under core organizational pillars such as People & Communities, Innovation, Experiences & Diversity. We are a 97-year young brand. The first 2 years of our operations in India are a testimony of our values."
MG ZS EV 
The ZS EV was a refreshing change for the Indian consumers who had almost dismissed Electric cars as low range, ugly & diminutive metal boxes on 4 wheels.
Here was a stylish, high performing EV with a long range, great space and interiors in bright colours. An EV with an air purifier! Clean Air inside and outside!  Change what you can! Right ? Now thats some recall! 🙂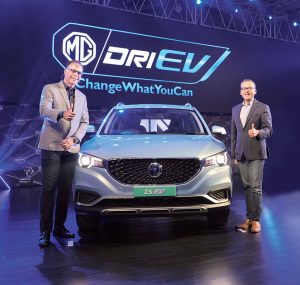 The First Auto Co with more than a third Workforce comprising Women
It's sad to see the english dictionary not having womanpower as a word just the way it includes manpower! Probably we need to send lexicon experts for a factory tour to Halol at the MG Plant.
MG Motor India is the first Auto Co in India to have women constitute more than a third of their total workforce. This is an unparalleled feat, unseen, unheard in any other company in the Industry.
The 50,000th MG Hector earlier this year was made by the #WomenOfMG
"Diversity" is an important pillar at MG Motor India.
This is Vision at Work of their dynamic President & MD, Mr Rajeev Chaba. He challenged, motivated, inspired his HR Teams and functional heads to make it happen and as they say rest is history! Their target is to reach and exceed 50%
Now that's precise gender equality!
The entire family gets empowered. Kids get better education, opportunities & facilities. They get better role models when they see the women of the house financially independent and confident. There are happier families and evolved societies when women are equal stakeholders!
Innovation is an important Pillar at MG Motor India 
Whether it was launching India's first Internet Car, the MG Hector or India's first autonomous L-1 SUV, the MG Gloster, its Innovation, Innovation, Innovation all the Way!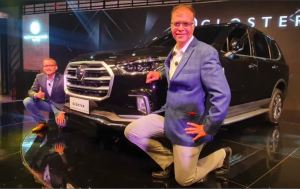 MG cars are known for their gorgeous looks, spacious and high quality interiors. They come loaded with safety, comfort and convenience features. They are high on digital tech and connectivity.
The best part is the Price value and peace of mind propositions they offer to their customers.
MG Market Performance 
Most MG Cars have a waiting list. One could revel, enjoy and sit back in comfort or one could take this as a challenge to increase the production capacity. Managing the wait list and preventing booking cancellation is another uphill task.
MG Customers are surely a breed apart. They understand cars & tech proposition. They evaluate and reason. They don't follow the herd. They want the latest tech, comforts at great value. Once convinced, they are ready to wait as they feel its worth it!
MG Shield
This is the promise the company makes to their customers that its always there for them. My MG Shield is a very personalised and customisable car ownership experience plan. It comprises different options and slabs in warranty period, Protection plan, Road Side Assistance and buyback plan.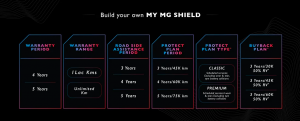 MG Shield gives Consumers the freedom to customise their ownership experience where they can plan as per their convenience and priority. How many car makers doing this ? Point to ponder!
MG Healthline 
During the pandemic, MG customers had access to consult a qualified Doctor free of cost, 24X7  and this service was available to their families too.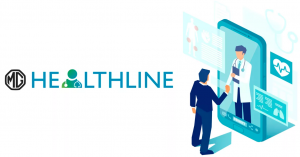 Now this is so thoughtful and the need of the hour! Above all its very comforting for the customer to know that an MG shield exists even for them and their family and not just their MG car! Now that's surely a Human Thing!
MG Sewa
One of the key Pillar of MG Motor India is "People & Community" 
By far one is yet to come across a car company in India which has such a well structured and a multi pronged Philanthropy & Community program.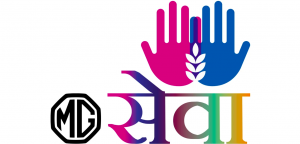 The president of MG Motor India, Mr Rajeev Chaba donated one month salary last month for covid cause. Can you name any other CEO who would have done this ?
MG india has set up oxygen plants and even increased their output by a whopping 30% in just 3 weeks during the second wave. They have donated Hector ambulances. They have partnered for making ventilators. They have contributed for skill development. Last when we tried to count there were 22+ Philanthropy Initiatives being carried out by MG Motor India under the umbrella of MG Sewa for India and Indians.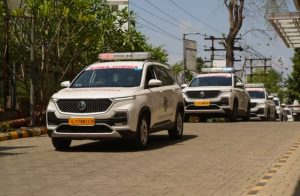 Now isn't that wonderful and super special ? And by the way there are just 2 years old in the country. Doesn't that make this an even more commendable feat ?
MG India fostering Innovation in the Indian Start Up Eco System
One of the key pillars of MG Motor India is Innovation. As they say the next Google might not come from Google. Its the start ups which transform the world by harnessing Innovation, Energy and Latest Tech
MG Motor India has launched several programs to support, reward and recognise Start Ups doing cutting edge transformative work!
MG Innovation Grand Challenge 
Even before the first MG car was launched and sold at India, the company had organised the Innovation Grand Challenge at IIT Delhi. The objective was to get start ups together for them to showcase disruptive ideas and tech to solve everyday mobility problems.
Taking the relationship with IIT Delhi to the next level, earlier this year, the company joined hands with Institute's Centre for Automotive Research and Tribology (CART) for ground-breaking research in the field of electric and autonomous vehicles.

Speaking of the research partnership with MG Motor India, Prof V. Ramgopal Rao, Director, IIT Delhi said, "IIT Delhi has always been at the forefront of innovation and technology. Our association with MG Motor India gives us a perfect platform to test autonomous vehicles. We believe that the future of e-mobility has a great scope for autonomous and connected vehicles."
 

MG Developer Program and Grant
An extremely popular & competitive program amongst Tech developers which challenges them to make better than the best applications on themes around the Auto & Mobility Ecosystem.
The program is brought together by MG Motor in partnership with technology leaders Cognizant, Adobe, SAP, Unlimit, Airtel, TomTom and TiE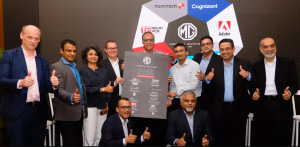 AI, ML, ACES don't just remain buzzwords. They get actioned into some meaningful applications to make journeys safer, more efficient, more comfortable and more memorable!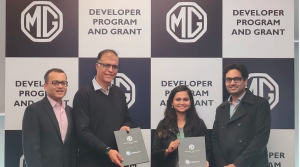 World Auto Forum congratulates MG Motor India on completing two action packed years at India.
"Very few companies have attained these great heights in this short time as MG Motor India. The achievements go beyond Revenues, P&L, Marketshare and Wallet share. The company has earned a lot of heart share and mindshare of Indians which is the toughest thing to earn in this country', says Anuj Guglani, CEO, World Auto Forum
Please share your feedbacks at hi@waf.bz and in comments below!