By WAF Think Tank 
Mr S N Barman, the Industry Stalwart, has spent close to quarter of a century in the Automotive Industry. He is an IIT Graduate. Extremely focussed, experienced and result oriented professional.
As he moves on from Tata Motors PVBU, he leaves a great legacy behind at the organisation. He has been instrumental in the turnaround of Tata Motor PVBU. Under his aegis, products like Nexon, Harrier, Tiago & Tigor were launched which completely transformed the image and the market performance of Tata Motors in the Highly competitive Car market.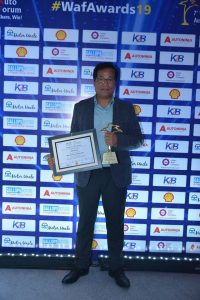 He is passionate for keeping the customer in the centre for everything that his company does.
He is an Ace of Rural & Institutional Markets, having given long years to Maruti Suzuki before Tata Motors.
Barman da as he is lovingly called by his team, mentees and friends has won the coveted WAF Award for Best M&S Head thrice in a row, which is a great achievement and a record in itself. An Award which takes 6 months of Selection Process with research by IIT Delhi.
We wish him all the very best for his Next Dream Run. He shall surely Rise n Shine wherever he joins! Barman Da – A man with a Midas Touch!