New Delhi, 9th August 2023: With the objective of promoting eco-friendly and sustainable mobility, the Society of Indian Automobile Manufacturers (SIAM) hosted an international conference focused on "Fuelling the Future towards Sustainability: Observing World Biofuels Day 2023". The conference aimed to share knowledge and experiences about making the automotive industry more sustainable through biofuels. It witnessed deliberations around various aspects of biofuel, including biofuel production, use, biofuel policies in India and global initiatives, along with innovative technologies. The conference provided a platform for industry experts and stakeholders to discuss and explore ways to drive sustainable practices in the automotive sector through the adoption of biofuels.
Shri Ashwini Kumar Choubey, the Hon'ble Minister of State, Ministry of Environment, Forests, and Climate Change, Govt. of India, graced the conference as Chief Guest and addressed the gathering, "Our government has emphasized on preserving our environment while meeting the needs of our sustainable lifestyle. We have encouraged the production of different non-fossil fuels and added a huge amount of renewable energy. Biofuel can play a key role in India's transition to clean energy and facilitate net-zero goals. The automotive industry has been making efforts to bring down emissions, and biofuel and ethanol blending will augment this action."
Addressing the inaugural session, themed "Sustainable future of Automotive industry with Biofuels", Mr. Sunil Kumar, Joint secretary (Refinery)-Ministry of Petroleum & Natural Gas, said, "India has enormous potential to produce biofuels and achieve self-reliance with the use sugarcane and maize. The automotive industry is contributing immensely to emissions reduction with a focus on implementing BS-VI. The government is dedicated to offering all assistance through supportive policies and programmes."
Giving the sugar mills perspective, Mr. Aditya Jhunjhunwala, President of the Indian Sugar Mills Association, said, "Climate change is a significant challenge that necessitates to think over greener, more sustainable solutions. Biofuel has emerged as one of the most viable energy options, which calls for collective efforts from all the major stakeholders."
Mr. Abhay Bakre, Director General of the Bureau of Energy Efficiency, said, "It is crucial to focus on reducing costs to encourage consumers to use biofuels, promoting technology advancement to make production cheaper, and improving the supply chain to ensure smooth transportation and enhance consumer comfort. The transportation sector is making great endeavours to reduce emissions and its move towards biofuel promotion is commendable. We, at BEE, are working to create a robust carbon market and hope that the industry will reap the benefits."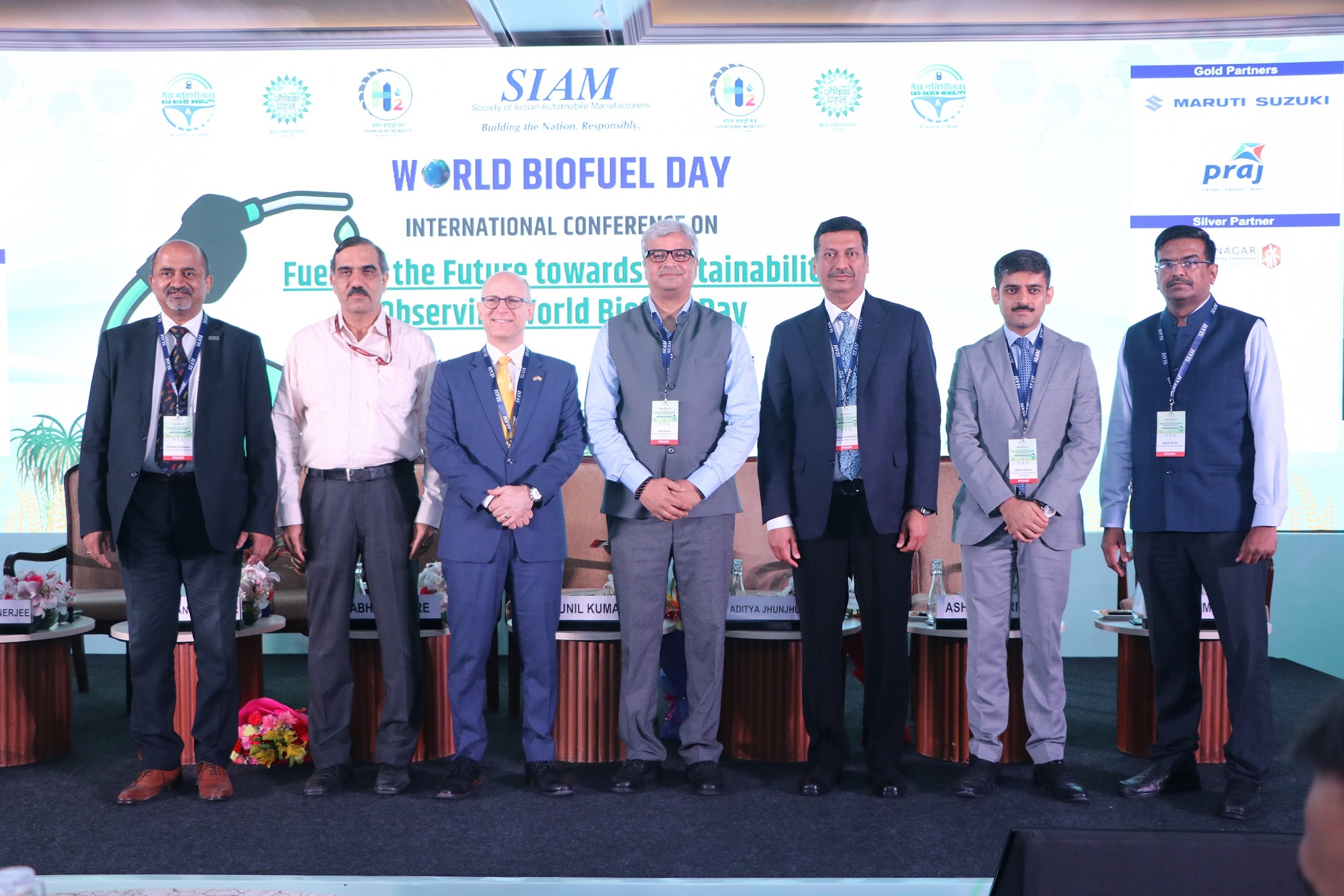 Guest of Honour, Mr. Jonathan M. Heimer, Minister Counselor for Commercial Affairs at the US Commercial Service, US Embassy, New Delhi, promised his support of biofuel adoption in India by saying, "India's efforts and initiatives show its unwavering commitment to creating a sustainable world. The India-US partnership will benefit India with biofuel expertise and technologies and help it reduce reliance on biofuel imports."
The session included thematic presentations from Mr. Ashim Sharma, Senior Partner, Nomura Research India, on "Driving Biofuel Economy in India". Mr. Rajesh Menon, Director General, SIAM, and Mr. Prashant K Banerjee, Executive Director, SIAM, shared their perspectives and emphasized on the implementing imperatives of sustainability achieving a sustainable future for the automotive industry with biofuels.
The first Plenary Session, titled "Sustainable Feedstocks for Biofuel Production & Automotive Industry Perspectives", was chaired and moderated by Dr. SSV Ramakumar, Former Director, IOC R&D. The session included a panel discussion on "Exploring Feedstock options for Biofuel Production & Auto Industry Collaboration for Biofuel Integration", which featured Dr. Sangeeta Kasture, Scientist F, Department of Biotechnology, Ministry of Science and Technology, Mr. Rajneesh Agarwal, Secretary General, UP Distillers Association, and Mr Subhash Kumar, Former Chairman & Managing Director & Director Finance, ONGC, India, Member Energy Transition Advisory Committee, MOPNG.
Mr. Yash Mankame Executive Vice President -Bioenergy, Praj Industries presented his views about Successful Biofuel Projects in India and the Lessons Learned. Prof. Y.B. Ramakrishna, Member, Working Group on Biofuels, Ministry of Petroleum & Natural Gas gave his views on Emerging Trends on Biofuels, further potentials and Policy enablers, during the session.
2nd Plenary Session, titled "Biofuel Polices and Initiatives in India", was chaired and moderated by Mr. C.V. Raman, CTO, Maruti Suzuki India Ltd. The session included a panel discussion on "Unlocking the Potential of Biofuels in India: Opportunities & Roadblocks".
Dr. Shantanu Gupta, Executive Director, Alternative Energy and Sustainable Development, Indian Oil Corporation Limited, expressed his views and highlighted that, "Biofuel is one of the best options we have today, which demands augmented actions. The government has taken a futuristic step with the Gobardhan scheme that focuses on turning waste into wealth. Within the next two years, there will be more than 500 "waste to wealth" facilities."
Dr. Reece Cannady, Director for South Asia, US Grain Council expressed his views about "Challenges vis-à-vis strategies for ethanol blending as a sustainable vehicle fuel for achieving net zero mobility- An Indo-US Perspective", and further added, "Apart from maize, there are many options from which biofuels can be produced. India has immense potential to produce biofuel and meet a majority of its energy needs indigenously."
Dr. Reji Mathai, Director, ARAI presented his views on "Regulatory Framework, Testing and Standardization for Biofuels in transportation", and Mr. Ravi Gupta, Executive Director, Shree Renuka Sugars Ltd. presented about "Biofuels in Transportation 2025: Policy, Commercial Opportunities & Challenges" during the session.
3rd Plenary Session, titled "Global Innovation in Biofuel Technology", was chaired by Mr. Harjeet Singh, Senior Executive Advisor, Hero Motocorp Ltd, and moderated by Ms. Nidhi Verma, Team Leader (Energy), Thomson Reuters. The session further included a panel discussion, which included domain experts like Dr. Preeti Jain, Global Director, Lanza Tech, Mr. Neelkanth Marathe, Executive Director, Emission Control Manufacturers Association, Mr. Vedang Pitte, Promoter, Harinagar Sugar Mills, and Sqn Ldr Ankur Naik, Punjab Renewable Energy Systems Pvt. Ltd.
Concluding the day, Mr. Prashant K Banerjee, Executive Director, SIAM, said, "India is rising by the day and strives to accomplish the aspirations of every citizen during the ongoing "Kartavya Kaal". The World Biofuels Day serves as a reminder that we have a huge untapped energy resource that we should capitalize on. SIAM is unflinchingly committed to promoting sustainability in the automotive sector."
SIAM with its members has been engaging with governments, corporates, and stakeholders in an effort to address sustainability issues, aligning with SIAM's objective of Building the Nation Responsibly.