by Aviyukta Adlakha
•Last week during the Onam festivities at Kerala, Volkswagen Kochi delivered 175 cars in one day which also included the Taigun and Tiguan
•WAF declared these nationwide Mega Delivery Events of VW Virtus as a WAF Industry Best Practice for the Industry to get inspired and follow!
Volkswagen India has shouldered a sizably voluminous distribution program for its incipient midsize sedan Virtus. In this program, VW has distributed over 2000 units of Virtus across India in a period of over a fortnight from its launch date in the Indian market. Virtus engendered a national record in the ' India Book of Records ' by becoming the single most delivered sedan in India.
The Virtus carries forward the heritage of VW in the midsize sedan member in the Indian market. Coming across the growing demand for Virtus the company decided to organize a mega delivery 'Big by Delivery' program across India. 150 units were distributed to customers by a single dealership in a day in Kerala. 165 units of the Virtus were additionally distributed in one day by Group Landmark from their dealerships across Delhi NCR and Gujarat on the 21st of June.
With buyers at the core of the brand, the Volkswagen Virtus comes with the 4ever care that offers 4-years/,100K km warranty, 4-years roadside assistance and 3 Free Services. Virtus is offered with a 1.0 L TSi and the1.5 L TSi EVO engine options, which can be mated to 6 Speed Manual , AT or the legendary 7-speed DSG transmission. Volkswagen India launched its midsize sedan Vitrus on the 9th of June this time for an exordial price of ₹11.21 lakhs(ex-showroom).
The Volkswagen Virtus is offered in dynamic and GT Badged performance line variants, loaded with fashionable-in-class features. It's powered by the globally accredited TSI technology and is available in 2 engines and 3 transmission options. The incipient Virtus is available in six different color options providing customers with pulchritudinous culls.
Anuj Guglani, Founder & CEO, WAF Group says,' With the Virtus, the company has taken the sedan game at India to the next level of Performance and Luxury. When most car makers were busy signing the death warrant of sedans at India, VW unleashed the magic of the Virtus and made the Indian consumers fall in love with sedans once again.'
Arpit Johari, Chief Manager, North VW India received the prestigious WAF Best Industry Practice Plaque from the WAF Community at the recently held #wafit2022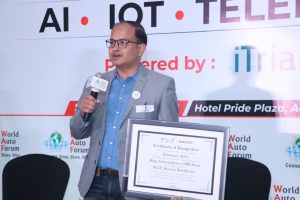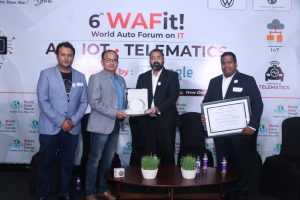 He received it on the behalf of all the VW India and Dealer teams who painstakingly worked day and night during the lockdowns and the pandemic to create, manufacture, launch and sell the beautiful VW Products like the Virtus