Cartist, a platform to bring automobiles and art together is pleased to announce its new project-
'Art of Restoration'. 
It would be documenting the story and the restoration process of the two cars: Cadillac 1954 Fleetwood and Ambassador 1969 Mark II, for the next 6 months. 
Cartist- Art of Restoration aims to: 
◦ Encourage and promote the concept of automobile art in India 
◦ Preserving history for the next generation 
◦ Educational guide for automobile enthusiasts on the process of restoration
◦ Collaborate to find sustainable solutions for restoring cars with automobile industry leaders. 
'Restoring cars is always challenging and comes with many stories to share. We would be documenting the entire process of restoration while also finding sustainable solutions to restore a car in India. We are extremely excited and thrilled to work on these two iconic cars Cadillac and Ambassador', says, Himanshu Jangid, Founder of Cartist and Vintage & Classic Car restorer
'WAF is proud to associate with Cartist for this innovative program. It's heartening to see them embark on this wonderful journey which entails not just restoring these beautiful cars but also preserving history for the Gen Next. It has a key message on sustainability and environment conscious practices of Mobility, restoration and craft' , says Anuj Guglani, Founder & CEO- WAF Group
Cartist – Art of Restoration
Car restoration is the process of mending a car to return it to an overall genuine condition that regains its value and quality. Restoration is done without modifying the car by maintaining how it would have appeared as it initially was for sale. 
In our journey of restoring cars, we always have umpteen stories to tell the world. Whilst building automobile art culture in India under Cartist, we realised the need amongst the people to know more about how one could restore their old car lying in the garage back to its glory. To share our knowledge and expertise on how to restore a car to engage and educate enthusiasts, Cartist brings to the world the 'Art of Restoration'.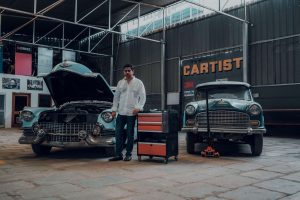 This project will majorly focus on documenting the process of restoration of the two iconic cars:  
The Cadillac 1954 Fleetwood 60 Special 
Ambassador Mark II 1969 
The Cadillac 1954 was manufactured by General Motors (GM) in America and was treated as a high-end luxury car of its time. 
Cadillac was on the top of the world in the 50s; the twin bullet-like pretension of the front bumpers was inspired by Jet aircraft. 
The 1954 Fleetwood Series Sixty-Special was constructed as body on frame construction. The interior was upholstered in nylon fabric and all-wool broadcloth and it also included the power windows and power two-way seats in those days. The brand's prestige for advanced engineering and precision manufacturing was widely recognised. Cadillac invented many significant features found in today's automobiles. 
The Ambassador car was recognized as the king of Indian roads and has many stories to bring as it ruled the roads of India for more than 4 decades. Ambassador Mark II was manufactured by Hindustan Motors, which was
produced between 1962 and 1975. It would not be wrong to say it was a luxury for Indian industrialists  and on one hand it even served as a medium of transportation on Indian roads for the layman.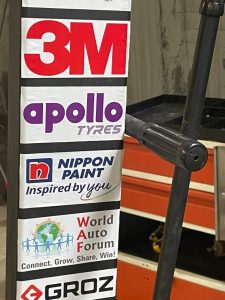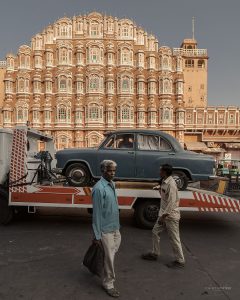 Besides documenting the process of restoration, we will also bring together a range of interesting events in the span of six months. To inculcate artistic skills amongst the automobile enthusiasts, students and youngsters we will organise different sets of engagement activities. 
Workshops: Cartist will conduct a range of educational workshops on restorations, body work, tools, designing, photography and others. 
Exhibitions: Cartist will host solo and group exhibitions for young artists with the theme of – Automobiles and Sustainability.  
Talk sessions: Leaders from the automobile industry are expected to discuss sustainability in the automobile industry. 
Artist in Residency: Inviting artists to workshop and depict their perspective of car restoration.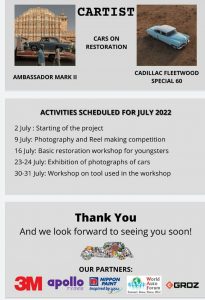 The project will convene automobile enthusiasts, designers, artists, automobile experts, students from multiple institutes, aesthetes and the general public on a common platform to share their knowledge, discuss and collaborate to preserve our heritage and planet- Earth. 
Many industrial brands like 3M, Apollo Tyres, Nippon paint, Groz tools and World auto forum have collaborated with Cartist -Art of Restoration in this initiative to find sustainable ways with their products to help the process of restorations to create fewer carbon footprints while restoring a car. Cartist will also document and publish these stories of sustainability through numerous educational videos.