View WAF MasterClass Pics here : http://bit.ly/WAFMAPicsFB
WAF MasterClass encompassed :
I.    4 Power Key Notes by the Best M&A Pros 
II.  Case Studies Based Simulation Group Presentations
III. Panel Discussion & Debriefing All day Learnings 
iV.  Distribution of Certificates & Valedictory Ceremony 
World Auto Forum is the Global Think Tank with members, fans, Followers in 125 Countries.
Last Week we organised India's First MasterClass on M&A at Automotive.
20 Top  Auto CXOs, with Top M&A PROs of  India came together for the WAF MasterClass.
WAF MasterClass began with a 2 Minute Prayer for the Pulwama CRPF Martyrs. We prayed for our Soldiers and their families. The atmosphere was sombre. We thought the best way to pay tribute is begin the WAF MasterClass, learn these skills, apply these Skills in Automotive Business and contribute even more to the Society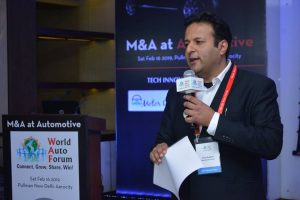 Anuj Guglani CEO World Auto Forum welcomed all the Participants to the WAF MasterClass. He spoke about the Global reach of World Auto Forum. He shared the past activities and the Industry engagements lined up at WAF this Year. He shared how WAF TV has transformed into Global Automotive Think Tank
The First Speaker for the Day was Bhupinder Singh, CEO Sunbeam Auto. Mr Singh is the Been there, done it all, Seasoned Auto Industry M&A Champion. He has successfully steered several JVs, M&A Initiatives in the Industry at India and Overseas. He made a powerful Presentation on the Art of Negotiation. It provided the participants a Ring Side View of the Art, Science of M&A. He shared the metrics to take care of. He spoke about the Importance f due Diligence. He shared how important the People Quotient is for a Successful M&A
How Collaborations can be Win-Win was well elucidated by  Nitin Potdar M&A Partner J Sagar Associates. He used several easy to understand Jungle Book Based  stories to draw strong parallels with M&A World and the Corporate jungle. Without quoting much of techno Legal jargons or Statutes or rules, he very effectively drove the key messages home. Participants were left with great wisdom of different types of M&A and tools and which one to apply when and how.
There's a Fine line between Tax Evasion and Tax Saving. Our In House Tax Guru Nikhil Goenka, Director PwC shared innovative and diverse measures for Tax Saving which are within the Realms of Tax Laws. Right from Captial Gains, to Dividend Distribution Tax, to SPV, he covered them all with real world examples and applications. Truly living upto the theme, he made Tax Blues Less Taxing at the same time emphasising on Tax Planning and Tax Due Diligence
There are dozens of Bad Examples of Great M&A's gone horribly wrong after running in rough weather with Regulators. Ms Anupam Sanghi, a Senior Commercial & Competition Lawyer with Advaita Legal  took the participants through myriad examples, case studies, Regulations on how to steer clear of Legal Issues. She took several examples of Auto Co's penalised hundreds of Crores of Penalties, which could have easily been avoided by simple precautionary measures and subsequent countermeasures.
Lunch Breaks and 3 Coffee / Tea Breaks provided great informal settings to discuss, Network!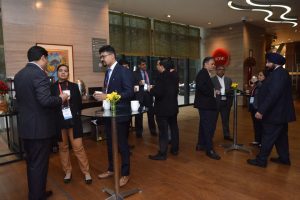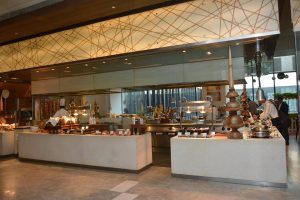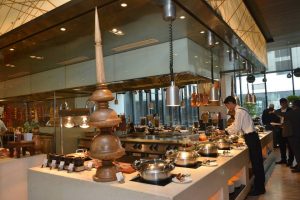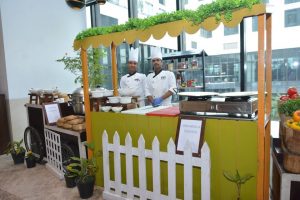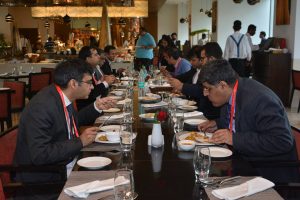 Case Study Based Simulation Game – Group Presentations 
These Sessions were the key Highlight of the entire Day. After a great and Sumptuous Lunch, the participants enjoyed a Simulation Case Study Based Presentation game. each table was given peculiar and unique problem around M&A. They had to discuss, come with a solution and present it to the Audience and also field questions and feedbacks!
Problems ranged from Jv Dispute to Local Acquisition, to Foreign expansion. There was one faculty member assigned to each table to facilitate. Post Sessions,
The faculty gave critical feedbacks on each presentation thereby ensuring we applied and internalised the Learnings!
Final Panel Discussion to summarise the Day's Learnings!
Participants :
Anupam Sanghi – Senior Lawyer – Advaita Legal
Dr Sanjeev Gemawat – ED and Group GC – Dalmia Group
Manjaree Chowdhary – GC – Maruti Suzuki India
S Ramaswamy – Managing Partner – Medha Advisors
Avneesh Chopra – GM – Legal – Ford India
Anuj Guglani – CEO World Auto Forum – Moderator
Each Panelist provided their perspective on M&A. The GC's on the Panel shared their experiences on how to manage Internal & External  Stakeholders and ensure the solutions are aligned to the Business Priorities of the enterprise. The External Counsels shared how their specialised knowledge and expertise helps GCs and Organisations stay clear of legal problems proactively.
Manjaree Chowdhary GC Maruti Suzuki gave a ring side view of the Entire Process of M&A. Her extempore Session was like a MasterClass within the MasterClass!
Dr Sanjeev Gemawat – ED and Group GC – Dalmia Group raised pertinent Caveats for a Seamless and Sustainable M&A. In his signature Powerful Communication, he gave important insights around Meeting of Minds, Courts Approach to Corporate Disputes, Power of Contracts and alignment of Company Strategy with Legal Advice.
S Ramaswamy, Managing Partner Medha Advisors, spoke about the transformation in the M&A Landscape. He took reference of several famous Mergers like Arcelor Mittal to share importance of People, culture facets in a Successful M&A. He gave great insights in working with internal and External Legal teams.
Avneesh Chopra, GM Legal Ford India shared several real life instances of Automotive M&A and the associated Challenges. He was most active during the Case Study Simulation Session as well as the prior Q&A rounds.
Anupam Sanghi, Senior Lawyer Advaita Legal spoke how the In House Counsels can leverage the Expert Domain Knowledge and experience of External Counsels. She shared examples & simple measures to ensure compliances and avoid heavy penalties running in hundreds of Crores. All these ensuring smooth Seamless M&As
Anuj Guglani CEO World Auto Forum moderated the discussion. He allowed time and space to all speakers. He also shared his own knowledge & insights from the M&A Advisory run by World Auto Forum for the Global Auto Industry
There was an interesting debate between  GC's and External Counsels on efficacy to find solutions and the group agreed to the fact that its team work which always WINS!
Tier 1 Law Firm Vs Smaller or Boutique Ones
Based on an Audience Question, The GCs and Legal Experts also discussed how to select the Law Firm Partner for M&A and also other regular Legal Work. Whether it should be the brand, Size, No of Partners, other Clients. The Panelists showed consensus in saying it is not the brand, size of the Law firm. Its actually Person to Person. Its that Partner in the Law Firm who guides & consults them which is most material. That Partner could be in any of the tier 1 Law Firms or might be in a smaller firm. Its that professional and his professional advise which makes all the difference!
Certification Distribution & Valedictory  Ceremony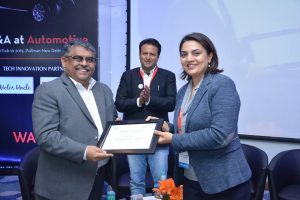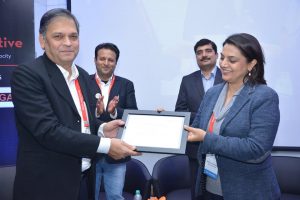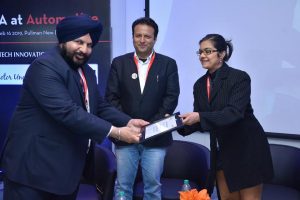 Each Participant went back with lots of learnings, experiences, new friendships and . specially designed, specially hand crafted framed certificates with their artfully names calligraphed in Black!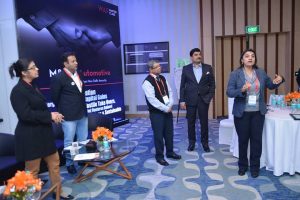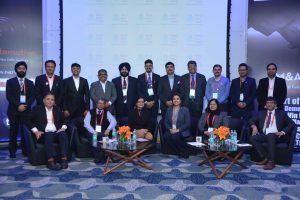 WAF MasterClass Session Videos shall be Available at WAF TV soon!
Next Engagement of World Auto Forum is 3rd edition of WAFit! – World Auto Forum on IT