by WAF Think Tank
•Just few days back MG Motor India was declared no 1 in the JD Power India SSI 2021
•MG has also won the no 1 position in the JD Power India CSI Study 
•The British Car Maker scored 868 points out of  1,000-points, with Hyundai (845) and Kia (831) at the second and third positions respectively.
•MG Motor India is surely on a Winning Spree. They have not even completed 3 years of commercial sales of cars at India.
•They are winning the hearts and minds of consumers not just at the time of new car sales but also while taking care of them during the vehicle after sales service.
Study Ranking
MG India ranks highest with a score 868 (on a 1,000-point scale), followed by Hyundai (845) and Kia India (831).
The 2021 India Customer Service Index Study (CSI) is based on responses from 5,313 new-vehicle owners who purchased their vehicle from September 2018 through December 2020. The study was fielded from September through December 2021.
The study measures new-vehicle owners' satisfaction with after-sales process by examining the dealership performance in five factors (listed in order of importance); service initiation (26%); service advisor (20%); vehicle pick-up (20%); service quality (19%); and service facility (15%). The study only examines the after-sale satisfaction in the mass market segment.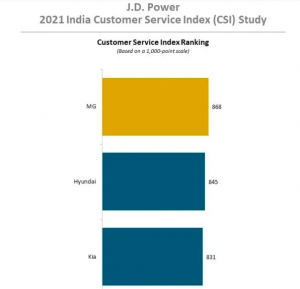 In an era of digitalization, customers in India still prefer to schedule their service appointments over the phone, according to the J.D. Power 2021 India Customer Service Index Study (CSI),SM released today. After a hiatus since 2019, J.D. Power has re-launched the India Customer Service Index Study in collaboration with NielsenIQ.
More than three-fourths (77%) of customers said they scheduled their service via a phone call with the authorized dealer workshop. Even for their future service visits, 83% said they would continue to prefer phone-based scheduling. The top two reasons for not using a digital mode are the requirement of an urgent service visit (57%) and the need to speak to someone (38%). In addition, the study finds that among customers who used a digital channel to initiate a service appointment, the dealership staff had to call them back to schedule the appointment.
Following are additional key findings of the 2021 study:
Pinching finances: More than one-fourth (27%) of customers said they thought the cost of their last service was higher than they expected. The average spend on their most recent service was INR 4390, which is less than the INR 5000 average in 2019.
Service advisor recommendations: Comprehensive service advisor recommendations tend to increase the amount spent by a customer. Nearly two-thirds (66%) of those who cited agreeing to the work recommended by service advisors ended up spending 6% more than those who did not.
Significant churn risk: More than one-third (37%) of customers said they may return to their service dealer for out-of-warranty work, signifying a risk to the overall service business of the dealers.