by WAF Editorial Team 
Yes we had last few months of stellar wholesale and retails as…
The dealers inventories were near zero when lockdown eased
There was a pent up demand
People shunned public transport and embraced personal mobility 
2 wheeler and Pre Owners cars demand went through the roof due to price sensitivity. 
What is the Outlook for 2021 ?
The Sensex might be breaching 47K levels but situation at ground level is not that encouraging.
The Auto Industry was just recovering from the BS-6 , Poor Demand in 2019 and 2018 and it got struck by Covid19. The Market has surely opened up but demand is still not consistent.
Manufacturing facilities continue to suffer from covid related closures. Manpower outages are still not that uncommon. Supplies get stuck due to covid or agitations.
Industrial Output, earnings are still down. The new strain from UK is also bad news. This seems the time to just stay healthy and protected, ensure family is safe ; Surviving seems to be the new thriving!
So Quoting figures …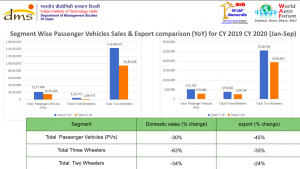 2018 & 2019 were years of automotive slowdown. Add Covid to it, some might say its not a fair comparison. But hey, reality check is always good! Great place to begin the change! 
There were surely some green shoots in the months of Oct, Nov and Dec where one saw Yoy growth.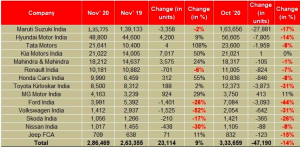 2W Sector has seen rapid growth due to price sensitivity and need for personal mobility in the Covid year, however still in the red cumulatively for the calendar year.

CV Sector stares at the sharpest fall thereby corroborating its direct co-relation with the Nation's economy. The LCV is however holding the flag high and signifies green shoots in the SME Sector.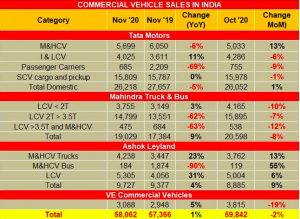 Anuj Guglani, CEO, World Auto Forum says, 'This is the time to focus on Pre Owned vehicles and include them in the Organised Automotive and Mobility Eco System. Auto Parts Aftermarket can churn genuine Spares for them, Auto Makers can partner Digital and offline players for synergy, Dealers can get greater focus on Pre Owned for Enhanced earnings and increasing new cars sales too. It can be a Win-Win for the entire Industry.'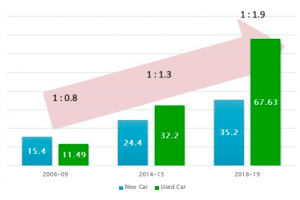 Auto components which cater to global automotive market have seen tremendous demand, price and supply chain shocks. They surely need a breather.
During FY19, Auto Components Industry revenue at India was US$49.3 Billion. Auto Components contribute 2.3% of GDP and generate 1.5 M Jobs directly and indirectly.
According to ACMA, by 2025 the Indian component industry is poised to be 3rd Largest in the World!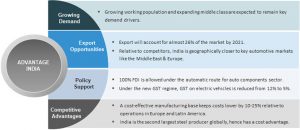 Share of Auto Components 2020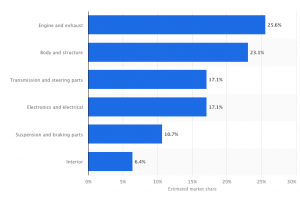 The other interesting insight is that  Engine and Exhaust related components make up 25% of total auto components. These companies had recently invested a lot for BS6 Migration which they planned to recover next few years. Low demand and rapid electrification of Mobility can gravely impact their operational viability and sustainability unless they innovate and diversify. 
2021 Outlook 
It shall surely be the Year to Innovate, Grow, Sustain, Repeat just like 2020
Teams Engagement, New Tech Deployment, Digital enabling of Supply Chains, Businesses shall take bigger stage.
The Demand is expected to normalise by April 2021 and weakening of Covid shall surely be the Shot in the arm. There should be an average 10-15% growth of the Industry Sales with good support.
Clear Position on Vaccine and its Availability, administration, efficacy, side effects shall play a vital role and one should get clarity on this around March 2021
Overall the safety measures of Physical distancing and sanitisation would not go away so easily, so the demand for personal mobility should sustain the rise.
The EV EcoSystem shall begin to bloom and the growth drivers shall be 2W, City Buses & Small CV for Intra City Logistics.
The demand of Shared Mobility might still be flat due to less Office, events, travel, tourism related commute.
A Few Caveats
1. Urgent need to do Industrywide Retail based Sales Forecasting and the same gets shared by OEMs with Tier 1 Suppliers upto Tier N
2. Just in Time and Direct On Line not just for OEMs and Tier 1 but also for Tier2 and Tier 3. Let's remember best practices sharing in real time, is the key during Covid time!
3. Demanding advance payments from Dealers and credit from Suppliers is passé. Can't work anymore.
4. We shall swim together. Sinking is out of question. Anything which isn't Win-Win-Win cannot be on the Table anymore where one of the 'Win' is a constant and stands for "Consumer"
Please feel free to share your feedbacks in comments below