By WAF Team 
WAF inducts the cross functional Teams that worked on Star Performer 1615 at Ashok Leyland to WAF Innovators Club
Ashok Leyland has consistently relied on its in-house R&D talent and indigenous technology for leading innovations in the CV (Commercial Vehicle) industry.
Its focus has been to develop solutions which are relevant to the demanding and challenging conditions,  meeting the specific requirement of various applications, such as market load, parcel, LPG and special applications –  garbage compactors, reefers etc.
'Kudos to the engineers at Ashok Leyland for designing, sourcing and producing a high performance product which is rugged, reliable, built to last and reasonably priced. Congrats to the Star Performer Teams for being inducted to WAF Innovators Club,' said Anuj Guglani, CEO, World Auto Forum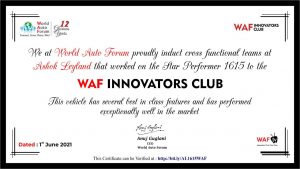 This vehicle has been performing  exceptionally well in the market for the last one year and has proven its worth as the #STAR PERFORMER vehicle from Ashok Leyland stable. This rugged vehicle promises the following best in class performance
Best in class fluid efficiency
Best in class tyre life
Lowest maintenance in its class
Safest cabin in the industry
Lowest turnaround time in the industry due to

iGen6 technology engine
Heavy duty rear suspension
Lube for life aggregates
New improved wiring architecture with special water proof connectors helped address any small teething issues in the vehicles, thereby making it truly dependable.
We at WAF congratulate The Teams at Ashok Leyland who worked relentlessly on conceiving, designing, producing, marketing and servicing this innovative vehicle.